'Master of Space and Time' Leon Russell Dies at 74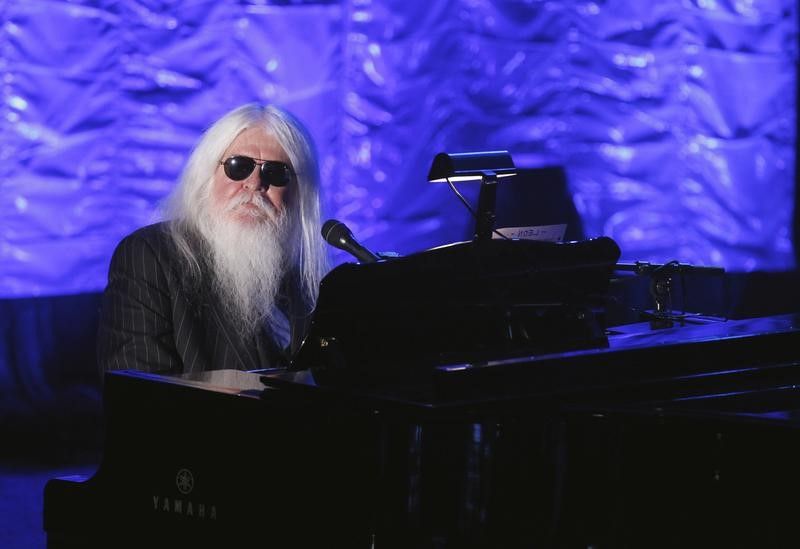 Leon Russell, who emerged in the 1970s as one of rock'n'roll's most dynamic performers and songwriters after playing anonymously on dozens of pop hits as a much-in-demand studio pianist in the 1960s, died on Sunday at the age of 74, according to his website.
Russell, who was inducted into the Rock and Roll Hall of Fame in 2011, died in his sleep in Nashville, Tennessee, his wife said in a statement on the website. Russell had endured health problems in his later years, undergoing surgery to stop leaking brain fluid in 2010 and suffering a heart attack in July 2016.
Russell's period of stardom as a performer was relatively brief but Elton John, who had once been Russell's opening act, engineered a comeback for him in 2010 when they collaborated on an album titled "The Union."
"He was my biggest influence as a piano player, a singer and a songwriter," John told ABC News.
Russell recorded more than 35 albums and also excelled as a songwriter for other performers. His "A Song for You" was recorded by Joe Cocker, the Carpenters, the Temptations, Neil Diamond, Lou Rawls, Dusty Springfield, Ray Charles, Aretha Franklin and his good friend Willie Nelson. The Carpenters, Reddy, Shirley Bassey, Robert Goulet and George Benson all covered Russell's "This Masquerade," with Benson's version winning the 1976 Grammy as record of the year.
Russell was known as "the master of space and time" in his '70s heyday. He wore a cocked top hat and, with salt-and-pepper hair past his shoulders and a beard that reached his chest, created an inscrutable image that was equal parts shaman, tent revival preacher and cosmic ringmaster.
He ruled the stage with piano-banging abandon and, backed by a multi-piece band and a backup chorus, put on a show that was a roiling stew of rock, soul, gospel and country.
He was born Claude Russell Bridges on April 2, 1942, and grew up in the Tulsa, Oklahoma, area. He was playing in bars at age 14 and joined a band that included J.J. Cale, who also would go on to music stardom.
Russell moved to Los Angeles as American music was taking a new shape. He became part of a talented pool of studio musicians known informally as the Wrecking Crew who provided back up for pop and rock hits of the early and mid-1960s, including those by Jan and Dean, the Beach Boys, the Monkees and the Byrds. Russell also was part of producer Phil Spector's trademark "Wall of Sound" recording team.
Russell also played guitar, worked as an arranger, songwriter and piano player for the house band on the popular television dance show "Shindig."
He eased into the spotlight in 1970 as a driving force on Joe Cocker's landmark Mad Dogs and Englishmen tour. Russell assembled the 20-piece band, which came with a legion of hangers-on, and served as its leader on a riotous two-month U.S. tour that spawned a double-disc live album and a documentary film.
His work with Cocker, an appearance in the film about George Harrison's 1971 "Concert for Bangladesh" and his first solo album, which featured contributions from three Rolling Stones and two Beatles, made Russell a star in his own right in 1970.
In 1969 Russell and Denny Cordell started Shelter Records, which put out recordings by Russell, Cale, Freddie King, Tom Petty and the Heartbreakers and Phoebe Snow.
After his rock stardom faded, Russell adopted the alter ego of Hank Wilson for several albums of country classics that let him turn loose his Oklahoma twang.
Although he continued recording and touring, Russell was far from the spotlight in the 1990s and 2000s until he and John recorded "The Union" and went on a short joint tour. John said he was inspired to collaborate when he was moved to tears upon rehearing Russell's song "Back to the Island."
Russell, who had to have surgery because of leaking brain fluid a week before going into the studio, said it was the first time he had heard from John in 35 years.
"If Leon can get the accolades he deserves and be financially OK for the rest of his life, I will have done something decent with my music," John told the New York Times.
The Russell-written song "If It Wasn't for Bad" off "The Union" received a Grammy nomination.