Mastercard, Wall Street Follow Elon Musk and Tesla into the World of Cryptocurrency
Mastercard said it plans to provide support for some cryptocurrency transactions, following Tesla and Wall Street firms into the hot and volatile sector. The credit card company said it doesn't plan to back all cryptocurrencies, but cited the recent run-up in Bitcoin's price as a reason for entering the field.
"We are preparing right now for the future of crypto and payments," Raj Dhamodharan, executive vice president for digital asset and blockchain products for Mastercard, said in a statement.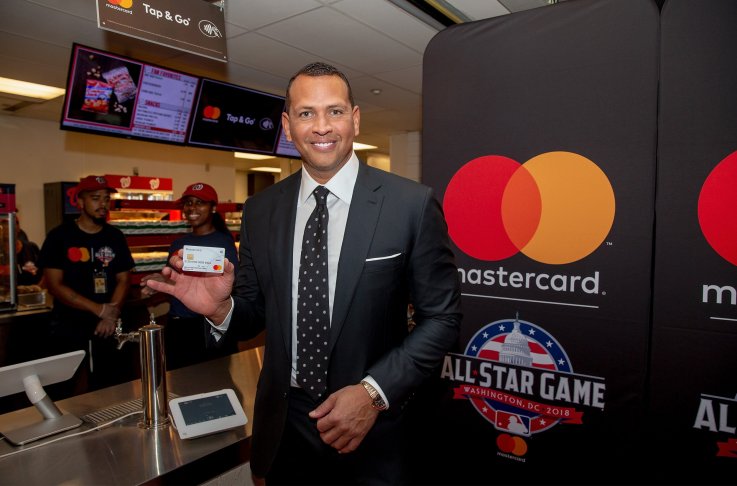 Alex Rodriguez helps Mastercard launch the Keep Moving Challenge during the MLB All-Star Game July 17, 2018 in Washington, D.C.
Photo by Tasos Katopodis/Getty Images for Mastercard
"Our philosophy on cryptocurrencies is straightforward: It's about choice," Dhamodharan said. "Mastercard isn't here to recommend you start using cryptocurrencies. But we are here to enable customers, merchants and businesses to move digital value—traditional or crypto—however they want."
Mastercard took the action after Square and PayPal backed cryptocurrencies as payment.
On Wall Street, Grayscale's Bitcoin Trust allows investors to bet on cryptocurrency without buying the coins themselves.
The Chicago Mercantile Exchange now provides pricing information on Bitcoin.
Tesla, Elon Musk's electric car company, boosted Bitcoin's price after he announced a $1.5 billion investment in the cryptocurrency and said it would be accepted as payment for its products.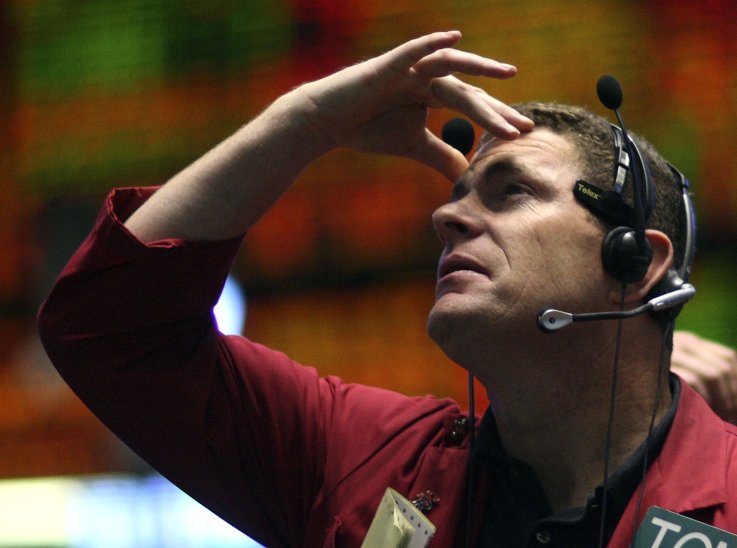 Trader Thomas Mulchrone reacts in the Euro Dollar pit at the Chicago Mercantile Exchange October 8, 2008.
REUTERS/John Gress
Many investors see Bitcoin as an inflation hedge. But Adyen, a European fintech company handling processing payments for a range of companies, including Facebook, Netflix and Uber, believes the Bitcoin's volatility makes it unsuitable for payments.
"Bitcoin is more of an investment asset than a payment method," Pieter van der Does, Adyen's CEO and co-founder, told CNBC. "I am wondering if the huge movement in the value of Bitcoin is helping it as a payment method."
Mastercard agreed.
"To reach our network, crypto assets will need to offer the stability people need in a vehicle for spending, not investment," Dhamodharan said.
On January 31, 2020, Bitcoin was valued at $9,501.38. It recently fetched $47,329.98, a 398.14% increase.
There are about 4,000 cryptocurrencies in the world. Ethereum is second to Bitcoin in popularity, and its price is tracked on cryptocurrency exchanges. Other widely known coins include XRP, Stellar and Cardano.
None is valued as highly as Bitcoin. Ethereum recently fetched $1,794.75, and Cardano was priced at $0.93.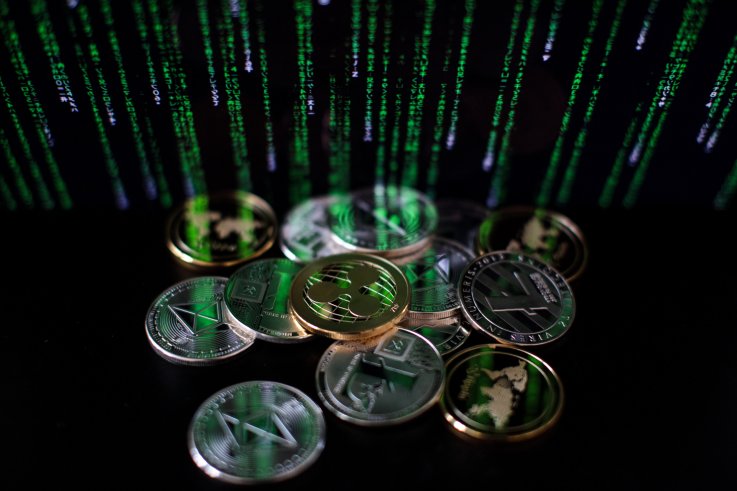 In this photo illustration of the litecoin, ripple and ethereum cryptocurrency 'altcoins' sit arranged for a photograph on April 25, 2018 in London, England.
Jack Taylor/Getty
Mastercard didn't list the cryptocurrencies it will accept on its network. However, the company said its acceptance will be limited to cryptocurrencies that provide security and protect the privacy of users.
It also said it will take steps to prevent use of the coins for illicit activity such as money laundering or funding illegal activity.
Mastercard said it works with cryptocurrency exchanges Wirex, BitPay and LVL to convert digital assets into traditional currencies such as dollars, pounds or euros to complete a purchase.
Given the recent run-up in Bitcoin's value, it would appear to be unwise to cash out of Bitcoin, at least for the moment. Many investors buy and hold the cryptocurrency as a bet on future price appreciation.
"Our change to supporting digital assets directly will allow many more merchants to accept crypto," Mastercard said, "an ability that's currently limited by proprietary methods unique to each digital asset."
Mastercard touted the added flexibility that cryptocurrencies provide.
"This change will also cut out inefficiencies, letting both consumers and merchants avoid having to convert back and forth between crypto and traditional to make purchases," Mastercard said.
Mastercard competes with Visa, the largest credit card network, American Express and Discover.
Meanwhile, back on Twitter, Musk once again boosted the prices of Bitcoin and Dogecoin with a cryptic tweet.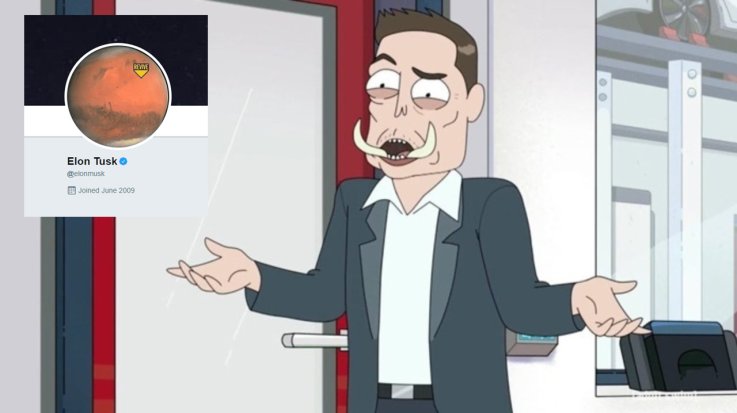 Top left: Elon Musk changed his Twitter name in February 2019 to 'Elon Tusk' after (right) recording his character in "Rick and Morty" Season 4
Twitter/Cartoon Network
"Frodo was the underdoge, All thought he would fail, Himself most of all," Musk tweeted Thursday, in an apparent reference to a protagonist in the Lord of the Rings trilogy.
Musk attached an image of a ring with a crypto theme in the tweet.
Bitcoin jumped about $2,000 after the tweet. Dogecoin rose 0.8% to $0.07 in early trading, while it has risen about 1,300% this year.