Mastercard's Anti-child Hunger Campaign with Leo Messi and Neymar Hit by Social Media Backlash
When one of the biggest companies in the world picked two of soccer's brightest stars to fight child hunger, it probably expected a universally positive reaction.
It would appear, however, that even such initiatives have the potential to backfire on social media.
On Thursday, MasterCard announced it will donate 10,000 school meals to the United Nations World Food Program (WFP) each time Lionel Messi or Neymar score a goal in an official tournament, starting with the upcoming World Cup.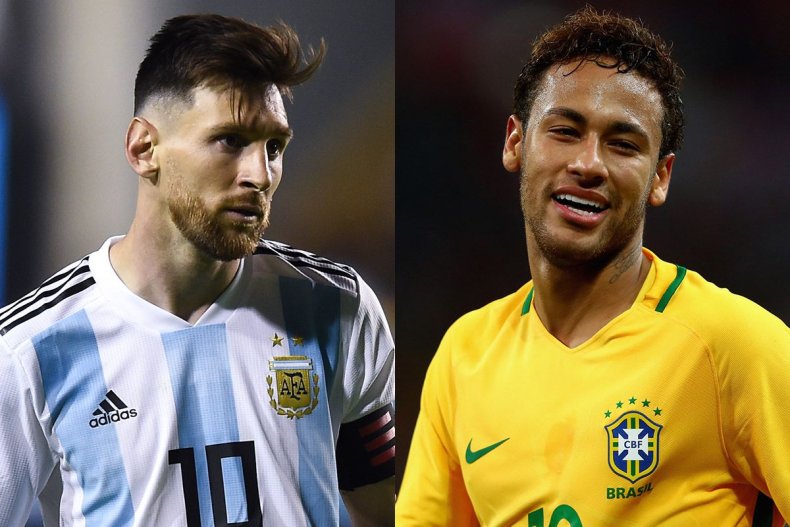 Dubbed #JuntosSomos10—'Together we are 10'—the meals will be given to schools in Latin America and the Caribbean.
However, when the program was unveiled on Twitter, it unexpectedly drew criticism, with social media users questioning why MasterCard did not choose to directly donate money to the project instead.
"If they have the money, why not just feed the kids?" tweeted @techyes32, while @supaduipajack added: "Feels like a lot of pressure to put on them? Why not just donate 100,000 at the start of the tournament."
@chrisjthacker was also unimpressed with the campaign: "It's like playing god with starving children and a massive insult and unfair on the players, if you miss this penalty you've just starved some children. Just give them the food, and do offers for customers for every goal scored," he tweeted.
"How much did the PR agency get paid for coming up with this nonsense? Because I can think of about 10,000 hungry who could probably make better use of that money. Bizarrely awful," was @juliansheasport's response.
Others, meanwhile, suggested whichever goalkeeper stands in the way of Neymar and Messi could have a lot to answer for.
"I guess any goalkeeper who stops them from scoring should be branded wicked cause he just stopped over 10,000 children from eating," quipped @TheJerryAsu.
@unusual_sin added: "So if the keeper saves their shots, he hates starving children!"
For their part, both Messi and Neymar said they were proud to take part in the campaign, which they hope would have a significant impact in tackling an issue that affects around 40 million people in Latin America and the Caribbean.
"We want to ensure that the children of the region can have a plate of food and more hope," Neymar was quoted as saying by Spanish newspaper Marca.
"We Latin Americans know we can do great things when we unite and this is an example of that."
His former Barcelona teammate added: "I am very proud to be a part of this campaign, it will help change the lives of thousands of children and I hope that it will produce just as many smile."
MasterCard has already donated 300,000 meals to the cause and will donate one school meal each time the hashtag #JuntosSomos10 is used on Twitter and Instagram.
Meanwhile, if a donation is made directly with a MasterCard card, the company will donate 10 free meals.