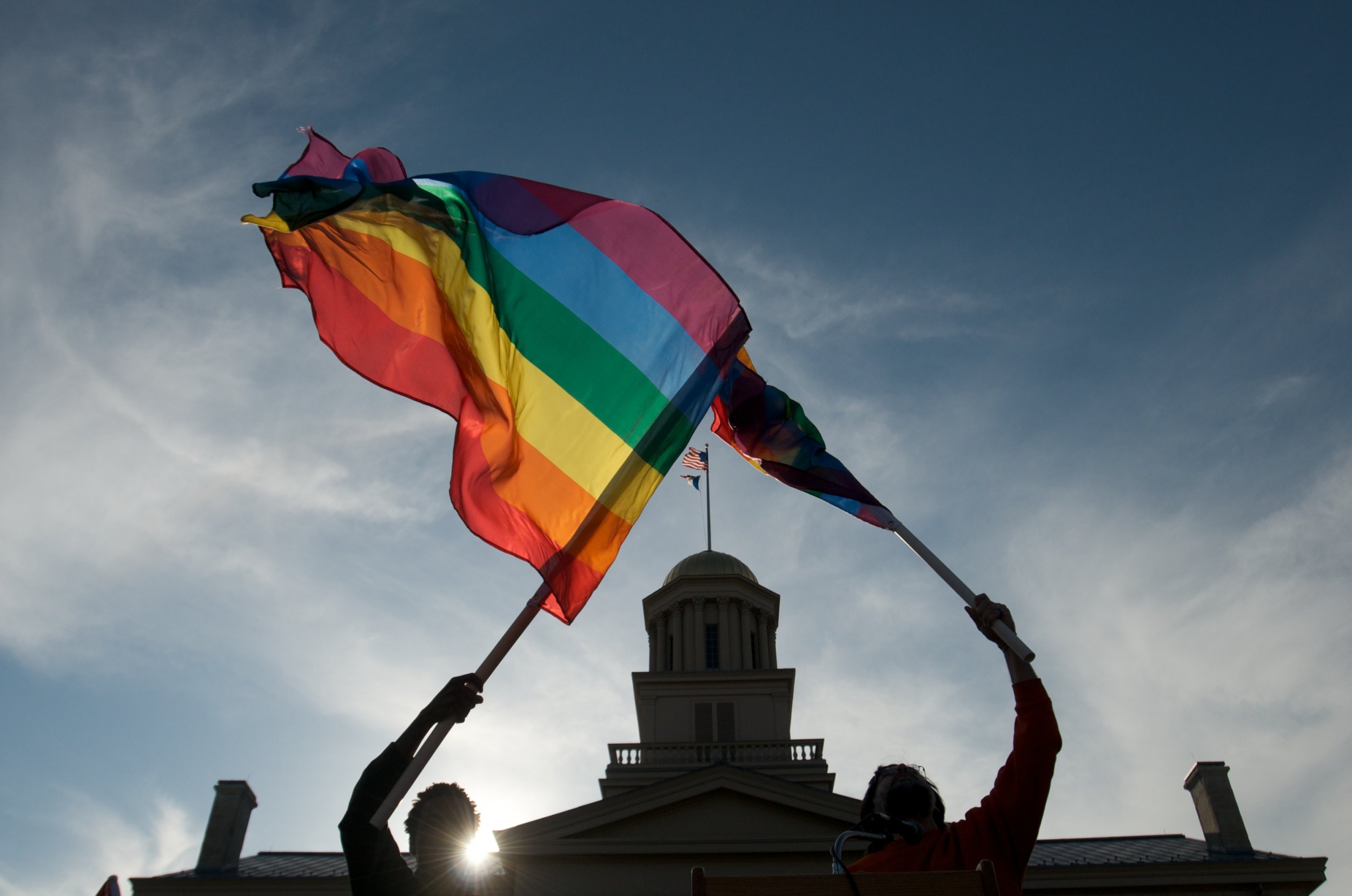 A case is headed to the Supreme Court in December that centers around Jack Phillips, the owner of the Colorado-based Masterpiece Cakeshop, who refused to make a cake for a same-sex wedding. But the case doesn't actually have anything to do with cake—it's rather an issue that hangs on the line between free speech and discrimination.
Phillips argues his cakes are art, and as such he shouldn't be forced to make it for anyone he doesn't want to—including David Mullins and Charlie Craig, who claim that Phillips was discriminating against them because they are gay. But Colorado's anti-discrimination law says he can't refuse his service to someone because of their sexual orientation or gender identity.
The Trump administration filed a "friend of the court" brief in July on Phillips's behalf, lining itself up as an ally for Phillips and the argument for free speech. In their brief, Acting Solicitor General Jeffrey Wall and Department of Justice attorneys wrote that, since Phillips is creating art, there isn't a clear line between what he creates and his speech.
"He is not merely tolerating someone else's message on his property; he is giving effect to their message by crafting a unique product with his own two hands," the brief said. "In addition, because Phillips knowingly creates each custom cake for a specific couple and a specific event, observers could reasonably attribute to him a message of neutrality or endorsement."
Phillips argues that he "honors God" through his work, and declines to design anything against his religious beliefs—including Halloween-decorated cakes.
But the American Civil Liberties Union (ACLU) attorneys representing the couple don't concur.
"For example, hair salons, tailors, restaurants, architecture firms, florists, jewelers, theaters and dance schools use artistic skills when serving customers or clients," the ACLU argued in its briefs.
Lambda Legal and more than a dozen organizations agree with the ACLU and have submitted their own friend-of-the-court briefs.
"In everyday life, we are rejected: post office clerks refuse to serve us, tax preparers won't do our taxes," Lambda Legal's brief said. "It isn't about a cake, and it isn't about religion. It's about rejection."
The Human Rights Campaign (HRC), the largest LGBT civil rights organization in the U.S., is joining Lambda Legal and the ACLU by announcing two amicus briefs filed with more than 200 bakers, chefs and businesses who oppose Phillips on the grounds of discrimination.
"A business owner's personal beliefs should never be reason enough to discriminate against a customer because of who they are or who they love," HRC Deputy Director of Employee Engagement Beck Bailey said in a statement.
Also behind the same-sex couple are nine civil rights organizations, including the Leadership Conference on Civil and Human Rights, the Asian American Legal Defense and Education Fund, the Center for Constitutional Rights, Color of Change, the National Action Network, the NAACP, the National Urban League and the Southern Poverty Law Center.
In their brief, the organizations said that while the U.S. has made advancements in civil rights, this ruling could push the country in the wrong direction, particularly for LGBT African Americans.
"Discrimination infects the marketplace as well, where minority consumers continue to receive worse treatment and experience disparate access to goods and services as a result of business owners' biased attitudes," their statement read. "Today, public accommodation laws remain vital by providing relief when consumers of color experience discrimination."
But religious rights groups say the case isn't about discrimination—it's about their religious freedom to refuse service to individuals they disagree with.
Whether the Supreme Court labels this case as a religious right, a free speech violation, or a blatant discrimination against LGBT people, this Masterpiece Cakeshop has nothing to do with cake.