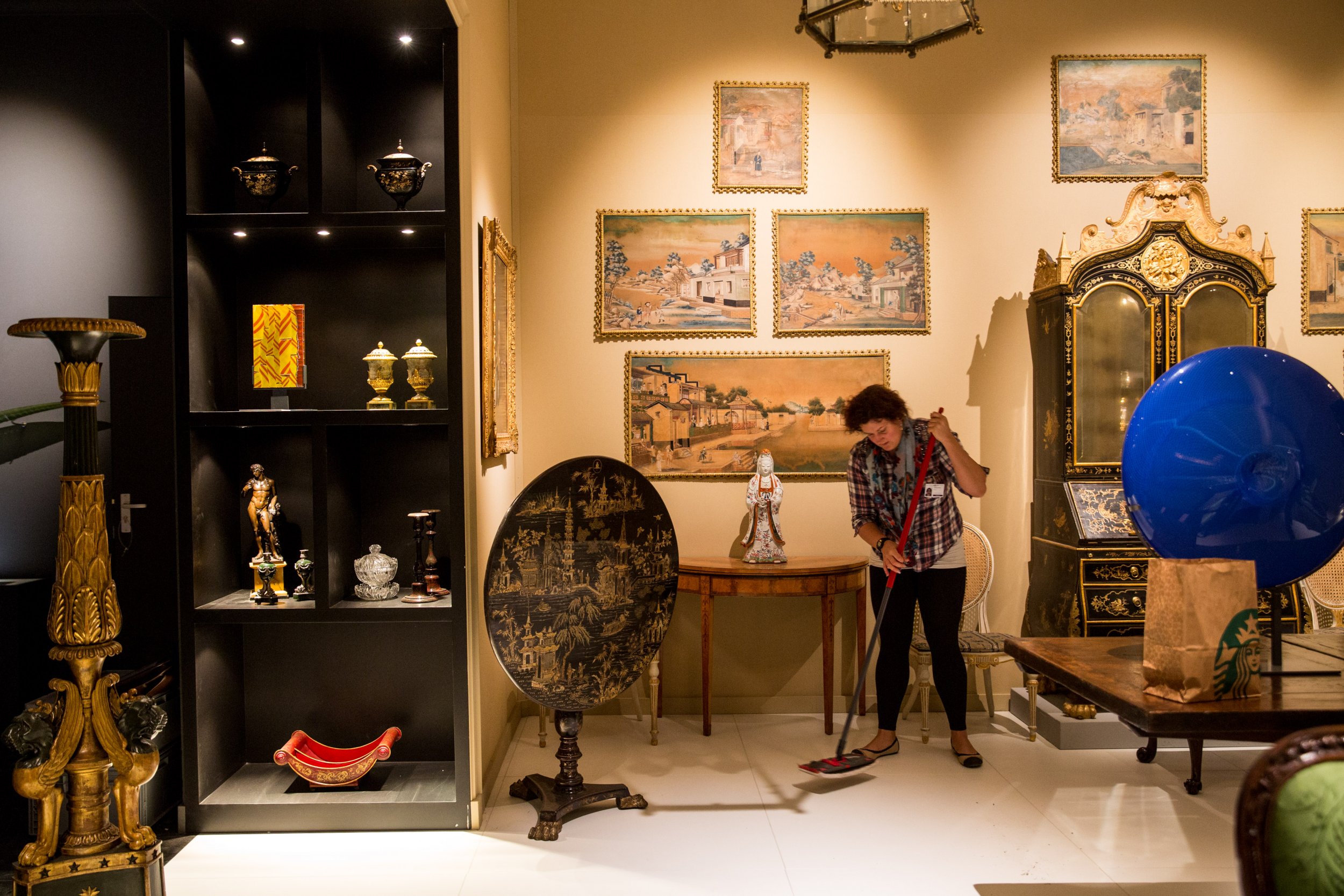 In early June, heartily sick of this wet and windy summer in England, I signed off an email to a friend in Geneva with a valedictory whinge about the weather. His reply came like a ray of sunshine piercing the clouds in a 17th-century landscape.
"Summer is definitely coming. Let's not give up hope," he wrote. "I'll be over for Masterpiece, a show I much enjoy, with two of my colleagues, and every year we go there the sun is always out."
He's right about Masterpiece, the international art, design and antiques fair in London. My recollections of it are of a perpetual summer, the evening sunlight gilding the splendid displays. The aisles of exhibitors showcasing art, antiques, jewelry and watches are more like broad boulevards, along which one can walk while sipping from flutes of champagne dispensed from a trolley.
Masterpiece is a serious contender for the title of leading European art, collectibles and antiques fair. Now in its seventh year, it is a key event in the British summer season. It takes place on a patch of Thames-side ground at the Royal Hospital Chelsea, which hosts the Chelsea Flower Show in May. If the flower show fires the starting pistol on the British summer season, then Masterpiece—which runs from June 30 to July 6 this year—marks its apogee.
Masterpiece is the direct descendant of the Grosvenor House Antiques Fair, which first took place in 1934 and from 1937 enjoyed royal patronage: first that of Queen Mary, whose taste for collecting bibelots and souvenirs was legendary, then for almost half a century from Queen Elizabeth.
Being chairman of the Grosvenor House Antiques Fair was a bit like being Her Majesty's representative at the Royal Ascot races. The man who found himself in the job for the last-ever Grosvenor House in 2009 was Simon Phillips, who became one of the founding members of Masterpiece London.
Phillips, who gives the impression of having been born wearing an Hermès tie, is the proprietor of Ronald Phillips, a world-renowned dealer in 18th- and 19th-century English furniture on Bruton Street. (Simon took over from his father, Ronald, in the late 1990s.) Once upon a time, London's Mayfair district brimmed with shops like his: sepulchral spaces consecrated to the worship of ormolu and marble, marquetry and gilding. Now high-end restaurants and big-name fashion brands have pushed these palaces of taste, scholarship and if-you-have-to-ask-you-can't-afford-it pricing to the brink of extinction.
But Phillips is more than just a survivor. With Masterpiece, he has reinvented the way antique furniture is sold at a time when the flash of the modern and contemporary often eclipses the dignity of the old and antique, a time when the slashed canvas of a Fontana broadcasts its owner's wealth and taste far more effectively than a Sheraton dining table.
Masterpiece recontextualizes collectibles: It is an event that combines the exclusivity of the Royal Enclosure at Ascot with the gastronomy of the West End (catering is courtesy of pop-up versions of Le Caprice, the Ivy and Scott's, inter alia) and the good humor of a cocktail party with interesting guests, including, in past years, Tom Ford and Prince Harry.
"We started it because the Grosvenor House had folded, and London was desperate for a new fair," says Phillips. "We wanted it to be younger, fresher: the catering, the cars, the boats, the watches, the bronzes, a complete cross-section, a little bit for everybody."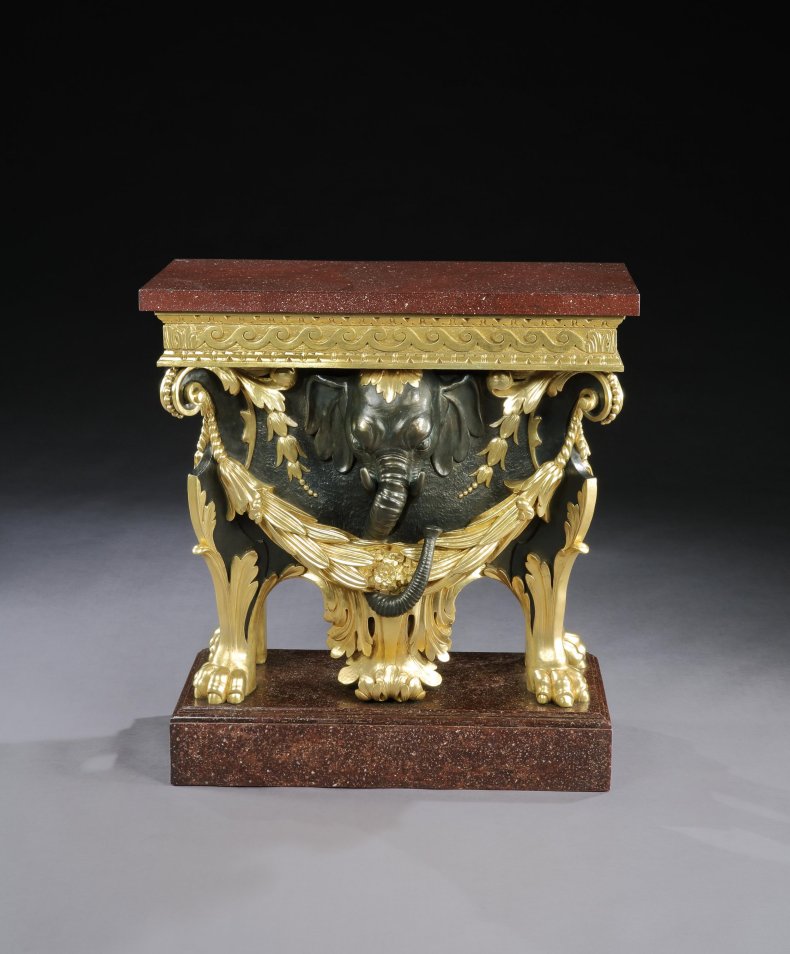 Masterpiece is for you, whether you're in the market for a 1920s Danish deco grandfather clock designed by Jens Jacob Bregnö and inspired by the discovery of Tutankhamun's tomb; a Ptolemaic period canopic container; a Renoir; a Giacometti; a diamond necklace; a vintage Riva; or a brand-new Steinway piano made with crystal house Lalique.
The sort of museum-quality antique furniture that Phillips peddles is another ingredient in this sparkling collector's cocktail. His star item this year is "the Hinton House Elephant Table" (note his dignifying use of the definite article), a George II parcel gilt side table with Egyptian porphyry top from about 1735. It cannot quite decide whether it is a piece of sculpture or furniture, and comes with one of those POA price tags comfortably north of half a million pounds. It is the kind of furniture that has been the focus of a certain type of collector for centuries—but Masterpiece is now placing it in front of a much wider audience.
Nevertheless, when talking to Phillips, it is sometimes possible to detect a hint of nostalgia for the old days of the antiques trade in the West End. "The merchandise was grander. The premises were grander," he says wistfully. "Everything about it was grander."
Well, not quite everything: The grand and glittering showrooms of the West End may have almost disappeared, but London never before had an antiques fair that came close to the glamour of Masterpiece.