Math Suffers From White Supremacy, According to a Bill Gates-Funded Course
An effort to portray traditional styles of teaching math as being non-inclusive is gaining steam, in part courtesy of the billionaire co-founder of Microsoft—as is mockery of the effort.
The latest example of the latter is a screenshot of the Equitable Math curriculum that is supported with a $1 million grant from the Bill and Melinda Gates Foundation to The Education Trust Inc.
The screenshot making the rounds on Twitter is an image of the EquitableMath.org website that begins with: "White supremacy culture shows up in math classrooms when... The focus is on getting the 'right' answer."
That's followed by a paragraph that reads: "The concept of mathematics being purely objective is unequivocally false, and teaching it is even much less so. Upholding the idea that there are always right and wrong answers perpetuate objectivity as well as fear of open conflict."
Newsweek reached out the Gates Foundation, asking if it agrees with those assertions and asking it to explain their exact meaning. The group confirmed the donation but was unavailable to comment further.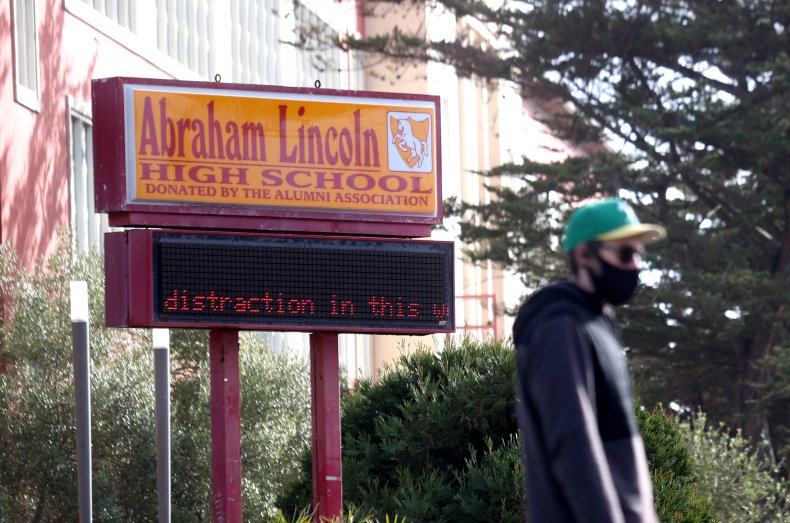 The Equitable Math method of teaching consists of five "Strides." The first Stride, "Dismantling Racism in Mathematics," is the one getting the most attention from detractors.
The lesson calls for "educators to reflect on their own biases" and bills itself as "a collective approach to dismantling white supremacy." The Stride calls for teachers to avoid ideas that reinforce "paternalism" and "powerhoarding" and to continually challenge themselves to "incorporate antiracist practices" in their classrooms.
Too often, says the lesson plan, "students have to pull themselves up by their bootstraps and if they fail it is their fault." This approach is wrong because it "does not give room for the systemic reasons students fail."
Another Stride asks teachers to engage "instructional coaches" who have "the potential to scale their impact to a number of classrooms and students in order to dismantle the culture of white supremacy that exists within the math classroom."
The Equitable Math curriculum also borrows from the bestselling book White Fragility by Robin DiAngelo, where the author writes, "Whiteness is dynamic, relational, and operating at all times and by myriad levels. These processes and practices include basic rights, values, beliefs, perspectives and experiences purported to be commonly shared by all, but which are actually only consistently afforded to white people."
DiAngelo's lessons, in fact, led to another controversy this week as they were used in a diversity training session promoted by LinkedIn and used by Coca-Cola and other companies. The lesson asked employees to be "less white," and backlash ensued, and LinkedIn told Newsweek on Monday that it had pulled the plug on that particular diversity lesson.
It's unknown how many schools have adopted the Equitable Math curriculum, but its website lists "partners" that include the Association of California School Administrators, Monterey County Office of Education, the Sacramento County Office of Education, Lawrence Hall of Science at UC Berkeley and several more that are mostly headquartered in California. Fox News, though, reported that the Oregon Department of Education has encouraged its teachers to register for the Equitable Math training, while a radio station in Seattle reported that a version of it is already functioning at schools there.