Is Yahya Abdul-Mateen II Playing Morpheus in 'The Matrix 4'?
The Matrix 4 (aka The Matrix Resurrections) has released its full trailer, which gives fans plenty of what they love about the franchise. They get to see Neo (played by Keanu Reeves) use his Matrix power to direct a missile, witness him reunite with Trinity (Carrie-Anne Moss) and, of course get plenty of "digital rain" (aka Matrix code).
One thing fans don't get, however, is Laurence Fishburne as Morpheus. However, the promo does have Watchmen and Candyman star Yahya Abdul-Mateen II wearing the signature armless glasses of Fishburne's character.
This, and a scene where Mateen shows Reeves' character how to fight (as he does in the first Matrix), has left people wondering about whether Mateen may be playing a new version of Morpheus in the fourth Matrix movie, coming to HBO Max and theaters this Christmas.
Is Laurence Fishburne in The Matrix 4?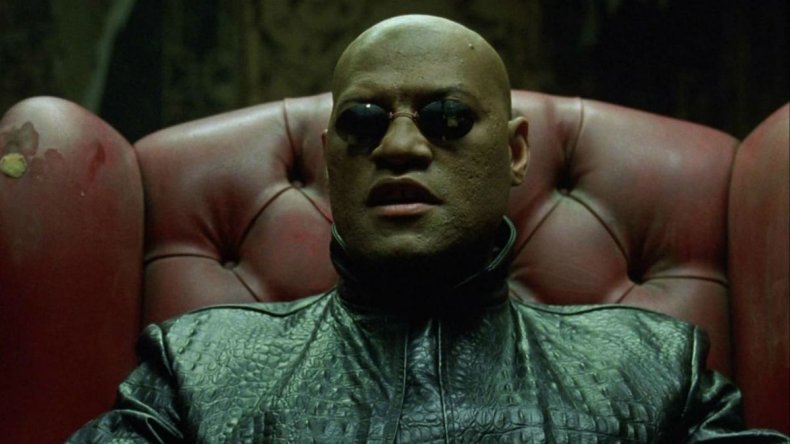 The Boyz N Tha Hood actor has said in a number of interviews that he won't be in Resurrections.
He was first asked about his involvement by Vulture in August last year, and told them: "I have not been invited...I'm looking for the blessing in that. I wish them well. I hope it's great."
Speaking to Collider in June, he added: "I am not in the next Matrix movie, and you'd have to ask [director] Lana Wachowski why, because I don't have an answer for that."
So far, Wachowski hasn't addressed her new film in interviews, meaning that the answers for why Fishburne wasn't asked back might reveal some major plot spoilers.
Who Is Yahya Abdul-Mateen II Playing in The Matrix Resurrections?
So far, the only character names that have been announced are those from the original trilogy, like Neo, Trinity, Niobe (Jada Pinkett Smith) and The Merovingian (Lambert Wilson).
The trailer, however, certainly wants us to think that Mateen is a new version of Morpheus. The first time that we see him, he is wearing the pince-nez that Morpheus famously wears in the blue pill/red pill scene from 1999's The Matrix—and the camera positioning seems to be aping that first scene.
However, there are other moments in the trailer that suggest the character's identity is a little more in flux. In another scene, we see Mateen in the suit and tie look seen on agents like Agent Smith (Hugo Weaving) in the trilogy.
Asked by Variety whether he was playing a new version of Morpheus, the actor joked: "In The Matrix? Yeah, I think you're breaking up a little bit. All of a sudden, I can't hear you so well."
However, he did drop a hint he was playing a new version of an established character. In that same interview, he said: "[Matrix and Candyman] both are classics that people love...Of course, they also come with the opportunity to, to add your own spin to moments and characters." This could mean that Yahya will be offering his "own spin" to Fishburne's character.
The main fan theory is that Mateen is playing a younger version of Morpheus. However, the title of this new movie is The Matrix Resurrections plural, suggesting that we could also be dealing with parallel Matrices.
With so much of this film under a cover of secrecy, viewers may not find out until the movie comes out on December 22 in theaters and on HBO Max.