Matt Amodio Broke a Major Superstition on the Day His 'Jeopardy!' Run Ended
Matt Amodio's Jeopardy! run coming to an end left fans stunned on Monday, and the former champ has a theory about what may have contributed to his loss.
The Yale Ph.D. candidate was seen leaving defeated after a phenomenal 38-game win streak that has landed him in second position for the most consecutive victories, behind only Ken Jennings with 74.
But as he took to Twitter in the hours that followed his fateful Jeopardy! episode, Amodio revealed that he broke a major superstition on the day his run ended—and it has all to do with his choice of clothing.
As he prepared for the Season 38 premiere episode of Jeopardy! in September, the Ohio native revealed in an interview posted on the show's website that he refused to buy himself any new clothes during the season break.
When asked if he had bought clothes for the show, Amodio responded: "No, I'm a little bit superstitious about that. I'm worried about acquiring a new wardrobe and then boom—it all ends just like that and I'm never going to be able to wear those clothes again."
Soon after the season started, a Twitter user called @OneEclecticMom came to Amodio's attention for her remarkably detailed analysis of every ensemble the contestant had worn during his run on the show.
Leaving no stone left unturned, an accompanying Twitter thread meticulously listed shirt and jacket colors (with number of times worn), along with the celebrity guest host helming the show at the time he sported each outfit.
Fast-forward to Monday's episode, and Amodio was seen donning a bronze blazer over a chocolate brown shirt. While fashion critics might have something to say about his sartorial selection, the main issue was that it appeared to be new.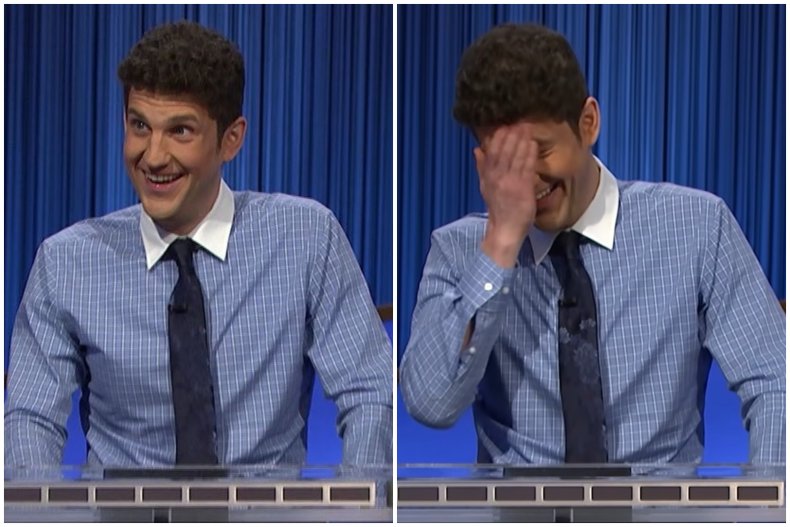 In rolled @OneEclecticMom to seek answers to the pressing question, writing: "Our beloved fashion icon got himself a new blazer! (Bought between tapings or 'borrowed' from one of his victims? Who knows!) I can't quite tell if the shirt is his oft-worn maroon shirt or a new more chocolate brown one.
"I'm thinking it's a new shirt, but TWO new pieces in one day is so unusual for Matt! Other than ties, he has only added 2 shirts this entire season up to this point."
As Amodio fielded the flood of tweets that came in after the episode, he didn't leave @OneEclecticMom waiting for an answer for too long, as he responded: "[Y]es they were both new pieces AND LOOK AT WHAT HAPPENED."
"Wow! Your superstition was right," @OneEclecticMom tweeted back. "Thanks for confirming the shirt was also new. I am disappointed we won't get to see the rest of the outfits you planned for the week."
While Amodio is now out of the primetime show, he is expected to return to screens for the "Tournament of Champions"—though @OneEclecticMom had some thoughts on that.
The fan wrote to Amodio in a separate Twitter thread: "I will be watching out for any upcoming TV interviews (but you probably should burn that jacket before the TOC [Tournament of Champions]).
"Going forward, on any days you don't appear in TV, if you could just DM me a pic of your outfit that would be great. Hate for the spreadsheet to go to waste..."
"Ha yes of course!" Amodio responded. "And as promised, that whole outfit is going [to be burned]."