Matt Amodio Feared He Wasn't 'Interesting Enough' to Be on 'Jeopardy!'
Matt Amodio has revealed that he feared he wasn't "interesting" enough to compete on Jeopardy! as he went through the audition process for the show.
The Yale Ph.D. student, 30, became a Jeopardy! sensation during his recently-concluded run, winning 38 consecutive games and breaking records along the way.
However, the self-described introvert has admitted that when he applied to be on the syndicated show, he began to worry once he realized that being knowledgeable was only one part of the qualifying criteria.
"The process of getting on the show, it's multi-staged," he said in a recent interview with Cleveland CBS affiliate WOIO—aired before his Jeopardy! defeat hit screens. "There are auditions that you have to do and at each point, you not only have to answer questions right but there are people evaluating you for personality.
"I'm a very introverted person and I was more worried about seeming interesting enough to get on the show than I was about the actual questions. But lo and behold, here I am."
Ohio native Amodio went on to tell interviewer Jeff Slawson that his stage fright also informed his distinctive style of play, which saw him answering all clues with "what is"—irrespective of if the question pertained to a person, item or place.
He went on: "I've never performed. I've never been in theater or sung or played music in front of people, so I was really worried that I would have stage fright—forget my name, forget what the capital of Ohio is if they asked me.
"I thought that if I forget to form it in a question, they're gonna mark me wrong, so I should just try to make that an instinct and do it without even thinking. And that helped."
As has been well documented, Amodio went on to etch his name in the Jeopardy! hall of fame after earning the second-longest win streak in the show's entire history, behind only all-time champ Ken Jennings with 74 consecutive victories.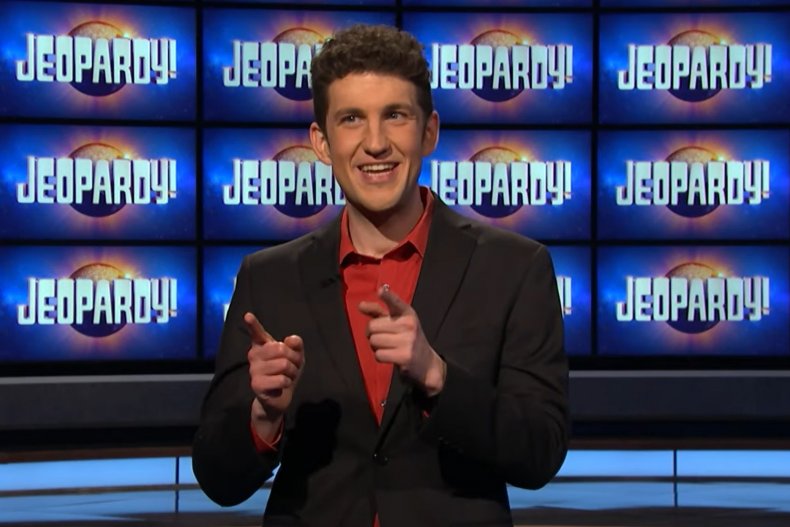 And away from screens, Amodio has proved interesting enough to viewers that he now has a large following on Twitter—standing at 47,700 at press time.
"I'm still calling myself an introverted person, even though I'm now sharing my thoughts to all of these people on Twitter," Amodio said. "I'm surprised how much I'm enjoying it. So maybe I'm not as introverted as I thought, and maybe it just takes a little bit to give people a push and they'll enjoy it too."
Amodio—who had also previously revealed that he doubted he was "good enough" to compete on Jeopardy!—was seen ending his run on Monday night's episode of the show, when he was defeated by challenger Jonathan Fisher.
In a statement shared after the episode aired, Amodio said: "Everybody's so smart and so competent that this could happen any game. And this time it did.
"I always wanted to be a Jeopardy! champion, and I accomplished that. l know going into every bar trivia game that I play that I'm going to come in with a little intimidation factor.
"But also, I just like the badge that it represents. As somebody who prioritizes knowledge and knowing things, this is really a good one to have following me everywhere."
Artificial intelligence researcher Amodio will return to compete on the next "Tournament of Champions," which is expected to hit screens in 2022.