Matt Amodio Admits Ongoing 'Jeopardy!' Success Has Become 'Stressful'
Matt Amodio has admitted that his record-breaking run on Jeopardy! has started to become "stressful," with the pressure increasing with each game.
The Yale Ph.D. candidate has become a fan favorite, thanks to his breadth of knowledge and quick-fire, unconventional style of play that saw him set a new record when he won his 33rd consecutive game on Friday night's episode.
Amodio has overtaken James Holzhauer to become the show's second most successful contestant.
Asked by Jeopardy! Clue Crew member Sarah Whitcomb Foss how it felt to be a "super streaker" on the show, Amodio responded: "Stressful. Every time I win another game, I feel more pressure to keep winning.
"And so I kinda like back when there were only two and three and my expectations were lower. The super-streaker status, that's a bit much."
Having surpassed Holzhauer's total of games won, Amodio now stands only behind Ken Jennings, who clocked a phenomenal 74 games back in 2004.
Amodio said that he finds the concept of standing directly behind the show's all-time legend "surreal."
"He's always been the face of jeopardy to me, and so when I think of Jeopardy! I always think of him," said Amodio of Jennings. "To feel me right behind is a surreal experience."
Such is Amodio's admiration of Jennings—who now serves as a consulting producer on Jeopardy!—that he watched and studied his style of play on the show.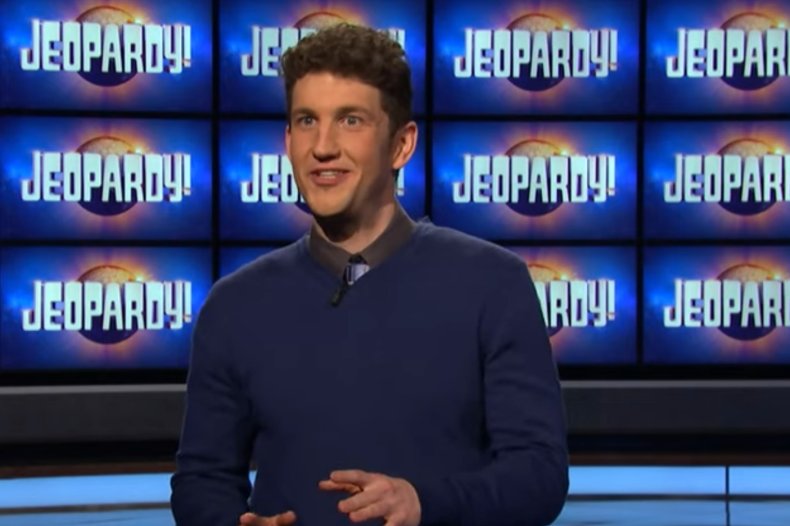 "One of the things I definitely took from him was his demeanor," Amodio explained. "I go back and look at things going wrong for him and things going right for him and I can't tell which one's which. He just has a great, stoic personality that I think serves you well on this game."
However, the pressure does creep back for Amodio when he thinks about the fact that his run on Jeopardy! is now something that Jennings is aware of.
"I feel very judged," said Amodio. "I hope he thinks highly of me, but I know he's probably looking at all my mistakes and saying, 'I knew that.' And I know you did, Ken, I know you did!"
From November, Jennings will be seen splitting hosting duties with Mayim Bialk for the remainder of the year, giving Amodio the opportunity to meet his idol, should his run on the show continue.
In an interview with Newsweek shortly after viewers saw him equal Holzhauer's win tally on Thursday night, Amodio expressed his excitement at possibly sharing studio space with Jennings.
"Meeting Ken under any circumstances would be a dream, but [having] it be under these circumstances would be Rudy-levels of perfection," Amodio said. "And as a fan, I loved him as a host. Seeing him on a Jeopardy! stage is like seeing a polar bear in the snow: it just looks right."
Amodio will be seen competing to become a 34-time winner on Monday night's installment of the syndicated quiz show.