Jonathan Fisher Describes Strict 'Jeopardy!' Schedule Matt Amodio Endured Before Loss
When Matt Amodio's Jeopardy! run came to an end on Monday night's episode, a faction of fans appeared certain that the champ had thrown the game.
After clocking a remarkable 38 consecutive wins—placing him behind only all-time champ Ken Jennings in the show's hall of fame—the Ohio native was soundly defeated by actor Jonathan Fisher.
Trailing Fisher and fellow challenger Jessica Stephens going into Final Jeopardy, an incorrect answer saw Amodio finish with $5,600 to the new champ's $29,200.
And as viewers adjust to a new Amodio-free normal, Fisher has revealed in a new essay for Newsweek just how grueling the Yale Ph.D. student's schedule was, as he shot down speculation the artificial intelligence researcher lost on purpose.
With one week's worth of episodes being in a single taped in a single day, Amodio had to grapple with long days on the Los Angeles set, as well as adhere to the stringent safety protocols introduced since the COVID pandemic.
"Matt is such a great player and such a stand-up guy," Fisher wrote in his essay. "I think he may have been tired, there were times when had taped three days in a row, which is 15 games.
"That's an astonishing amount of work, and the COVID protocols at Jeopardy! are strict and regimented. So it's a real physical and mental effort."
Acknowledging other Jeopardy! legends, Fisher added: "I bet if you ask James Holzhauer and Ken Jennings they would say that at some point you do get really tired."
"Matt absolutely did not throw the game," said Fisher. "Some people said that James Holzhauer threw his final game too, and he said why would he give up a job that's paying him hundreds of thousands of dollars to get toys thrown at him by his daughter."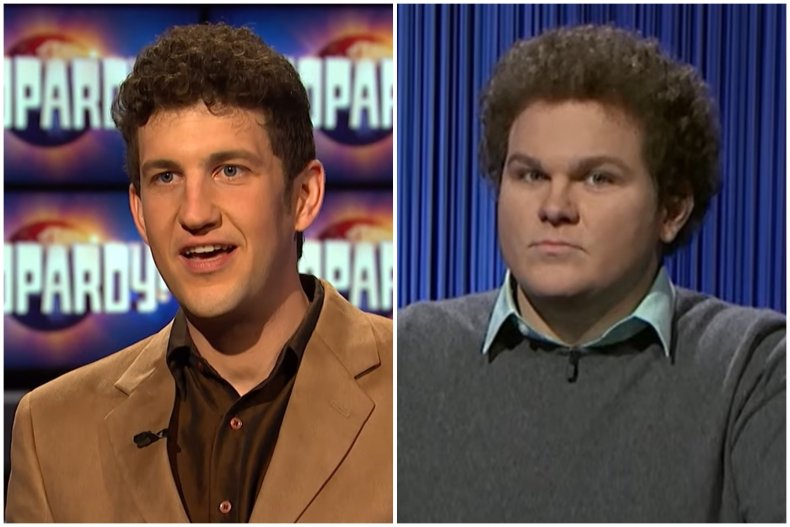 Looking back at how Amodio's form had faltered during his fateful game, Fisher went on: "There's also the factor of luck. This was the first game where Matt had two strong competitors ringing in really fast. I think he came in with a couple of wrong answers, which he didn't typically do, so I believe it's just a combination of all those factors.
"And, the buzzer is tricky. The contestants get buzzer practice at the beginning of the day so we get a feel for it, but if you go back and watch all of Matt's shows, he's not always ringing in on time, and you can also see all the other contestants hitting their buzzers constantly.
"It's all a matter of catching the clue right as it ends. I don't think there's anything wrong with the buzzers, it's just designed to be a very difficult game to master!"
After the proverbial champ baton was handed over, Fisher also revealed in his essay that he got to enjoy a friendly exchange with Amodio, who he described as "really gracious and friendly."
"After I won, my conversation with Matt was very brief because I was being taken to get ready for my next game and he was doing interviews," recalled Fisher. "But I went up and I shook his hand and said it had been so great to play him.
"He said he was rooting for me and to go on a winning streak. He was very gracious and I'm hoping that at some point we will get to interact again. He didn't give me any advice, but I did make the joke that if he wanted to give me his winnings and keep playing, he could!"
Fisher, who hails from Florida and is now based in California, solidified his status as the quiz show's new formidable force on Tuesday, landing his second consecutive win.
His full essay can be read here.