Where Matt Amodio Ranks Among the Greatest 'Jeopardy!' Contestants
It's become almost impossible to discuss Jeopardy! over the past two months without mentioning its current, seemingly unstoppable champ, Matt Amodio.
Amid headlines about the revolving door of celebrity guest hosts—and, let us not forget, Mike Richards' blink-and-you'll-miss-it stint as permanent presenter—Amodio's run has proved to be the most reliable presence of all.
On Thursday's episode, the Yale Ph.D. student was seen pushing his name higher up the list of Jeopardy! legends when he equaled James Holzhauer's record of the second most games won with victory number 32.
Should he surpass Holzhauer on Friday's installment, Amodio will have only the very top spot in sight, which has been held by Ken Jennings since 2004 with an eye-watering win streak of 74 games.
However, there are a number of variants that push players up and down the list of the greatest Jeopardy! contestants ever. Here's where computer science student Amodio ranks among them.
In the Jeopardy! hall of fame, Amodio lists as expected when it comes to most games won, tying with Holzhauer and sitting several victories behind Jennings. It also places Amodio above Julia Collins, who is next down the list with 20 games.
The table looks a little different when Amodio's cash winnings are factored in. Jennings, again, sits at the top spot with $2,520,700. Holzhauer sits closer to this record with $2,462,216, while Amodio trails in third place with $1,212,401.
Their earnings have become a talking point in recent days, as Amodio last week became only the third contestant to pull in more than $1 million in regular season play. Following Amodio on the money table is Jason Zuffranieri with $532,496.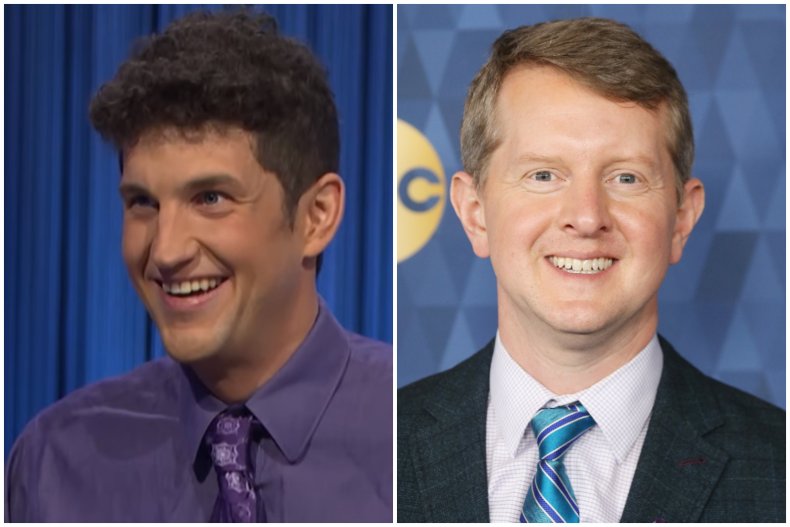 When winnings from regular season play and tournaments are combined, the table changes drastically, with Brad Rutter taking the top spot with $4,938,436.
Jennings holds a not-too-shabby total of $4,370,700, while Holzhauer follows with $2,962,216. While he's yet to compete in a tournament, Amodio is next on the table with the cash he's earned from regular play.
After viewers watched Amodio achieve his new record on Thursday, the fan favorite told Newsweek that he felt "so fortunate" to have achieved his feat, while also praising The Chase star Holzhauer.
"It feels unbelievable. Literally, unbelievable," he said over email. "I watched every second of James tearing through the competition, and I knew he was better than I could ever be.
"I still know he's better than me, but to know I've tied him in the most important stat of the show (number of games won), I feel so fortunate."
However, Amodio revealed he won't he celebrating his streak in extravagant style as he plans to hang on to his cash winnings and secure his future.
"I know it's a boring answer, but I'm going to save and invest it," he said. "The future is full of uncertainties, and I am going to be fortunate enough to have security going forward.
"My friends and family have all commented that they do not know anybody who would change their lifestyle less than me after a life-changing influx of money."