Matt Amodio Reveals Dream Prize Should He Top Ken Jennings' 'Jeopardy!' Record
As Matt Amodio continues his Jeopardy! winning streak with 36 consecutive victories, fans are watching him close the gap on all-time champ Ken Jennings.
While he is in second place for the most consecutive wins in the show's entire history, the Yale Ph.D. candidate remains a long way off Jennings' record of 74.
But that still hasn't stopped Amodio from looking toward the possibility of surpassing the impressive record, which Jennings has held since 2004.
In a post shared on Twitter on Wednesday, the Ohio native revealed that should he ever clock up 75 wins, his dream prize for achieving the feat would be to meet comedian and talk show host Stephen Colbert.
Computer science student Amodio also shared that he's such a huge fan of the TV personality that he named the family dog after him.
Sharing a photo of himself posing with two dogs, Amodio wrote: "When my parents let me name our dog, I picked Colbert. @stephenathome has made me laugh nonstop from Strangers With Candy... to the Daily Show... to the Report. Also, I watch @colbertlateshow. If I can get to 75 #Jeopardy wins, do you think he will talk Middle Earth with me?"
"Now everybody knows your political leanings," commented a Twitter user, prompting Amodio to respond: "I'm human, and therefore find Stephen Colbert hilarious."
Last week, Amodio was seen moving into second place on most consecutive wins, when he surpassed former contestant James Holzhauer's record of 32.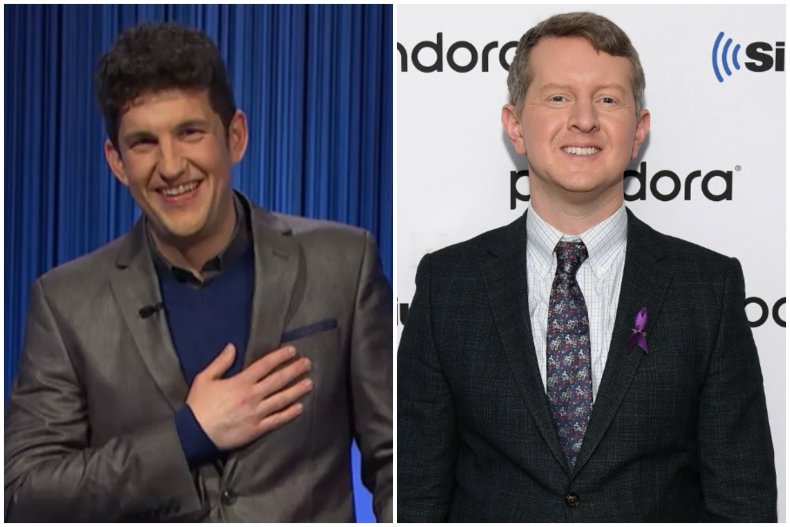 In an interview with Newsweek shortly after he was shown equaling Holzhuaer's record last Thursday, Amodio expressed his disbelief at having hit the major milestone.
"It feels unbelievable. Literally, unbelievable," Amodio said over email. "I watched every second of James tearing through the competition, and I knew he was better than I could ever be.
"I still know he's better than me, but to know I've tied him in the most important stat of the show (number of games won), I feel so fortunate."
Amid the celebratory moment, Amodio admitted that catching up with Jennings still appeared to be a daunting task.
"Ken feels as far away now as it did from Game 1," he said. "I feel like I've been put through the gauntlet over and over and over again... and I'm not even half-way there! Ken is the GOAT for a reason!"
Jennings—who now serves as a consulting producer on Jeopardy!—has stepped in to split show hosting duties with Mayim Bialik for the remainder of 2021, following the sudden departure of scandal-hit Mike Richards.
And Amodio is looking forward to finally getting to meet his Jeopardy! idol, after publicly expressing his admiration for Jennings on a number of occasions.
"Meeting Ken under any circumstances would be a dream, but [having] it be under these circumstances would be Rudy-levels of perfection," Amodio told Newsweek. "And as a fan, I loved him as a host. Seeing him on a Jeopardy! stage is like seeing a polar bear in the snow: it just looks right."