Matt Amodio Says Unvaccinated Aaron Rodgers 'Put Other People's Lives in Danger'
Jeopardy! star Matt Amodio has criticised the show's erstwhile guest host Aaron Rodgers for joining the show without having taken the COVID-19 vaccine.
Green Bay Packers quarterback Rodgers has faced backlash in recent days, after it was revealed (following him testing positive for coronavirus) that he has not been vaccinated against the virus for fear of blood clots and infertility.
And Amodio, whose 39-game reign as Jeopardy! champ ran onscreen through the summer until October, has shared his candid thoughts on the matter on Twitter.
The Yale Ph.D. candidate tweeted an article sharing a quote from Rodgers that read: "I am somebody who's a critical thinker... I believe strongly in bodily autonomy and the ability to make choices for your body."
Making his feelings known, Amodio wrote: "Packers left tackle doesn't protect Aaron Rodgers from blitzing linebacker, citing bodily autonomy."
He added in a follow-up tweet: "Usually being stupid on #Jeopardy only costs 1. you 2. money, but here he put 1. other people's 2. health in danger."
Amodio's tweets, which were shared on Friday, came on the same day that fellow Jeopardy! champ James Holzhauer mocked Rodgers as he branded him a "peddler of pseudoscience."
Holzhauer, who won 32 games on Jeopardy! back in 2019, attributed fake quotes to Rodgers and his fellow guest host on the show, Dr. Mehment Oz.
"Dr. Oz: I'm the only peddler of pseudoscience to ever guest host Jeopardy!" Holzhauer wrote, adding: "Aaron Rodgers: Hold on a minute playa."
Rodgers was one of a roster of celebrities who had tried out to replace beloved late presenter Alex Trebek, with his stint on the show airing in April. Dr. Oz's episodes aired in March.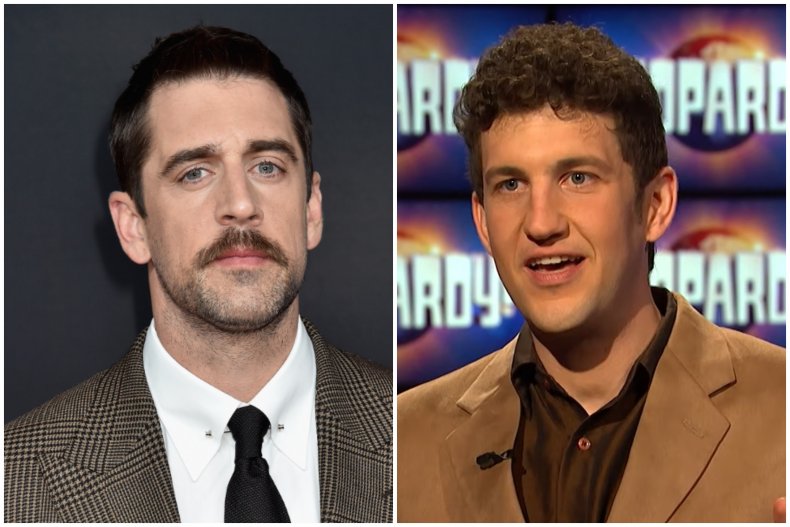 The same month that Oz's Jeopardy! episodes aired, a number of fans and former contestants criticized his appointment as a guest host. A petition was also launched online, urging then-executive producer Mike Richards (and later ousted host) to cut his stint short.
At issue, stated the petition, was Oz's promotion of "supplements that do nothing, legitimizing gay conversion therapy (which is banned in California, as well as 19 other states), dangerous 'cures' for autism, and, most recently, the use of hydroxychloroquine as a treatment for COVID-19."
Meanwhile, Rodgers told reporters in August that he had been "immunized" against COVID-19. He tested positive for the virus last Wednesday.
The U.S. Centers for Disease Control and Prevention (CDC) has said that no clinical research has linked COVID-19 vaccines approved for use in the U.S. to male infertility.
While the Johnson & Johnson COVID-19 vaccine has been linked to blood clots in adult women younger than 50, the CDC said that blood clots are rare for any male vaccine recipients.
The risk of developing blood clots is "substantially higher" from COVID-19 infections than from vaccine side effects, an Oxford University study found in August of this year.
Rodgers said he has been taking the anti-malaria medication hydroxychloroquine and the anti-parasite medication ivermectin to treat his symptoms since his COVID-19 diagnosis. According to medical authorities, neither medication has any proven effect on alleviating symptoms of the virus.
During an appearance on The Pat McAfee Show on Friday, Rodgers criticized vaccine mandates as he stated that it should be his personal choice what happens to his body.
"I'm not some sort of anti-vax, flat-earther," Rodgers said. "I believe strongly in bodily autonomy and the ability to make choices for your body, not to have to acquiesce to some sort of woke culture or crazed individuals who say you have to do something."
He also stated that he shied away from taking the Pfizer or Moderna vaccines because was allergic to an ingredient in them. He opted against the Johnson & Johnson vaccine for fear of blood clots.
The quarterback said that he has followed most of the NFL's protocols for unvaccinated players, though he didn't wear a mask during news conferences and attended a Halloween party maskless—both violations of the league's regulations.
"Some of the rules are not based in science at all," Rodgers said. "They're based purely in trying to out and shame people."
Paraphrasing revered civil rights leader Martin Luther King Jr., he added: "The great M.L.K. said, 'You have a moral obligation to object to unjust rules and rules that make no sense.'"