Matt Amodio's 'Jeopardy!' Success Predicted by Late 'Golden Girls' Star: Harvey Fierstein
Matt Amodio's seemingly unstoppable run on Jeopardy! has brought him fans, detractors and a detailed analysis of his wardrobe on the show.
But the Yale Ph.D. candidate fielded what are most likely his most unusual post-fame tweets to date on Saturday, when Harvey Fierstein informed him that a late The Golden Girls star has informed him how many games Amodio will win.
Fierstein took to the micro-blogging platform to inform Amodio that he was recently visited in a dream by none other than Estelle Getty—famed for her Emmy-winning turn as Sophia Petrillo on the show—who duly shared her Jeopardy! intel.
Sharing a throwback photo of himself posing with Getty, who passed away in 2008, Fierstein wrote: "I love sleeping because I have the best dreams.
"This morning I awoke speaking to Estelle Getty on the phone. She was in town for the Gay Day Parade and wanted to get together. It was fun catching up with her.
"Picture it West Hollywood 2021," he went on, adding a GIF of Getty as Petrillo as she sat at her kitchen table with Betty White's Rose Nylund. "Estelle could see the future. She told me all about @AmodioMatt years ago. She told me exactly how many games he'd win but I can't divulge the information."
Amodio, whose current win total stands at 38 games, responded to the tweets: "Surely you can make an exception for me? I'd love to know!"
"Oh, Cookie, living in the moment is the real secret to happiness," Fierstein replied. "I'd never rob you of that. You are a shining example. Just keep breathing. All will be revealed. So saith Estelle. xoxox."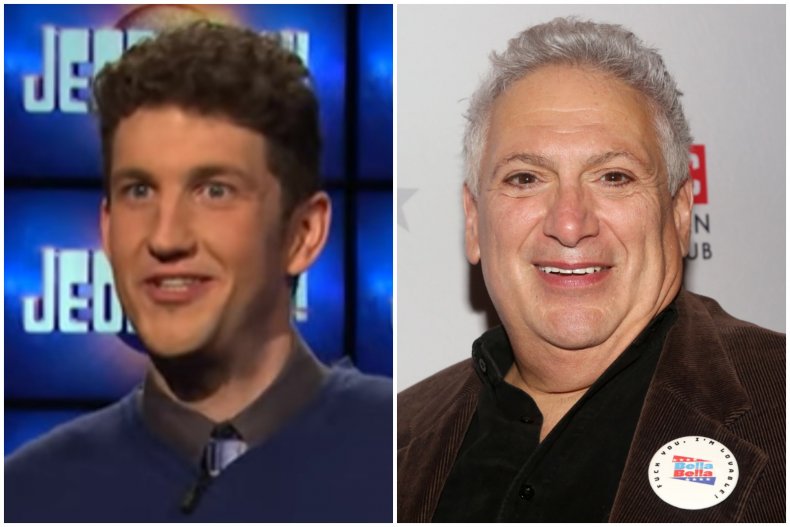 "These are the words of wisdom I need, thanks!" Amodio wrote back to Fierstein, who worked with Getty in the early 1980s when she appeared in his Broadway musical Torch Song Trilogy.
While the audience will have to wait to see how many games Amodio will go on to win in total, he has been breaking numerous records along the way and now sits in second position for most consecutive victories.
However, he faces quite the uphill climb to the top record of 74 games, held by all-time champ Ken Jennings since 2004.
Amodio tweeted on Wednesday that should he ever clock up 75 wins, his dream reward would be meeting comedian and talk show host Stephen Colbert.
Computer science student Amodio also revealed in his tweet that he's such a huge fan of Colbert that he named the family dog after him.
The Jeopardy! champ wrote: "When my parents let me name our dog, I picked Colbert. @stephenathome has made me laugh nonstop from Strangers With Candy... to the Daily Show... to the Report. Also, I watch @colbertlateshow. If I can get to 75 #Jeopardy wins, do you think he will talk Middle Earth with me?"
In a recent interview with Newsweek, Amodio admitted that he still sees Jennings' win total as an all-too distant target.
"Ken feels as far away now as it did from Game 1," he said. "I feel like I've been put through the gauntlet over and over and over again... Ken is the GOAT for a reason!"