Clip of Kentucky Republican Governor Matt Bevin Calling Trump Impeachment Inquiry a 'Sham' and Saying Voters Agree Goes Viral After Defeat to Democrat
As Kentucky voters cast their ballots Tuesday, incumbent Governor Matt Bevin responded to an NBC reporter who asked him why he referenced President Donald Trump so often during his campaign. Apparently frustrated by the reporter's question, the governor asserted that most voters in Kentucky find the impeachment process to be a "sham" and a "charade." The clip has since gone viral with many slamming the Republican governor for his rant after his apparent loss in Tuesday's election.
In the clip, Bevin tells NBC reporter Vaughn Hillyard, "The fact that you ask why this is being nationalized and why people are talking about President Trump would indicate to me that you really have sort of maybe come out from under a rock, because here in America, that's pretty topical every night."
The reporter was quick to point out that as the governor of Kentucky, Bevin doesn't have a vote in the impeachment inquiry currently underway in Washington. Bevin bristled at the statement proceeded to lecture, "Is this a civics lesson now? You think I don't understand what the role is?" He also told the reporter, "Ask the next 100 people who come in here if they care about this impeachment process, and they will tell you, almost to a person, that they do. They find it to be a charade. It's an absolute sham."
Bevin went on, adding that, "We don't appreciate when a handful of knuckleheads in Washington abdicate their responsibility as elected officials, and try to gin up things that are not true." The governor closed with his prediction for the 2020 presidential election: "Donald Trump got elected once, and he's pretty certainly going to get re-elected, based on the cast of characters running against him."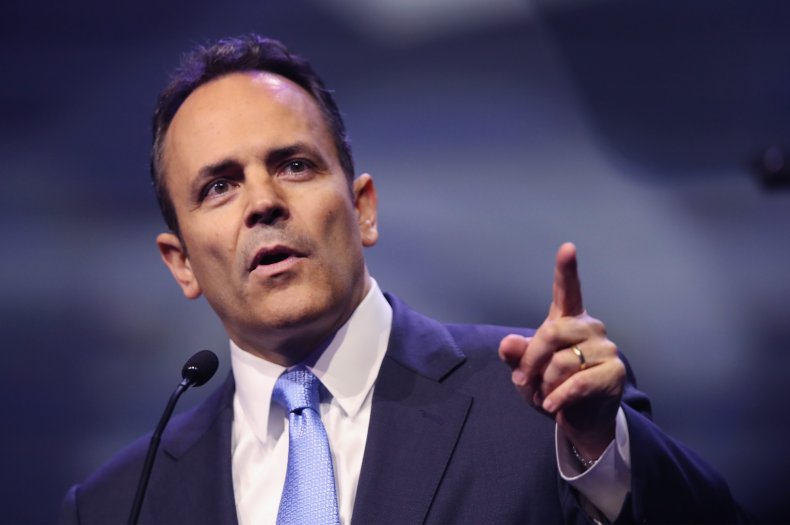 On Twitter, many users have shared the clip and criticized Bevin for his response. Conservative Bulwark contributor Tim Miller praised Hillyard's question and called Bevin's response "hostile and bizarre." A Washington Post reporter shared the clip and called Bevin "the soon-to-lose Kentucky Gov." Pundit and author Molly Jong-Fast simply wrote, "Enjoy your retirement." Another user wondered, "You understand how video and the internet works right?"
Later in the day, Hillyard shared another clip from the press conference, this time showing Bevin predicting a victory for himself. Bevin told reporters, "I've said for a long time, I thought we'd win by six to ten. I'd like it to be more like 10 to 12."
According to Associated Press reports Wednesday morning, Bevin was defeated by Democratic challenger Andy Beshear in a very tight race. Hillyard's videos of Bevin arrogantly telling the journalist he "crawled out from under a rock" and predicting his own victory seemed to take on added significance for internet commentators as the race drew to a close. Shares spiked once Bevin's defeat was imminent.
One user wrote, "Who's losing, champ?" Another tweeted, "Does he still think it's a sham? The country doesn't..."