Republican Governor Blames Mass Shootings on Zombies, Abortions, US 'Culture of Death'—Not Guns
Republican Kentucky Governor Matt Bevin blamed the continuing occurrence of U.S. mass shootings on America's culture that "celebrates death" through zombie television shows and abortion.
Bevin said "deeper cultural problems" with American society undergird the recent outbreak of mass shootings as he dismissed new gun control laws as a reasonable response to incidents similar to last month's deadly Kroger store shooting in Louisville. The conservative Kentucky governor said the country's passive acceptance of abortions and obsession with death is slowly but surely tainting America's youth and normalizing both abortions and mass shootings.
Perhaps pointing to highly popular TV shows such as AMC's The Walking Dead, Bevin argued such morbid material is pushing Americans away from celebrating life.
Conservative radio host Leland Conway of 840 WHAS in Louisville pressed Bevin Tuesday on how to stop future mass shooting incidents. Bevin said the real problem is America's "culture of death" being touted by the media.
"When a culture is surrounded by, inundated by, and rewards things that celebrate death—whether it is zombies in television shows, the number of abortions—that we indiscriminately think is just OK," Bevin explained to Conway. "These are drips, drips, drips on the stones of the psyches of young generations that are growing up in a society that increasingly says this is normal and OK."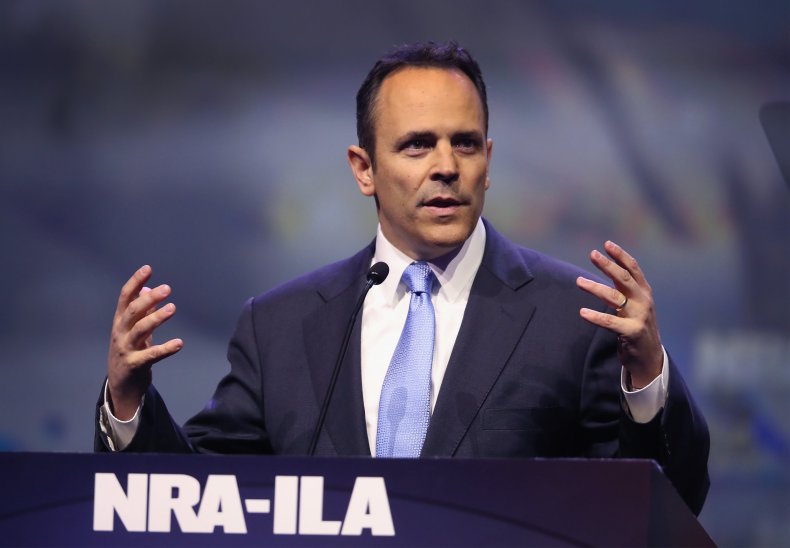 "This has sadly occurred since the dawn of man, and it occurs using guns at times, and it occurs using any number of other methods," Bevin continued. "What I have said every time and what people get upset about, this is an indication of deeper cultural problems."
Bevin also spoke with 840 WHAS host Terry Meiners about his ongoing federal court battle with Louisville's lone abortion clinic. Bevin's attorney claims the legal move does not create a "substantial obstacle" for women seeking an abortion procedure. But the ACLU argues the proposed law banning the "dilation and evacuation" procedure would ultimately ban abortions for any woman in her second trimester of pregnancy.
"What we have said is here in Kentucky we don't believe you should be allowed to dismember a living child in the process of killing it," Bevin told Meiners. "We're not saying you can't have abortions, although I would love to see that's the case too, I really would. But the reality is that's not what this law is about. This literally says while that child is alive you cannot remove its limbs in the process of removing it from the womb."
Bevin received an "A" rating from the National Rifle Association during his successful and Tea Party-fueled 2015 gubernatorial campaign. He has repeatedly denounced restrictions to firearms as a "premature" solution during his time in office.
More than 20 people have died across the country in the past three weeks as a result of mass shootings.
"Every one of us has some collective responsibility for doing things differently and it's not simply making new rules," Bevin told Conway. "In Kentucky, we have long been defenders of the Constitution, all of it, including the Second Amendment, and I don't think that's going to change."