Matt Damon Comments on 'Diversity' Resurface in Wake of 'F*****' Admission
Matt Damon's controversial remarks over diversity in the film industry have resurfaced after the actor revealed in a new interview that he has only just stopped using the homophobic slur "f*****."
The Good Will Hunting actor told British newspaper The Sunday Times that he was reprimanded by his daughter for using the "f-slur" in a joke he told months ago.
"The word that my daughter calls the 'f-slur for a homosexual' was commonly used when I was a kid, with a different application," Damon said.
"I made a joke, months ago, and got a treatise from my daughter. She left the table.
"I said, 'Come on, that's a joke! I say it in the movie Stuck on You!' She went to her room and wrote a very long, beautiful treatise on how that word is dangerous. I said, 'I retire the f-slur!' I understood."
The remarks prompted many on social media to point to an incident from 2015 when Damon drew criticism for his response to a Black colleague's concerns about diversity in filmmaking.
In the fourth season premiere of Project Greenlight, a documentary TV series chronicling the efforts of first-time filmmakers directing their first feature, Damon appeared to downplay fellow producer Effie Brown's concerns over a lack of diversity on their chosen project.
During a meeting with Damon, Ben Affleck and director Peter Farrelly, Brown, whose credits include In The Cut and Dear White People, expressed concerns that the only black character in the script being developed was a prostitute who was physically abused by a white pimp.
She argued that it was important to be mindful of this by selecting a diverse directorial team who could strive to better represent this character on the screen and suggested budding filmmakers Kristen Brancaccio and Leo Angelos, a white woman and Vietnamese man, were best suited to the project.
"I would just urge people to think about whoever this director is, the way that they're going to treat the character of Harmony, her being a prostitute," she said.
"[She's] the only black person, being a hooker who gets hit by her white pimp."
However Damon interrupted Brown's point, saying "when we're talking about diversity you do it in the casting of the film, not in the casting of the show."
The comments drew a shocked "wow" from Brown while Damon drew criticism for appearing to suggest that having a diverse group of people behind the camera was not important as long as there was a diverse cast in front of it.
Damon's argument sparked fury on social media with the term "Damonsplaining" coined in the immediate aftermath.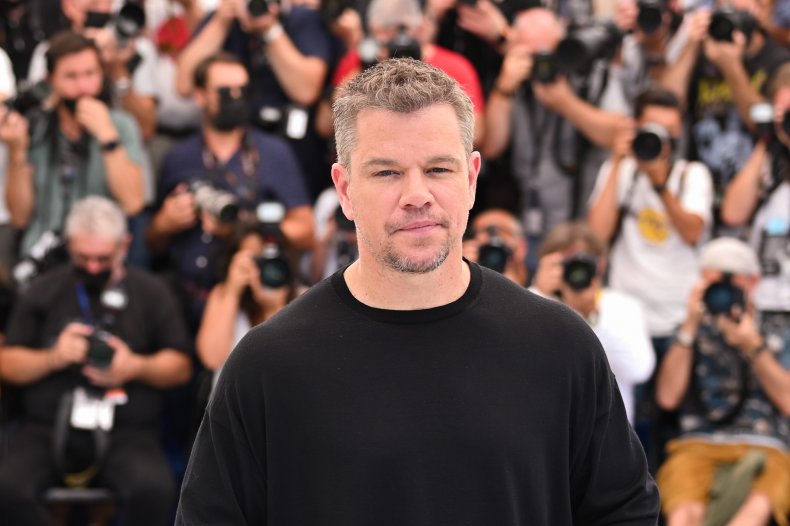 The Bourne Identity star later apologized for his remarks explaining that they were "part of a much broader conversation."
"I believe deeply that there needs to be more diverse filmmakers making movies," he added.
"I love making movies. It's what I have chosen to do with my life and I want every young person watching to believe that filmmaking is a viable form of creative expression for them too.
"My comments were part of a much broader conversation about diversity in Hollywood and the fundamental nature of which did not make the show."
Despite the apology, many on Twitter were quick to revisit the incident in the wake of Damon's admission over the recent use of a homophobic slur.
One tweet citing the earlier quotes has been liked more than 4,000 times since it was posted on Sunday evening.
Actor James III wrote: "I don't know why I'm surprised about this Matt Damon slur news because he only learned what diversity was when he f***ed up in a national docuseries just like... a couple years ago."
Sharing a link to the latest revelation, comedian Jolenta Greenberg also wrote: "Let us not forget his thoughts about "merit" v diversity too..."
Journalist Neal Broverman also shared a "Damon refresher" for anyone unfamiliar with the previous incident.
Scientist Dominique Carter wrote "Matt Damon has been on my s*** list since that segment with BLACK Film Director Effie Brown, in which he boldly tells her 'When we're talking about diversity, you do it in the casting of the film, not in the casting of the show.'"
Reacting to the news of his use of the slur, radio personality Xorje Olivares, meanwhile, tweeted: "The same Matt Damon who man/whitesplained diversity to a Black female creative?"
Newsweek has reached out to Effie Brown and Matt Damon's representatives for comment.