Matt Drudge Blasts Fox News Hosts Laughing During Terrorism Segment in Wake of Synagogue Shooting
The conservative founder and namesake of the Drudge Report news aggregation website issued a rare set of back-to-back tweets blasting Fox News' Monday coverage of the deadly Pittsburgh synagogue attack.Matt Drudge, who turned 52 last Saturday, took to Twitter Monday to ridicule an Outnumbered segment in which the hosts "laughed and joked" about the political impact of Cesar Sayoc's mail bombs and Robert Bowers's anti-Semitic shoo
Drudge continued, "A segment on Fox News this morning where hosts laughed and joked their way through a discussion on political impact of terror was bizarre. Not even 48 hours since blood flowed at synagogue? Check your soul in the makeup chair!"
Drudge followed up his Fox News criticism by posting a screenshot showing political commentator and former MTV VJ, Kennedy. The notoriously reclusive conservative asked, "Is it really funny?" while showing a smiling Kennedy above the chyron, "Questions on how mail-bomb scare, synagogue attack could impact midterm voters eight days from now."
ting at the Tree of Life Congregation Synagogue Saturday morning.
A Fox News spokesperson issued a statement Monday afternoon responding to criticism over the segment.
"Kennedy made an unrelated quip at the end of the segment which was focused on unity—there was absolutely no joking or laughing about the events of this weekend and a screen grab of her smiling is hardly indicative of the entire segment. The lower third should not have been up for the duration of this segment as it was not fully reflective of what the panelists were discussing."
In 2016, Drudge was named on the Jerusalem Post's "50 Most Influential Jews" list.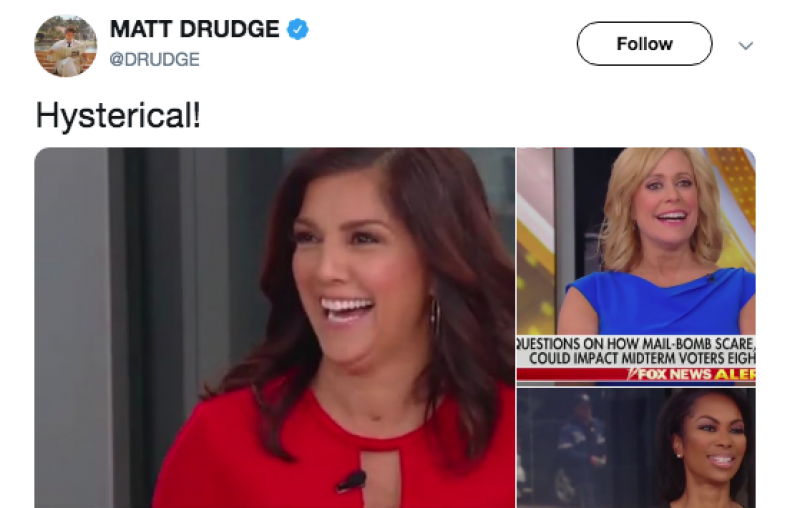 Drudge posted yet another tweet criticizing the Fox News co-hosts Monday afternoon, with a photo showing Harris Faulkner, Rachel Campos-Duffy and Melissa Francis all laughing as they discuss domestic terrorism's impact on the upcoming midterm elections.
A Sunday Fox News panel discussed Sayoc's attempt to send rival network CNN a bomb last week. A guest on the panel, The Federalist editor Emily Jashinsky, blamed CNN employees for not more fully understanding the mentality behind such terrorist activity.
"When you see at rallies people chanting, 'CNN sucks'—I would never do it personally—but CNN makes no effort to understand why people feel that way," Jashinsky said. "They do the opposite. Right? They act like they are the victims, that they've done nothing wrong to deserve this."
Update: This story has been updated to include the statement from Fox News.