Matt Gaetz Accuses Bidens of 'Selling American Influence' As Hunter Investigated by Feds
Republican congressman Matt Gaetz accused Hunter Biden of trying to sell "American influence to the highest bidder" after the president-elect's son revealed his "tax affairs" were under federal investigation.
Speaking to Fox News on Thursday, Rep. Gaetz of Florida called the investigation a "scandal" and railed against several media outlets for their initial coverage of the Hunter Biden laptop story ahead of Election Day.
The GOP lawmaker also argued that the Biden family were "quite familiar" with selling American influence as he hit out at President-elect Joe Biden's transition team for their response to the investigation.
Appearing on Fox & Friends this morning, Gaetz said: "Notice that the Biden transition tried to frame this scandal as a dispute about taxes, maybe something an accountant got wrong. The reality is this isn't about taxes, it's about foreign entanglement.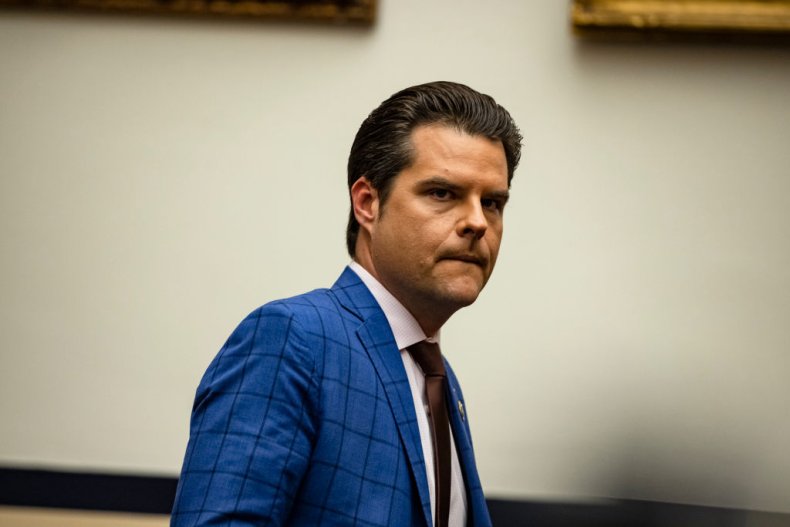 "It's about selling American influence to the highest bidder, and it appears something the Bidens are quite familiar with."
He then criticized media coverage of the investigation into Hunter Biden's laptop, arguing that those who had raised concerns about its contents were smeared in the run-up to the election.
Releasing a statement about the investigation on Wednesday, Hunter Biden said his lawyers had been alerted to the federal investigation into his "tax affairs" the previous day and he was "confident" that he would not be found to have committed any wrongdoing.
"I learned yesterday for the first time that the U.S. Attorney's Office in Delaware advised my legal counsel, also yesterday, that they are investigating my tax affairs," he said. "I take this matter very seriously but I am confident that a professional and objective review of these matters will demonstrate that I handled my affairs legally and appropriately, including with the benefit of professional tax advisors."
The Biden transition team also released a statement on the investigation. "President-elect Biden is deeply proud of his son, who has fought through difficult challenges, including the vicious personal attacks of recent months, only to emerge stronger," it read.
Politico reported on Wednesday that the investigation extended beyond the "tax affairs" mentioned in Hunter Biden's statement.
A source with knowledge of the investigation told the news site that Washington and Delaware investigators were looking into money laundering and supposed foreign ties. There is no suggestion that Joe Biden is under federal investigation.
Newsweek has contacted Hunter Biden's attorney George Mesires for comment and further details.