Matt Gaetz Among 20 Republicans Who Voted Against Human Trafficking Bill
The House overwhelmingly passed a bipartisan bill to support human trafficking victims on Tuesday, with a strong vote of 401-20 backed by both Democratic and Republican Representatives.
Among the 20 Republicans who voted against re-authorizing the Frederick Douglass Trafficking Victims Prevention & Protection Reauthorization Act of 2022—legislation that supports programs preventing human trafficking and supporting its victims—was Florida Rep. Matt Gaetz, who's currently under federal investigation for the alleged sex trafficking of a 17-year-old girl.
While all House's Democrats but one who abstained and 183 Republicans voted in favor of the bill, these 20 Republicans voted against it:
Brian Babin of Texas
Andy Biggs of Arizona
Lauren Boebert of Colorado
Mo Brooks of Alabama
Ken Buck of Colorado
Andrew Clyde of Georgia
Matt Gaetz of Florida
Louis Gohmert of Texas
Paul Gosar of Arizona
Marjorie Taylor Greene of Georgia
Andy Harris of Maryland
Jody Hice of Georgia
Thomas Massie of Kentucky
Thomas M. McClintock of California
Mary Miller of Illinois
Troy Nehls of Texas
Ralph Norman of South Carolina
Scott Perry of Pennsylvania
Chip Roy of Texas
Van Taylor of Texas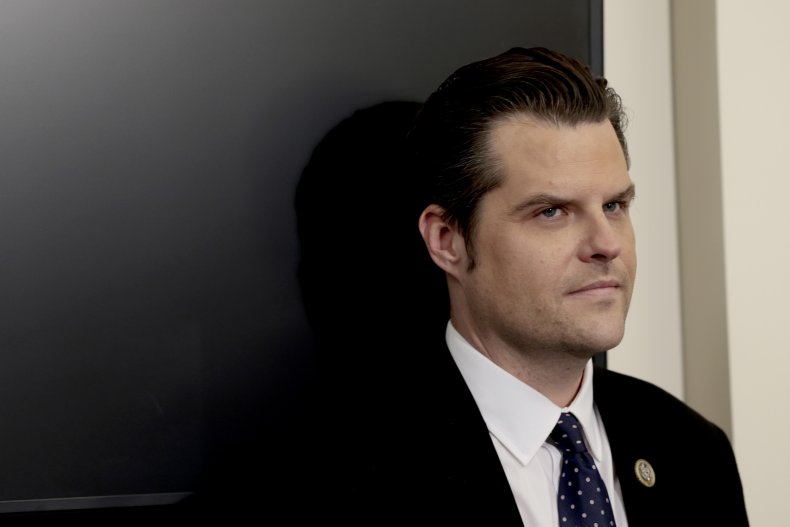 A spokesperson for Gaetz told Newsweek that the congressman voted against the bill because of the "government's failure to accurately and specifically define human trafficking," which he claimed "allows this legislation to act as a backdoor loophole for illegal immigration and amnesty."
"The bill also costs over half a billion dollars to implement and gives more taxpayer money to overfunded, inefficient grant programs," Gaetz's spokesperson said.
That Gaetz appears in this list is not surprising, considering he had previously made headlines as the only representative to vote "no" on a human trafficking bill in December 2017, which established an advisory committee coordinating efforts to prevent human trafficking.
The Florida congressman had then said that he had voted against the bill to avoid the creation of new federal entities, calling the legislation "mission creep" and an "expansion of the federal government."
But when in 2021 the New York Times revealed that Gaetz was being investigated by the Justice Department for the alleged sex trafficking of a 17-year-old girl—allegations he denies—many suddenly saw a connection between his 2017 lone vote and the probe against him.
According to the New York Times, the federal investigation into the Florida congressman was opened in the final months of the Donald Trump's administration, following a previous investigation into Gaetz's political ally and friend Joel Greenberg, who has since pleaded guilty to sex trafficking.
Investigators are trying to determine whether Gaetz paid an underage girl, then 17, for sex and paid for her to travel across state line with him—which would constitute sex trafficking under federal law.
A spokesperson for Gaetz told Newsweek that "these allegations are blatantly false and were rooted in a criminal shakedown of Congressman Gaetz's family, to which one person has already plead guilty."
Not much is known of the investigations, but a few details have been leaked by the media.
The Washington Post reported that Gaetz used to set up dates with women in exchange for dinner or hotel stays—which would be illegal only if there was a clear exchange of money for sex—and that Greenberg himself wrote a letter directly accusing Gaetz of paying for sex with women.
The Daily Beast reported that Gaetz transferred money to the equivalent of $900 to Greenberg on Venmo, saying "hit up ___," using a nickname for the 17-year-old.
The Florida congressman has always denied the accusations, saying that "no part of the allegations against me are true." Newsweek has contacted Gaetz for comment.
After Gaetz once more opposed a bill on human trafficking, rumors are again spreading on social media that the Florida congressman might be voting out of personal interest.
"I'll give you one guess as to how Matt Gaetz voted on this. And you'll be correct," political commentator Brian Tyler Cohen wrote on Twitter.
On Monday night, Mike Pence's former chief of staff Marc Short told CNN he'd be "surprised" if Gaetz will still be voting in 2024.
"It's more likely he'll be in prison for child trafficking by 2024," he said, answering a question about his potential concerns over the Florida congressman if Pence were to run for president at the next election.
"So, I'm not too worried what Matt Gaetz thinks," Short said.
Update, 7/28/22 2:40 a.m. ET: This article has been updated to include a response by Gaetz's office.