Matt Gaetz Asks for Help in Florida After Voting Against Hurricane Relief
Republican Representative Matt Gaetz of Florida recently called for Congress to help victims of Hurricane Ian, only days after he voted against legislation that in part would have released billions of dollars in disaster assistance to Florida residents.
"Dear Congress: On behalf of my fellow Florida Man in grave need of assistance.... Just send us like half of what you sent Ukraine. Signed, Your Fellow Americans," Gaetz wrote on Twitter on Sunday.
The bill presented in the House included $18.8 billion for the Federal Emergency Management Agency's (FEMA) disaster relief fund, $12 billion in aid for Ukraine and $112 million to improve security at federal courts.
Hurricane Ian hit Florida on Wednesday, wreaking havoc in the state. Some 2.5 million people were left without power on Thursday after the Category 4 storm swept through the state overnight. Many were left grappling with flooding and damaged homes and more than 80 were killed, according to official data.
As recovery efforts got underway, Congress voted on Friday on legislation to give FEMA the power to spend extra money through the disaster relief fund to help Floridians in need.
The bill passed Congress with the backing of 230 representatives with 201 opposing the legislation. Among those 201—200 of whom were Republicans—was Gaetz.
Every single Florida Republican in the House voted against releasing supplemental disaster relief funds to victims of Hurricane Ian. According to the Tallahassee Democrat, Senator Rick Scott also voted against the measure, while Marco Rubio was absent.
In a video posted by Gaetz on Twitter on Friday, he said he didn't vote in favor of the bill because the disaster relief funds were linked to the release of more funding for Ukraine.
"This was a piece of legislation regarding insulin prices. And they attached the entire funding of our government and Ukraine's to that bill so that these programs and these policy choices would not be subjected to committee review, and to hearings, and to markups and amendments," Gaetz said.
In September, Gaetz, along with other Republicans circulated a letter saying they would "do what is necessary to ensure that not one additional penny will go toward this administration's radical, inflationary agenda."
The 42 GOP representatives who signed the letter said they would have not voted for "any continuing resolution that expires prior to the first day of the 118th Congress, or any appropriations package put forward in the remaining months of this Democrat-led Congress."
"Any legislation that sets the stage for a 'lame duck' fight on government funding gives Democrats one final opportunity to pass that agenda," the letter said.
Newsweek has reached out to Gaetz for comment.
Gaetz wasn't the only member of the Republican party to ask for aid for victims of Hurricane Ian in Florida while voting against legislation doing just that. Both Florida Senators Marco Rubio and Rick Scott also voted against bills releasing funds for hurricane victims, but called for supplemental disaster funding from Senate leaders.
In a joint letter published on September 30, Rubio and Scott asked for "a robust and timely federal response, including through supplemental programs and funding," to "rebuild critical infrastructure and public services capacity, and to assist our fellow Floridians in rebuilding their lives."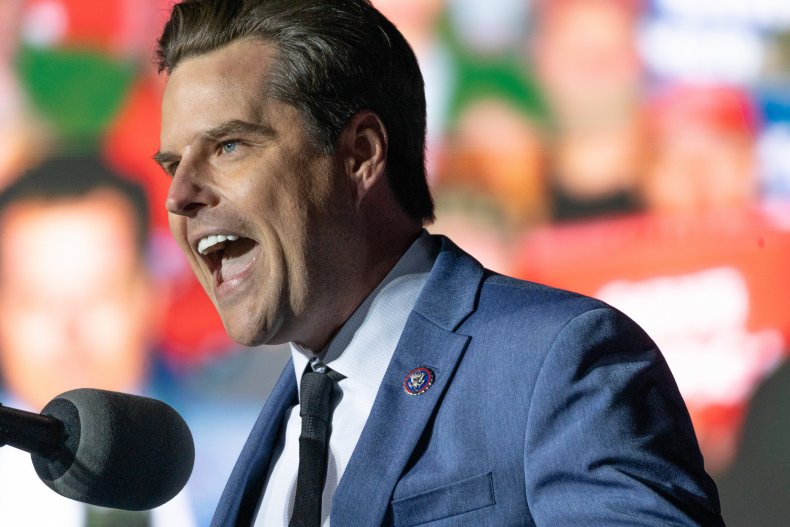 But both senators voted against the stopgap bill including the $18.8 billion fund for FEMA. Talking to CNN last week, Rubio said he voted against the legislation because the bill was "loaded up with stuff that's unrelated to the storm."
He added that "disaster relief is something we shouldn't play with."
Scott said he also voted against the bill because it included other spending items beyond disaster relief for Floridians.
Update 10/4/2022 12:45 p.m. ET: This article was updated to offer more details on Rubio and Scott's position on the bills releasing disaster relief funds for Florida.