Matt Gaetz Associate Joel Greenberg Used Restricted Database for Info on Hundreds
Joel Greenberg, the associate of Florida Representative Matt Gaetz who pleaded guilty to sex trafficking earlier this year, allegedly used a restricted state database to look up information about hundreds of people.
Greenberg was able to access the Driver and Vehicle Information Databse, known as DAVID, through his position as a local tax collector, which he held from 2017 to 2020, the Associated Press reported. The system is typically used by police to access a person's information such as their Social Security number, date of birth, address, signatures and medical and disability information.
"We're still working on determining the people searched," Alan Byrd, a spokesperson for the Seminole County Tax Collector's Office, told the Orlando Sentinel. "This was an activity by the former tax collector that was not condoned by the DAVID system, and we are working to make sure that this sort of activity does not happen again."
Byrd said some of the searches could have been legitimate, according to the AP. For instance, Greenberg could have been looking up if someone's driver's license was still valid.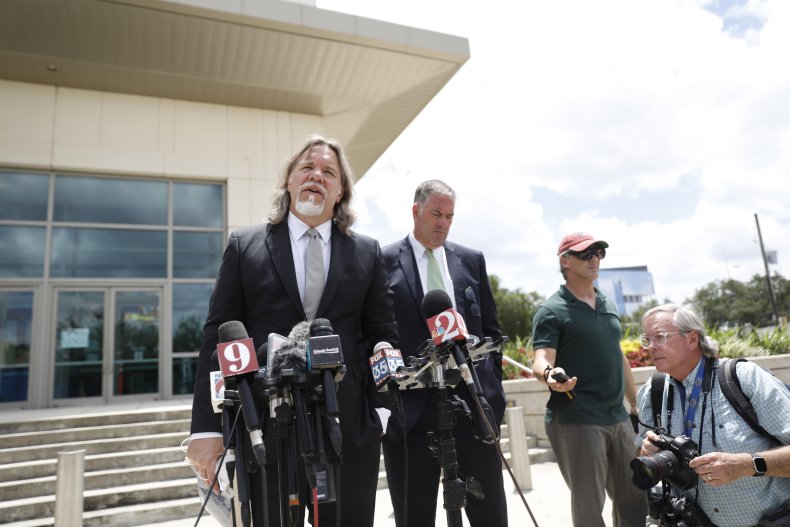 Officials learned about the searches after receiving a public records request from the Florida Center for Government Accountability about Greenberg's use of the database, the AP reported.
Seminole Commissioner Jay Zembower told the AP that he is "not surprised for one single moment."
"But it causes me great concern for those individuals, who for whatever purpose or reason, he was asking for their personal information," he said.
Newsweek reached out to the tax collector's office for comment but did not hear back in time for publication.
Last August, Greenberg was charged with sex trafficking a girl between 14 and 17. He allegedly used a state database to look up information about her and other people with whom he was engaged in "sugar daddy" relationships.
In May, he pleaded guilty to six federal charges, including sex trafficking a minor. In the plea deal, he admitted to recruiting women for commercial sex acts and paying them more than $70,000 between 2016 and 2018. He also admitted to paying at least one underage girl to have sex with him and others.
Prosecutors said Greenberg connected with the girl on a website where she claimed she was an adult. He later met her on a boat and paid her $400 before inviting her to a Florida hotel, where he and others performed commercial sex acts with her, according to court documents. He also gave her ecstasy and had sex with her at least seven times.
The 86-page plea deal also details the crimes of his co-conspirators. It did not mention Gaetz, a Republican who represents the Northwest Panhandle, by name, but Greenberg's cooperation in a sex trafficking investigation could play a role in the ongoing investigation into Gatez's alleged relationship with a 17-year-old girl.
Greenberg faces up to 12 years in prison, and his sentencing date is scheduled for Aug. 19.
Newsweek reached out to Gaetz's office for comment but did not hear back in time for publication.