Republican Rep. Matt Gaetz said America should seize the assets of Chinese businesses operating in the U.S. to cover coronavirus damage payments in a Sunday night interview.
Appearing on Fox News, the Florida congressman said the Chinese assets could be used to pay Americans "who have suffered as a consequence" of the novel coronavirus outbreak.
Gaetz also backed a bill put forward by congressional colleagues Rep. Dan Crenshaw and Sen. Tom Cotton that would expose Beijing authorities to lawsuits in America.
Speaking on The Next Revolution last night, Gaetz said: "Instead of bailing out Chinese businesses in the United States, we should seize their assets and put them in receivership to pay damages to Americans who have suffered as a consequence of the Wuhan virus.
"Here's how we do it. First, we pass the Dan Crenshaw, Tom Cotton legislation to make China financially responsible for the damages they've caused.
"And then, when the lawsuits are ultimately filed to hold China accountable, you don't just let them continue to operate their assets and their businesses in the United States. You use the judicial process to put all of that in receivership.
"That'll get China's attention. That'll hold them accountable. That will make the American people whole."
Newsweek has contacted the Chinese embassy for comment and will update this article with any response.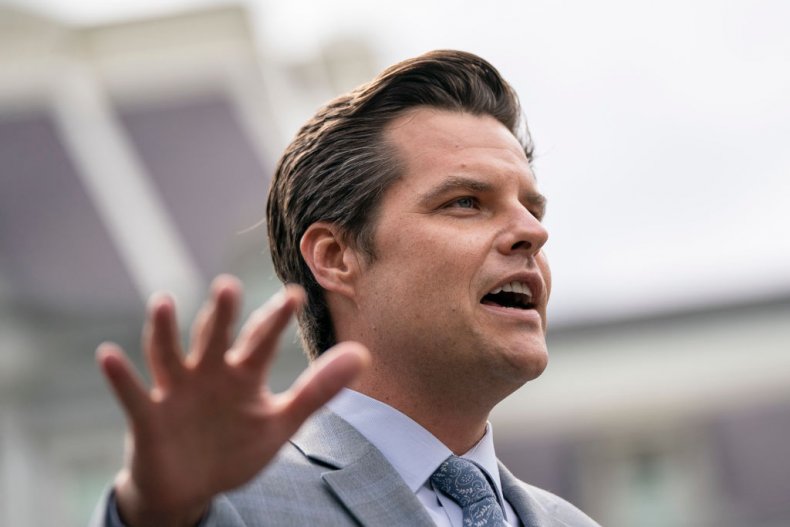 Gaetz is one of several China hawks in Congress that have repeatedly called for Beijing to pay damages to the U.S. and be cut out of critical supply chains amid the ongoing COVID-19 pandemic.
At the end of March, the GOP congressman was not pushing for the seizure of Chinese business assets, but did put forward a bill called the "No CHINA Act" that sought to prevent coronavirus relief funds from being handed to Chinese companies.
Sen. Josh Hawley (R-MO) proposed similar action around the same time, putting forward a resolution that called for an international investigation into the Chinese government's culpability for the novel coronavirus pandemic.
In mid-April, Crenshaw and Cotton introduced the "Holding the Chinese Communist Party Accountable for Infecting Americans Act" as they sought to strip back diplomatic protections against civil lawsuits contained in the Sovereign Immunities Act.
A Chinese Foreign Ministry spokesperson called one lawsuit filed against the country by the state of Missouri last month an "abuse of litigation" and "nothing short of absurdity" as he called on the U.S. to curb such civil action.