'Steele Made This Whole Thing Up?': Republican Matt Gaetz Challenges Mueller on British Spy Dossier
Florida Republican congressman Matt Gaetz pressed into former Special Counsel Robert Mueller Wednesday, demanding he answer whether former British intelligence officer Christopher Steele lied about Russian collusion with the Trump campaign.

Gaetz sarcastically asked Mueller "what exactly is your purview?" after he repeatedly declined to answer questions or referred Republican interlocutors to other Department of Justice officials in response to questions about Steele's role, if any, in the Russia investigation.
Gaetz's hearing questions focused on former British spy Christopher Steele's now-famous dossier despite Mueller stating with confidence the dossier "was not part of Russia's disinformation campaign." But Gaetz challenged Mueller to admit Steele lied in the dossier which alleged "extensive evidence of conspiracy" between the Trump campaign and Russia.
Gaetz demanded to know why Mueller's team has refused to charge Steele with any crimes, specifically if he lied about any portion of his report.
Mueller repeatedly responded that the Steele dossier and his claims were "not in my purview" because of ongoing Justice Department and FBI investigations into Steele's role prior to the Mueller Russia probe. Several Republicans demanded Mueller tell the committee if Steele was tied to the FISA applications that ultimately led to the start of the investigation into Trump's campaign. Some Republicans have accused the FBI and other agencies of using the Steele dossier in order to secure warrants to spy on Trump campaign adviser Carter Page in 2016.
"You state with confidence that the Steele dossier was not part of Russia's disinformation campaign?" Gaetz asked Mueller Wednesday. "And [Fusion GPS founder] Glenn Simpson testified under oath that he had dinner with [Russian lawyer Natalia] Vesilnitskaya the day before and the day after this meeting with the Trump team. Do you have any basis as you sit here today to believe Steele was lying?"
"No, that part of the building of the case predated me by at least ten months," Mueller replied, prompting Gaetz to say the former special counsel "had no problem" investigating former Trump campaign chief Paul Manafort despite his crimes predating his entry into the probe.
"Did Russians really tell that to Steele or did he just make it all up and he's lying to the FBI?" Gaetz shot back.
A fiery Gaetz continued challenging Mueller: "It's not your purview to look into whether Steele is lying, it's not your purview to find out whether anti-Trump Russians were lying to Steele and it's not your purview to look at whether Glenn Simpson was meeting with the Russians the day before and the day after you write 3,500 words about the Trump campaign meeting. So I'm wondering how these decisions are guided."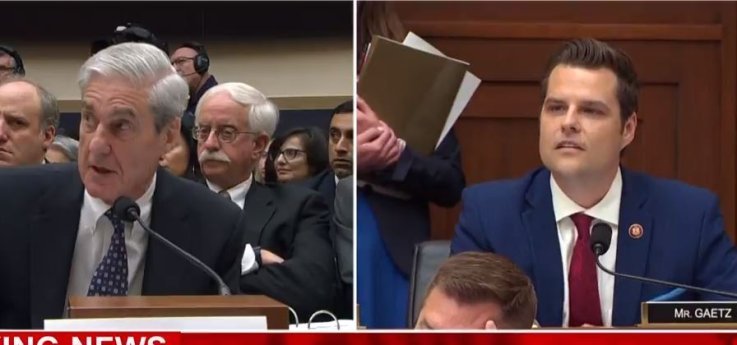 "Let me back up a second if I could, as I said earlier, with regard to Steele, that's beyond my purview," Mueller said.
"No, it is exactly your purview, Mr. Mueller, and here's why: Only one of these two things is possible - either Steele made this whole thing up and there were never any Russians telling him of this vast criminal conspiracy that you didn't find -- or Russians lied to Steele."
"As I said before and I'll say again, it's not my purview as others are investigating what you address," Mueller reiterated.
Gaetz continued, "If Russians were lying to Steele to undermine our confidence in our duly elected president that would seem to be precisely your purview because you stated in your opening that the organizing principle was to 'fully and thoroughly investigate Russia's interference.' But you weren't interested in whether or not Russians interfered through Christopher Steele, and if Steele was lying, you should have charged him with lying as you have charged a variety of other people but you've said nothing about this in your report."
Gaetz noted that Steele's reporting is referenced in the Mueller report, drawing a direct link between Kremlin foreign ministry officials and the Trump team.
As Mueller attempted to respond, Gaetz cut him off and continued accusing him of not performing his due diligence during the investigation, saying, "You're quite loquacious on other topics."
But Mueller defended himself, saying Steele's role is under ongoing investigations in other parts of the DOJ: "What I think is missing here is the fact that this is under investigation elsewhere in the Justice Department and, if I can finish sir, and consequently it is not in my purview -- the Department of Justice and the FBI should be responsive to this particular issue."
Gaetz, not happy with the reply, concluded: "It is absurd to suggest than operative for the Democrats was meeting with this Russian lawyer the day before and the day after the Trump tower meeting and yet that's not something you referenced."
Later in the testimony Wednesday, Virginia Republican congressman Ben Cline echoed Gaetz's frustration, telling Mueller, "We've heard a lot about what you're not able to talk about today."
'Steele Made This Whole Thing Up?': Republican Matt Gaetz Challenges Mueller on British Spy Dossier | Politics