Florida congressman Matt Gaetz defended fellow Rep. Alexandria Ocasio-Cortez Tuesday after a reporter said they overheard another Florida representative call Ocasio-Cortez a "f--king bitch" during a heated exchange.
"I can confirm that AOC gets along w many of her Republican colleagues on a range of things that don't have anything to do w legislation or politics," Gaetz wrote on Twitter Tuesday afternoon. "She is not a bitch."
Gaetz was responding to an article published Tuesday by The Hill, which detailed an exchange Monday morning between Ocasio-Cortez, a Democrat from New York, and Rep. Ted Yoho, a Republican from Florida.
The two lawmakers reportedly bumped into one another on the steps on the east side of the Capitol building, with Yoho telling Ocasio-Cortez that she was "disgusting" for comments she had made earlier this month suggesting that poverty and unemployment were the causes of a spike in crime seen in New York City during the coronavirus pandemic.
The Hill report said the journalist overheard Ocasio-Cortez telling Yoho he was being "rude." But as the two parted ways, Yoho, said, "F--king bitch."
Brian Kaveney, a spokesman for Yoho, denied that Yoho called Ocasio-Cortez "what has been reported in The Hill or any name for that matter."
"It sounds better for The Hill newspaper and gets more media attention to say he called her a name -- which he did not do," Kaveney wrote in an email to Newsweek. "It is unfortunate that Rep. Ocasio-Cortez is using this exchange to gain personal attention."
Instead, Kaveney wrote, Yoho made a brief comment to himself as he walked away from Ocasio-Cortez, "summarizing what he believes her policies to be: bullshit."
Yoho was joined by Rep. Roger Williams, a Republican from Texas. Ocasio-Cortez later accused Williams of joining in with Yoho, tweeting Tuesday that Williams was "yelling" at her about "'throwing urine.'"
Williams told The Hill he hadn't been paying any attention to the exchange.
"I was actually thinking, as I was walking down the stairs, I was thinking about some issues I've got in my district that need to get done," Williams said.
Newsweek contacted Williams' office for comment but did not hear back in time for publication.
When approached by reporters a few hours after the exchange, Yoho declined to comment.
Ocasio-Cortez responded to The Hill's article Tuesday morning, tweeting that she "never spoke to Rep. Yoho before he decided to accost me on the steps of the nation's Capitol yesterday."
The lawmaker added that she normally gets along "fine" with her GOP colleagues, an assertion Gaetz appeared to defend in his tweet Tuesday afternoon.
Newsweek contacted Gaetz's for comment, but did not hear back from any before publication.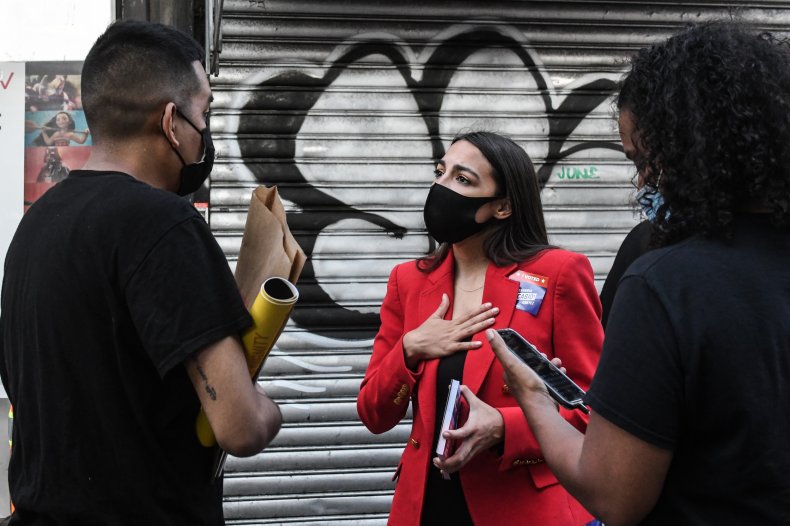 Since The Hill published its article detailing the encounter, Ocasio-Cortez retweeted several tweets where other members of Congress defended her.
Both Rep. Dean Phillips, a Democrat from Minnesota, and Rep. Ruben Gallego, a Democrat from Arizona, said that they also believe poverty to be a root cause of crime.
"Wonder why Rep. Yoho hasn't accosted me on the Capitol steps with the same sentiment?" Phillips wrote on Twitter.
Ocasio-Cortez, a young liberal who represents parts of Queens and the Bronx, had made the comments concerning crime in New York City during a July 9 virtual town hall event.
"Crime is a problem of a diseased society, which neglects its marginalized people," she said during the July 9 event. "Policing is not the solution to crime."
Lauren Hitt, a spokeswoman for Ocasio-Cortez, wrote in an email to Newsweek that Ocasio-Cortez's tweets regarding the reported encounter with Yoho stand as the office's comment "for now."
Update (07/21/20, 3:56 p.m.): This article has been updated to include comments from the offices of Rep. Ted Yoho and Rep. Alexandria Ocasio-Cortez.