Who is Ginger Luckey? Matt Gaetz's Fiancée Got Engaged to Florida Rep. in 2020
Rep. Matt Gaetz (R-FL) is reportedly under investigation by the Department of Justice over claims that he engaged in a sexual relationship with an underage girl and paid for her to travel with him.
According to The New York Times, the DOJ probe was opened in the final months of the Donald Trump administration. Gaetz denies all the allegations.
News of the investigation comes just three months after Gaetz proposed to his girlfriend, Ginger Luckey, at Trump's Mar-a-Lago club in Florida on December 30.
The DOJ inquiry, set up under former Attorney General William P. Barr, is said to be focusing on whether Gaetz violated federal sex trafficking laws, under which it is illegal to entice a person under 18 years of age to travel over state lines to engage in sexual activity in return for money or some other sort of payment.
The alleged encounters reportedly happened two years ago, when the girl was 17.
Gaetz claims a former DOJ official is using sexual misconduct allegations to extort him and his family for $25 million.
"Over the past several weeks my family and I have been victims of an organized criminal extortion involving a former DOJ official seeking $25 million while threatening to smear my name," Gaetz wrote in a statement obtained by Newsweek on Tuesday.
"No part of the allegations against me are true, and the people pushing these lies are targets of the ongoing extortion investigation."
Gaetz's engagement to Luckey was announced by conservative TV host Jeanine Pirro, who tweeted a picture of the couple shortly after he proposed at the Mar-a-Lago party. "Thanks for sharing the moment with us Judge," Gaetz wrote as he shared her post, a reference to Pirro's role as Judge Jeanine on Fox News.
The proposal "didn't come as a surprise, I had sort of seen it coming," Luckey told the Daily Mail in an interview, adding that the wedding would likely take place in 2024.
According to her LinkedIn profile, the 26-year-old lives in Santa Barbara, California, and works as a financial analyst for Apeel, a sustainable biotechnology company she joined in 2016.
An economics and accounting graduate from the University of California, Luckey first met Gaetz, 38, at a fundraiser held at Mar-a-Lago in March 2020. She told the Daily Mail she had been "dragged" to the event by her mother.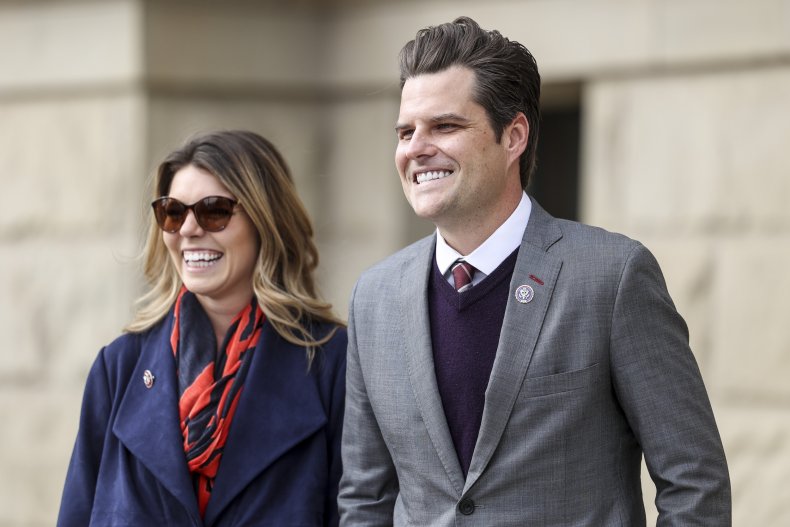 Her brother, Palmer Luckey, is the founder of virtual reality company Oculus VR.
Palmer Luckey started the company, which makes headsets that allow gamers to "step into" the action as opposed to watching it unfold on a screen, on crowdfunding website Kickstarter in 2012. He sold to Facebook two years later for $3 billion.
Three years after selling to the tech giant, Palmer Luckey left the company after it emerged that he had secretly funded a pro-Trump internet group. He later became a prominent Trump supporter and held several fundraisers for him in the lead-up to last year's presidential election.
Gaetz is also a fervent Trump supporter, but has remained relatively tight-lipped over his relationship with his fiancée. Conversely, Luckey regularly shares pictures of the couple on her social media profiles.
Some of the pictures also feature Nestor Galban, a 19-year-old who Gaetz revealed was his son back in June. During an interview with People magazine, the Florida representative said Galban was 12 when the two had first met and he had come to the U.S. from Cuba.
Gaetz said he was not Galban's biological father and had not formally adopted him. "He is a part of my family story," Gaetz told People.
"My work with Nestor, our family, no element of my public service could compare to the joy that our family has brought me."