Matt Gaetz Gets the Last Laugh
Representative Matt Gaetz celebrated his former challenger Rebekah Jones' defeat again this week, after she announced on Twitter on Thursday that she was moving out of Florida.
"Fired. Indicted. Exposed. Defeated. This is the Florida Story for Rebekah Jones," Gaetz, a Florida Republican, tweeted on Friday. "Now the grift must move on."
Jones, who ran against Gaetz in last November's midterms as the Democratic nominee for Florida's 1st Congressional District, said she was leaving the state, telling her followers, "If you have kids, you should too."
Jones, a former data analyst for the state's department of health, gained national prominence after she made claims that Florida officials were suppressing COVID-19 data to allow businesses to reopen. After the state alleged that she improperly used state equipment, Jones' home was raided by police in December 2020.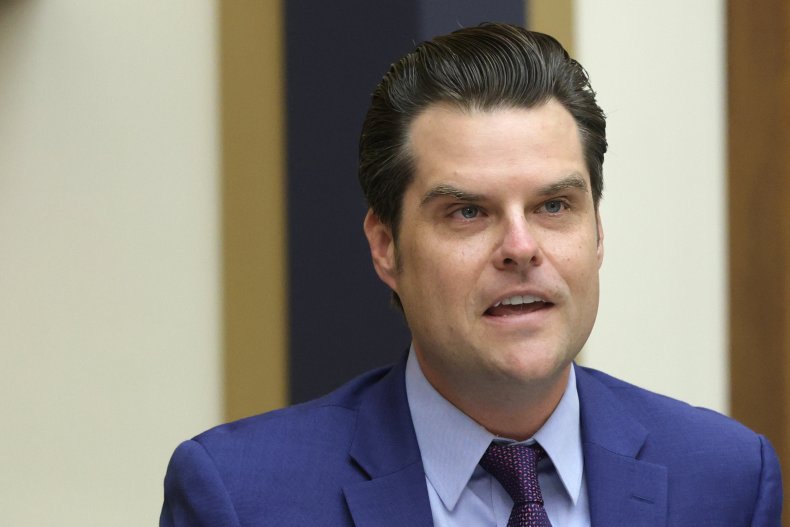 In response to Gaetz's remarks, Jones told Newsweek on Friday, "Only Matt Gaetz would think there's something to be ashamed of for being fired for refusing to break the law and being indicted (and then vindicated) for refusing to be silent."
In his tweet, Gaetz also included an article from the Pensacola News Journal about the plea deal Jones signed this past December, admitting guilt and agreeing to pay $20,000 in the criminal case where she was being charged for using Florida's computer system without authorization.
"BTW - Don't you still owe the Sunshine State restitution and community service for the crimes you admitted to committing?" the GOP lawmaker asked in his tweet.
If Jones meets the conditions under the agreement, and is not arrested for another crime in the next two years, prosecutors plan to drop the charges without an official guilty plea, according to the Pensacola News Journal.
"Unlike Gaetz, the FBI isn't investigating me for campaign finance violations, fraud, and money laundering," Jones added. "He should worry about his own legal troubles because I have no criminal convictions, pending charges or ongoing investigations into MY behavior, but he does."
"No one can say I didn't fight for Florida," Jones tweeted Thursday. "Even after being raided at gunpoint without a warrant, threatened, harassed, stalked, jailed, and everything in between, just for doing my job & trying to be one of the few honest people here, I came back to fight. I lost. We all lost."
In November, Gaetz won reelection and defeated Jones with 67 percent of the vote.
Jones' announcement is the latest political win for Gaetz, who recently escaped the possibility of criminal charges after it was reported that the Department of Justice (DOJ) decided not to bring charges against the congressman in relation to a two-year sex-trafficking probe.
Cleared of the allegations that he had a sexual relationship with a 17-year-old girl who he paid to travel with him, experts say that his power is likely to grow now that he's no longer under the shadow of an indictment.
"The media will invite him on the air more now that the announcement has been made. And that leads to more fame, social media currency, fundraising—and those things increase his perceived power," Republican strategist Alex Patton previously told Newsweek.
Update 02/17/23 2:57 p.m. ET: This story was updated to include comments from Jones.