Republican Matt Gaetz Still Refuses to Cooperate Despite Investigation Over Threatening Michael Cohen Tweet
Representative Matt Gaetz of Florida became the subject of a House Ethics Committee investigation Friday for refusing to cooperate with the panel's request for testimony over an alleged threat he issued to Michael Cohen to reveal embarrassing information about the former Trump attorney.
The committee said an "Investigative Subcommittee" was established to review allegations from another member of Congress that Gaetz "sought to threaten, intimidate, harass, or otherwise improperly influence" Cohen's testimony before a congressional committee earlier this year.
Gaetz refused to comply with a request by the Ethics Committee on May 13 for an in-person interview, resulting in the inability to "dispose of the complaint," according to the committee.
In a statement to Newsweek, Gaetz indicated that he would continue to not cooperate with the committee, despite the launch of a formal inquiry.
"If members of Congress want to spend their time psychoanalyzing my tweets, it's certainly their prerogative," he said in a statement. "I won't be joining them in the endeavor."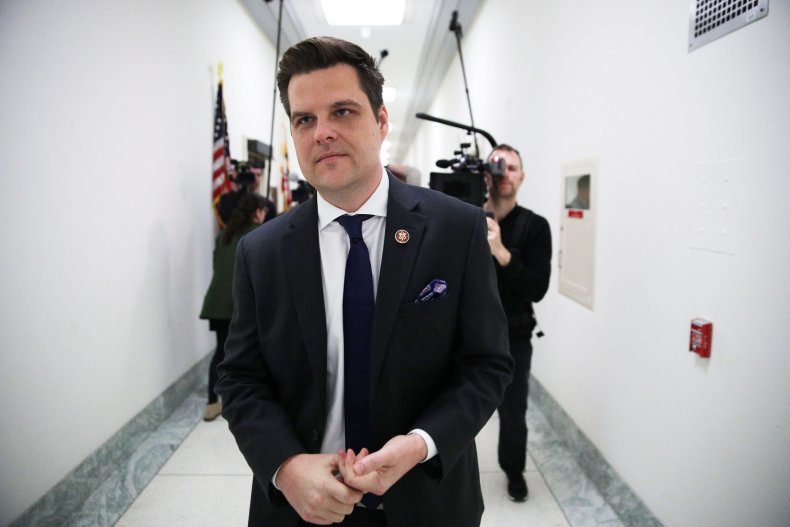 The Republican's since-deleted February 26 tweet is the focus of the investigation and came the day before Cohen testified to Congress about his time working for Trump, including his boss' involvement in hush-money payments to two women—with whom he allegedly had extramarital affairs—in the run-up to the 2016 election.
"Hey @MichaelCohen212 - Do your wife & father-in-law know about your girlfriends?" Gaetz wrote. "Maybe tonight would be a good time for that chat. I wonder if she'll remain faithful when you're in prison. She's about to learn a lot..."
That threat led to an eruption of condemnation from lawmakers on Capitol Hill and prompted another member of Congress, who was not named, to issue a complaint to the Ethics Committee on March 13.
It also resulted in an ethics investigation by the Florida Bar Association into whether Gaetz, a licensed attorney in the Sunshine State, broke rules for lawyers established by the state's Supreme Court and should receive discipline. The probe was furthered last month, according to the Tampa Bay Times, signaling that those who first reviewed the case likely believed discipline is warranted.
House Speaker Nancy Pelosi warned at the time that such remarks about witnesses could "adversely affect the ability of House Committees to obtain the truthful and complete information" and suggested that the Ethics Committee "vigilantly monitor these types of statements."
Gaetz later said in separate instances that he personally apologized to Cohen and that he did not intend for his original tweet to be viewed as a threat.
"It was NOT my intent to threaten, as some believe I did," Gaetz tweeted after Pelosi's condemnation. "I'm deleting the tweet & I should have chosen words that better showed my intent. I'm sorry."
In another tweet, he wrote: "I've personally apologized to @MichaelCohen212 4 referencing his private family in the public square. Regardless of disagreements, family members should be off-limits from attacks from representatives, senators & presidents, including myself. Let's leave the Cohen family alone."
The investigative panel handling the inquiry into Gaetz's remarks will be chaired by Democratic Representative Anthony Brown of Maryland. Democrat Raja Krishnamoorthi of Illinois and Republicans Michael Guest of Mississippi and John Rose of Tennessee will also be on the panel.