Matt Gaetz Just Got More Powerful
Representative Matt Gaetz is set to grow his influence over the Republican Party even further now that he's escaped the possibility of criminal charges.
On Wednesday, it was reported by CNN that the Justice Department has decided not to bring charges against Gaetz after a lengthy investigation into claims that the Florida congressman broke federal sex-trafficking laws.
The probe, which began in late 2020, centered around whether he had a sexual relationship with a girl who was 17 years old at the time, and whether he violated laws by paying for her to travel with him. Gaetz has repeatedly denied having sex with anyone underage.
Cleared of the allegations, the conservative could now move forward as one of the most prominent Republican voices in the nation, without fear that an indictment may derail his political image and future.
"Gaetz, even under the shadow of a DOJ indictment, didn't shrink from the public spotlight," Republican strategist Matt Klink told Newsweek. "Now that he has been officially cleared, he will continue to be a thorn in the side of Democrats, 'establishment' Republicans and anyone who goes after Donald Trump and his record."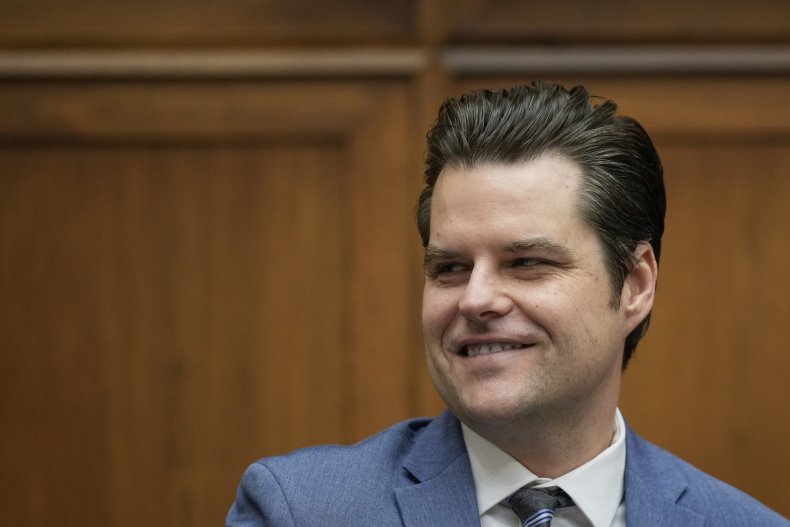 An early supporter of former President Donald Trump, Gaetz has built a reputation as one of Trump's closest allies and staunchest defenders over the last seven years. His national profile grew even more this year after he became the leading anti-McCarthy voice during January's House speakership vote.
Gaetz was among the group of 20 holdouts blocking Speaker Kevin McCarthy's path to the gavel. Even after his colleagues began flipping one by one, he maintained a hard "no" until the final 15th vote, when he voted "present," allowing McCarthy to prevail without Gaetz having to publicly support him.
"Gaetz was shrewd in negotiating with Kevin McCarthy during the speaker battle and enhanced his power while doing so," Klink said. "The fact that he has been officially cleared removes any obstacles for Gaetz. Expect him to be more vocal in the current Congress, as well as in the future."
GOP consultant Alex Patton told Newsweek while the DOJ announcement "certainly removes a cloud over his head," it remains to be seen how his role as a powerful Republican figure shapes up. "It depends on which 'GOP' you are asking about—the formal party or the 'party.'"
Patton said inside the formal GOP, Gaetz may still be facing consequences for his stubbornness over the speaker battle. However, that was never the group that gave Gaetz power.
Instead, Patton said the congressman's power "comes primarily from outside the formal GOP in the form of fame," both on social media and through television appearances, which will likely be bolstered by Wednesday's announcement.
"I am sure the media will invite him on the air more now that the announcement has been made. And that leads to more fame, social media currency, fundraising—and those things increase his perceived power," Patton said.