Matt Gaetz Lets Joe Exotic Know There's a New 'King' in Town
There's a new king in town. Florida congressman Matt Gaetz tweeted the trailer for the HBO documentary The Swamp on Friday, July 17, and warned Tiger King star Joe Exotic to move over!
This documentary follows Gaetz, along with congressmen Thomas Massie and Ken Buck "as they bring libertarian and conservative zeal to champion the President's call to 'drain the swamp,' while facing demands to raise money for their re-election campaigns and the Republican national party," a synopsis read.
The documentary is expected to tackle how power and control work in Washington behind closed doors.
"I didn't run as someone to unify Washington," Gaetz says in the trailer. "I ran to change Washington."
Gaetz is one of President Donald Trump's closest allies in congress. Kentucky congressman Massie is notoriously known as "Mr. No" in Washington for his independent voting record. Colorado congressman Buck is a founding member of the conservative-leaning House of Freedom Caucus. These Republican congressmen offered the filmmakers Daniel DiMauro and Morgan Pehme (known for their work on Get Me Roger Stone) unfiltered looks into their daily lives throughout 2019.
The documentary's title refers to the promise President Trump made in October 2016 when he pledged to "make our government honest once again," and get rid of political insiders in Washington. Thus, the phrase "drain the swamp" was adopted and chanted at his rallies.
"If people are gonna drain the swamp, like the president wants to do," Massie notes in The Swamp's trailer, "they need better information about how this place is broken."
"And that's my mission in Congress," he added.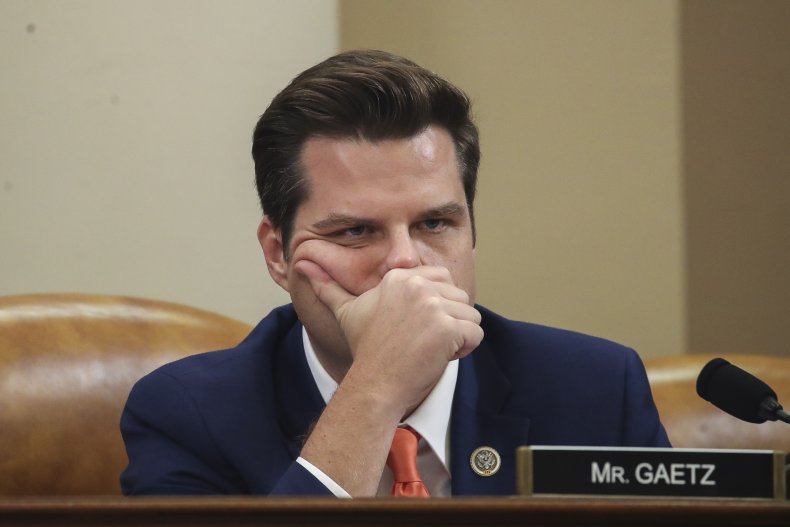 "The hierarchy of power in Washington, D.C. is special interest groups, leadership, rank and file members" Buck said in the preview clip. "It's whose can raise the money, and the special interest groups control the money."
The trailer features news footage, along with candid interviews about the White House and President Trump. As per the AV Club, film will also include conversations with Democrat Congressmen like Ro Khanna (D-CA) and John Sarbanes (D-MD), as well as former Congresswoman Katie Hill (D-CA) and Harvard Law Professor Lawrence Lessig.
"With unique behind-the-scenes access to the inner workings of the House of Representatives amid major breaking news events, including the Mueller hearing and President Donald Trump's impeachment proceedings, the film presents a revealing look at the core democratic institution of American government," the synopsis added.
The Swamp premieres on August 4 at 9 p.m. on HBO and HBO Max.