Matt Gaetz Says Liz Cheney Decision 'Encourages' Him to Spread His Agenda
Congressman Matt Gaetz (R-FL) said he was encouraged to pursue his agenda by the House Republican caucus' decision to keep Rep. Liz Cheney (R-WY) in her post as GOP conference chair, despite vocal criticisms of the congresswoman.
Appearing on Fox News on Wednesday night, Gaetz said the vote in Cheney's favor would spur him to "get out in America" and urge people to focus on changes that needed to be made in both the Republican and Democratic parties.
The Florida Republican, who was perhaps the most vocal critic of Cheney after her vote to impeach former President Donald Trump in the wake of the Capitol riots, also said her retention of the GOP conference chair reinforced "the power of Washington."
Speaking to Hannity last night, Rep. Gaetz said: "Tonight, the Republicans decided to keep Liz Cheney. Tomorrow, the Democrats will boot Marjorie Taylor Greene from her committees.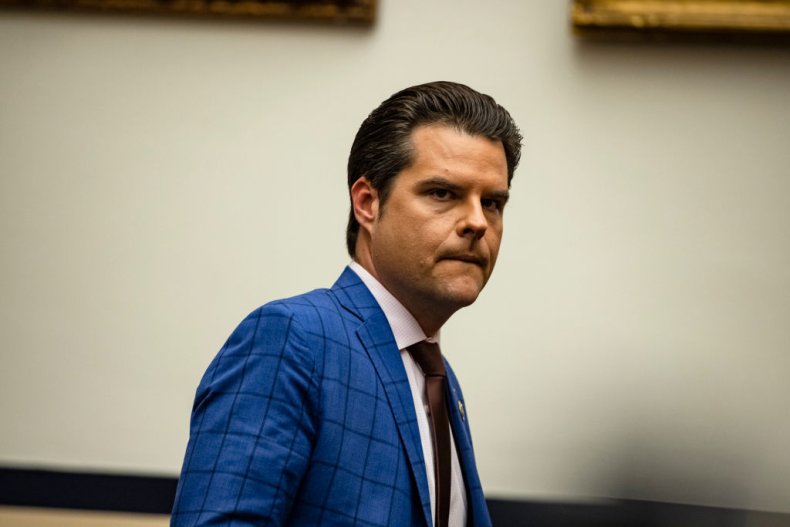 "I think both decisions reinforce the power of Washington, and it only encourages me to go out in America and get people focused on the changes we need to make in both parties so that the voters are respected."
Newsweek has contacted Rep. Gaetz's office for further comment. This article will be updated with any response.
After many House Republicans called for Cheney to be ousted from her leadership position, the Wyoming Republican still commanded strong loyalty in the caucus. In a secret ballot vote yesterday, the House GOP voted 145-61 to keep her as chair of the party conference.
Gaetz was at the forefront of the attempt to turf Cheney out of office, along with Republican Reps. Jim Jordan of Ohio and Andy Biggs of Arizona. Donald Trump Jr., the former president's eldest son, also threw his weight behind the move to oust her.
Flying to Cheney's home state for a rally against her outside the Wyoming State Capitol in Cheyenne last week, Gaetz said: "We are in a battle for the soul of the Republican Party, and I intend to win it." He also told the crowd to send Cheney home off the back of her impeachment vote.
However, several senior Republicans came to the congresswoman's defense, including the former President George W. Bush and Senator Lindsey Graham, who called her "one of the strongest and most reliable" conservatives in the party.
"Liz Cheney is a leader with deep convictions and the courage to act on them," Senate Minority Leader Mitch McConnell (R-KY) said in a statement. "She is an important leader in our party and in our nation."