Matt Gaetz, Marjorie Taylor Greene Double Down on 1/6 Conspiracy Theories on 1st Anniversary
On the first anniversary of the January 6 Capitol riot Thursday, Republican Representatives Matt Gaetz of Florida and Marjorie Taylor Greene of Georgia spoke to the press about their desire for lawmakers to investigate alleged federal involvement in the attack.
The two officials, who have been widely accused of promoting far-right conspiracy theories, said that they want to "expose the truth" about what prompted the violence on the day of the riot a year ago.
"We know this January 6 last year wasn't an insurrection. No one has been charged with insurrection. No one has been charged with treason, but it very well may have been a Fed-surrection," Gaetz said.
At the heart of their claim was a video of ex-Marine Ray Epps, who conspiracy theorists alleged that he was an FBI informant, telling people to "go into the Capitol." Gatez and Greene pointed out that Epps' name was allegedly removed from the FBI's Capitol Violence Most Wanted list despite not being charged for a crime.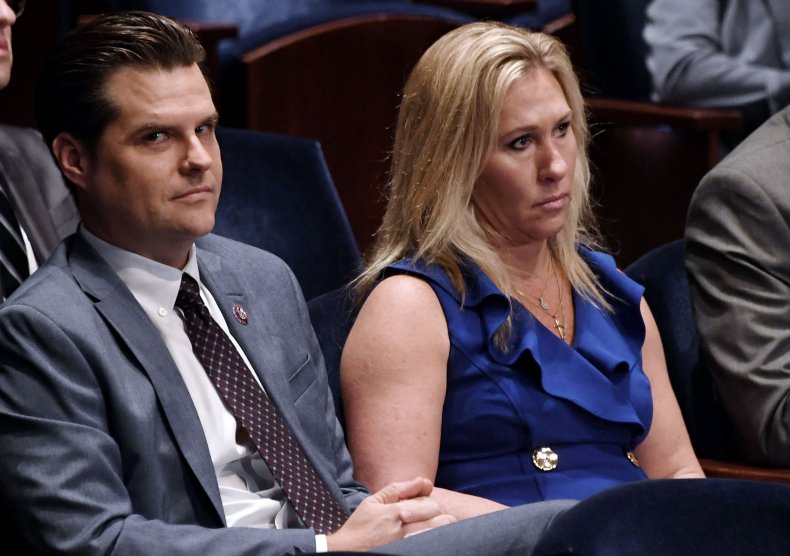 Gaetz said he and Greene have sent letters asking questions regarding Epps to the FBI and Department of Justice but had not received a response from either agency. He further promoted the idea of the riot being largely led by FBI informants after showing video of a "fence cutter."
In the clip presented by Gaetz, a man can be seen cutting a fence near the Capitol, which Greene said could have led protesters to be drawn into restricted areas where they "never intended to be."
Gaetz lamented that there has allegedly been "no evidence" that this man has been questioned, saying that he appears on no FBI wanted list like Epps.
"I can tell you right now, I don't trust our government even more," said Greene. "When I went through the D.C. jail [to visit accused rioters], I'll tell you who I did not see—I did not see Ray Epps."
According to the New York Times, no proof has come to light that connects Epps to the FBI.
Greene stated that over the past year "the Republican voice and the Republican voter and the Trump supporter" have been "smeared." She said on the day of January 6 she and Gaetz intended to testify over "stolen votes," amid her false claims regarding election rigging in 2020.
During the press conference, Greene and Gaetz often attempted to draw parallels between the Black Lives Matter protests and the Capitol riot, questioning why in certain areas of the country that 90 percent of arrests tied to the movement, as The Guardian noted, had been dropped.
While the two Republican lawmakers presented what they considered to be evidence of alleged federal participation, they stopped short of providing a definitive answer as to why the government would be involved, with Gaetz saying: "I think we still have to investigate [a motive]."
Newsweek reached out to the FBI for comment.
Update 1/6/22, 4:55 PM ET: with additional information.