Marjorie Taylor Greene Says 'I Refuse to Back Down' After Protesters Shut Down Briefing
A press briefing held by a handful of congressional Republicans to clarify "the status of January 6 prisoners and related investigations" outside the U.S. Department of Justice [DOJ] was interrupted Tuesday by protesters and concluded with its participating speakers being led away.
U.S. Representative Marjorie Taylor Greene of Georgia was addressing the hecklers, at least one of whom was overheard blowing a whistle as others held signs and yelled, when the press briefing abruptly concluded.
"To the guy that's blowing the whistle: We are not deterred," Greene said before she and her fellow briefing attendees were escorted away from the protesters.
"For anyone that's here being an activist and yelling today, here's the statement that I need everyone to understand: We will not back down. We will not stop asking questions. We are looking for the truth. And we believe the truth can be found by reaching out and answering and asking the right questions to the right people," Greene said.
Greene was expected to appear at the briefing alongside Representatives Matt Gaetz of Florida, Louie Gohmert of Texas and Paul Gosar of Arizona. Also in attendance were Representatives Andy Biggs of Arizona and Bob Good of Virginia.
The Republicans said they were gathering to request answers from U.S. Attorney General Merrick Garland regarding the more than 500 people who have been arrested in connection with the riot earlier this year at the U.S. Capitol Building.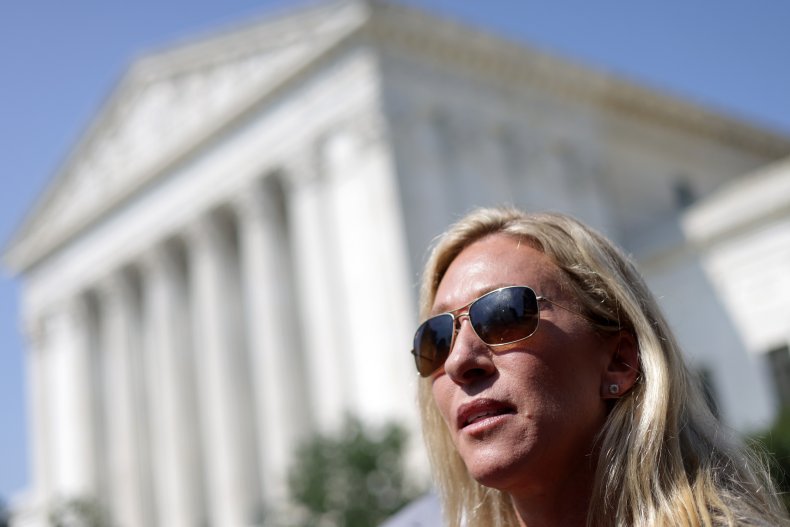 Their briefing took place three days after Gaetz, Greene, Gohmert and Gosar sent Garland a letter requesting an in-person meeting on Tuesday afternoon. As the small group of Republicans gathered outside the DOJ, a House of Representatives special committee focusing on the January 6 riot was conducting a hearing during which officers with the U.S. Capitol Police and the Metropolitan Police Department shared their experiences during that day's events.
"The Department of Justice [DOJ] reports that 535 people have been arrested arising out of events on January 6th at the U.S. Capitol Building," the letter signed by Gaetz, Greene, Gohmert and Gosar said. "We are seven months into these matters and answers are not forthcoming."
The congressional representatives said they had "concerns" about the conditions under which some of the arrestees were held and said their requests for additional information thus far "have been ignored."
After releasing the letter, dated July 24, the politicians on Monday announced plans for a Tuesday afternoon press conference.
The press conference, which was live-streamed on social media by the Right Side Broadcasting Network [RSBN], began with comments from Greene, who said her group wasn't "allowed" to enter the DOJ lobby.
"As members of Congress representing districts with hundreds of thousands of people, it's unbelievable to me that the Department of Justice will not let us in their lobby to even answer our questions."
Greene's comments were followed by statements from her colleagues, all of whom spoke over protesters who could be heard yelling and blowing whistles in the background. Less than 20 minutes into the press conference, it ended as protesters with signs could be seen surrounding the members of Congress.
"The Intolerant Left has shut down the patriotic press conference by @mtgreenee, @RepMattGaetz, @replouiegohmert, @RepGosar, @RepAndyBiggsAZ, & @RepBobGood," the RSBN tweeted after the event concluded. "The Left won't let us get the answers that we demand!"
When contacted for comment, Greene's office sent Newsweek a statement from the congresswoman in which she said she will not "back down."
"Radical communist leftists are hell-bent on silencing free speech in America," Greene said. "Just like in California, BLM/Antifa domestic terrorists followed their Democrat Party marching orders and formed a mob to try to shut down America First voices fighting for truth. I refuse to back down to the vile left and will continue to demand answers about January 6."
Newsweek reached out to Rep. Gaetz's office for comment and will update this article with any response.
Updated 07/27/2021, 4:15 p.m. ET: This story has been updated to include a statement from Representative Marjorie Taylor Greene.
Updated 07/27/2021, 2:55 p.m. ET: This story has been updated with additional information and background.