Republican Matt Gaetz Compares Mueller Report to Jussie Smollett Case: 'Two Nigerian Men in MAGA Hats'
As President Donald Trump and his supporters celebrate the end of special counsel Robert Mueller's investigation, despite not yet knowing what's in it, Republican Representative Matt Gaetz appeared to compare the probe to an alleged false assault claim made by actor Jussie Smollett.
"The Mueller Report is in. Turns out all along it was two Nigerian men in #MAGA hats who hacked the DNC & rode shirtless on horseback w Putin to mar-a-lago," Gaetz tweeted shortly after Attorney General William Barr announced in a letter that he had received Mueller's report.
The report's delivery marked the end of a nearly two-year investigation into Russia's interference in the 2016 election and possible collusion with the Trump campaign. Reports suggested that the filing of the report meant that there would be no further indictments in the probe. Six former Trump associates were indicted or pleaded guilty as part of the investigation.
In a letter to the House Judiciary Committee, Barr said he would advise members on the "principal conclusions" of Mueller's report "as soon as this weekend."
The White House has confirmed they have yet to see the report.
"The next steps are up to Attorney General Barr, and we look forward to the process taking its course," White House press secretary Sarah Sanders tweeted. "The White House has not received or been briefed on the Special Counsel's report."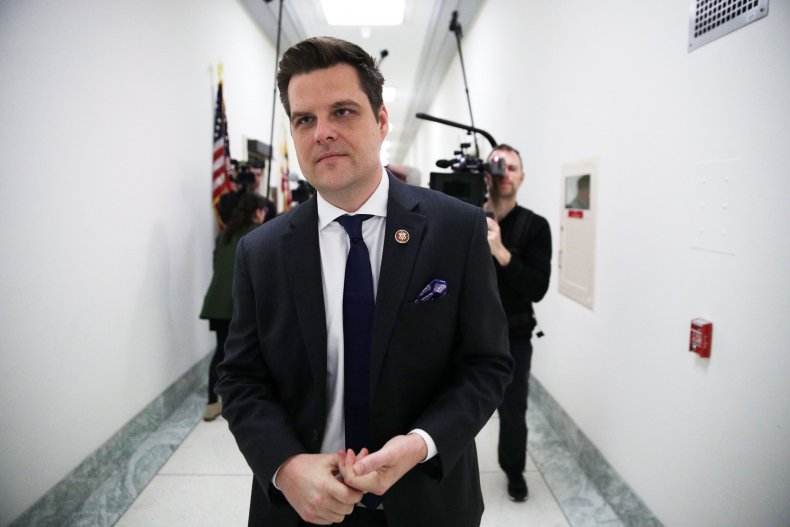 Still, Gaetz and others have already begun a victory lap. Gaetz has been one of Trump's most loyal supporters in Congress and even suggested last year that then-Attorney General Jeff Sessions should dismiss Mueller from his role.
His latest controversial comments appeared to invoke a much-publicized and ongoing legal case. Smollett, an actor on the television show Empire, claimed in January that he was attacked in Chicago by two masked men yelling racial and homophobic slurs and told police that they yelled that he was in "MAGA country," an apparent reference to Trump's campaign slogan, "Make America great again."
However, the story soon fell apart after two Nigerian brothers were questioned in connection with the attack amid allegations that Smollett had paid the two men to carry it out. Last month, Smollett was charged with disorderly conduct for filing a false police report. Republicans jumped on the news to slam Democrats who had initially cited the attack as part of a growing climate of intolerance in the United States in part created by Trump.