GOP Rep. Matt Gaetz Hits Out At Media For Giving Nancy Pelosi 'Proverbial Cat Bath' Over Impeachment Process
Republican Representative Matt Gaetz has hit out at the media for giving House Speaker Nancy Pelosi "a proverbial cat bath" in its coverage of the impeachment process against President Donald Trump, while others were "stuck with the hairball."
The GOP representative for Florida's first congressional district also took aim at Pelosi's decision to withhold passage of the articles of impeachment to the Senate, saying it was a "bizarre circumstance."
The regular Trump defender further said the top House Democrat was "limping through the back nine" in her delivery of the articles of impeachment, which charge the commander-in-chief with obstruction of Congress and abuse of power.
Taking over the Tucker Carlson Tonight slot on Fox News on Thursday, host Mark Steyn played a montage of cable news network talking heads praising Pelosi.
Reacting to the montage of media praise, Gaetz said: "Listening to that montage you had of the mainstream media giving Nancy Pelosi a proverbial cat bath just reminds me that the rest of us end up stuck with the hairball."
The GOP representative went on to say the withholding of articles of impeachment from Senate was a "bizarre circumstance," given the Democratic push for impeachment.
"What Democrats have done is they've really cheapened the impeachment process to any disagreement about the utilization of presidential power, or any disagreement—maybe a president's different type of approach to a particular problem set, all of a sudden becomes impeachable now," said Gaetz.
He went on to accuse the Democratic Party of having "impeachment fever" and claimed Republican support for Trump has only "intensified" by the attempt to remove him from office.
Asked if he expected Pelosi to deliver articles of impeachment to Senate Majority Leader Mitch McConnell, Gaetz said: "Nancy Pelosi appears to be limping through the back nine of the delivery of the articles of impeachment."
In another Fox News interview last week, Gaetz made the claim that Pelosi has sought to impeach Trump "since the moment she took control" of the House of Representatives.
However, Pelosi has frequently cautioned against impeachment, telling colleagues in an April letter that "the facts regarding holding the president accountable can be gained outside of impeachment hearings."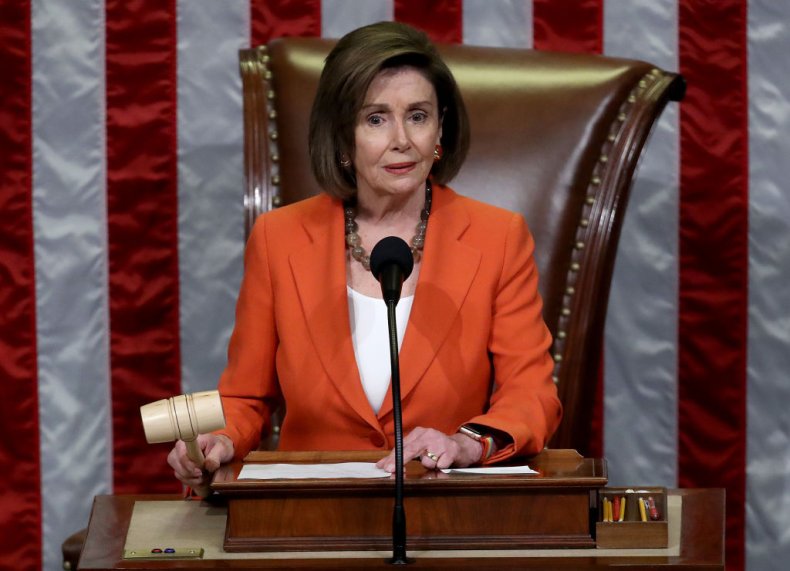 Speaking to The Washington Post in March, Pelosi also said impeachment was "divisive," adding that she believed it was best not to "go down that path" without something "compelling and overwhelming and bipartisan."
The two articles of impeachment approved by the House on December 18 have not yet been handed over to the Senate by Pelosi, as she is waiting for the Senate to provide more procedural details on how its trial of Trump will be conducted.
In an interview with Politico after the impeachment vote against Trump, Pelosi said she could not name which House Democrats would be appointed as impeachment managers during the Senate trial.
She said: "We said what we're going to say. When we see what they'll do, we'll know who and how [to appoint].
Pelosi's office has been contacted for additional comment.