After having been the target of fat-phobic and sexist remarks by Florida Representative Matt Gaetz during a speech the congressman gave in Tampa last weekend, Gen-Z queer activist Olivia Julianna defiantly launched a fundraiser to support abortion services across the country.
In less than 48 hours, she has already raised nearly $170k —and donations keep on coming.
Everything started when Gaetz mocked pro-abortion rights activists to an audience of teenagers gathered at the Turning Point USA Student Action Summit on July 23, calling them "disgusting" and overweight.
Amid an outpouring of criticism against the Florida congressman on social media —with many reminding him of the federal probe against him which accuses him of sex trafficking an underage girl— Julianna took to Twitter to challenge Gaetz on his remarks.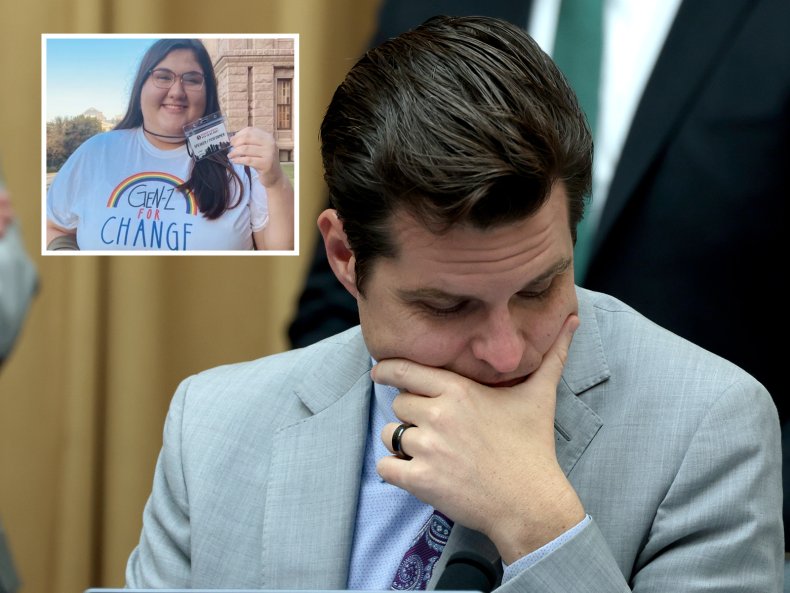 "Its come to my attention that Matt Gaetz — alleged pedophile— has said that it's always the "odious.. 5'2 350 pound" women that "nobody wants to impregnate" who rally for abortion. I'm actually 5'11. 6'4 in heels. I wear them so the small men like you are reminded of your place," she wrote a day after Gaetz' speech.
What's surprising is that Gaetz wrote the 19-year-old Texan student back, in messages that the activist described as bullying.
Gaetz also tweeted an image of Olivia Julianna —who does not use her last name for privacy reasons— together with an article that described his comments as "sure to raise the dander of his political opponents," writing: "Dander raised."
But the fight the 40-year-old Florida congressman picked with the self-defined "Gen-Z social media girly" took a turn when Olivia Julianna refused to let Gaetz's comments affect her and started raising money for abortion funds.
"Matt Gaetz decided to body shame me publicly," the activist wrote on Twitter.
"So I started fundraising for abortion funds, and in a little over 24 hours we raised $115K. So let me have one final moment of telling@mattgaetz not to f*** with Texas activist, and definitely not to fuck with Gen-Z."
Her fundraiser has now reached $168,000 in less than 48 hours.
Julianna, a political science student and an activist part of youth-led nonprofit Gen-Z for Change, has since thanked Gaetz for raising attention to her and her work, reporting to have increased her following across social media platforms by 20k followers.
"Thanks to Matt Gaetz attack against me, I've now gained an even larger platform to share my work," she wrote on Twitter.Olivia Julianna
Julianna told Newsweek that Gaetz had been taught "a valuable lesson that should be echoed to every Republican who thinks about crossing or targeting me—don't mess with Texas women."
"Time and time again I've been targeted by hate mobs and right-wingers who think that because of my age that I won't hit back," she said. "Unfortunately, they're learning very quickly that not only do I hit back, but I hit back harder than they ever could."
Asked for comment on his body-shaming remarks at the Tampa rally, a spokesperson for Gaetz told Newsweek his remark "spoke for itself."