Matt Gaetz Parts Ways With Communications Director Luke Ball Amid Investigation
Luke Ball, Representative Matt Gaetz's former communications director, has left his position with the Florida congressman.
Gaetz's office didn't respond to Newsweek's question as to who initiated the departure conversation, but confirmed to Newsweek on Friday that Ball was no longer with Gaetz's office.
Ball joined Gaetz's team in November 2019 but left his office days after the New York Times reported Gaetz was under investigation over allegations of sex trafficking. Investigators were reportedly looking into whether Gaetz had a sexual relationship with a 17-year-old and paid for her to travel with him, a suggestion the Florida representative has adamantly denied as an extortion attempt.
"The Office of Congressman Matt Gaetz and Luke Ball have agreed that it would be best to part ways. We thank him for his time in our office, and we wish him the best moving forward," Gaetz's office told Newsweek.
Newsweek reached out to Luke Ball for comment but did not receive a response in time for publication.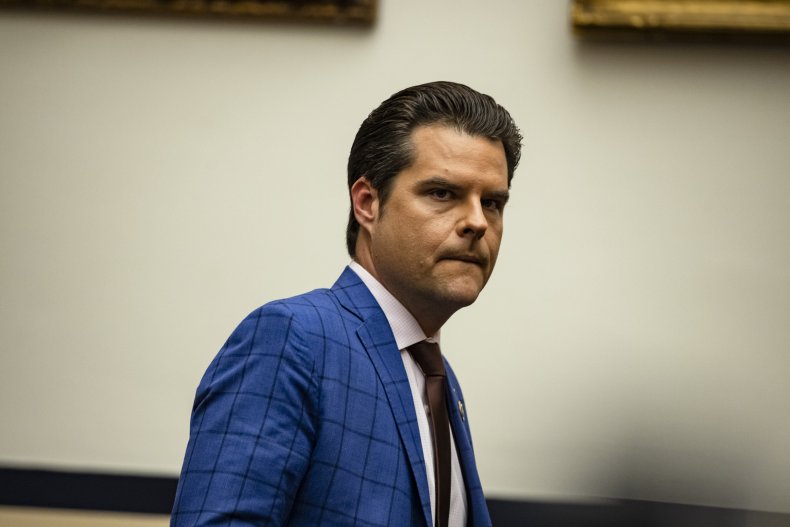 Gaetz posted on Twitter on Tuesday that his family were victims of an "organized criminal extortion" involving a former DOJ official who was seeking $25 million. He said he was working with federal authorities and his father was wearing a wire at the FBI's direction to "catch these criminals."
"No part of the allegations against me are true, and the people pushing these lies are targets of the ongoing extortion investigation," Gaetz siad. "I demand the DOJ immediately release the tapes, made at their direction, which implicate their former colleague in crimes against me based on false allegations."
Gaetz's father, Don Gaetz, told the Washington Examiner he got a text message on March 16 from Bob Kent, an ex-military official, about a plan that could "make [Gaetz's] future legal and political problems go away." If Don paid $25 million in ransom for Bob Levinson, an American who was held in Iranian custody and declared dead by his family last year, Gaetz would get credit for it and potentially a presidential pardon.
A letter presented to Don claimed that a grand jury had been impaneled to hear evidence against Gaetz and that the FBI had evidence of him in a "sexual orgy with underage prostitutes." The elder Gaetz contacted the FBI and an email obtained by the Washington Examiner confirmed that he was working with the FBI and the U.S. Attorney's office to "determine if a federal crime has been committed."