Matt Gaetz Plans to Run For President in 2024— But Only If Donald Trump Doesn't
Florida Republican Rep. Matt Gaetz indicated on Thursday that he will run for president in 2024, but only if former President Donald Trump does not.
In a text sent to the New York Post, Gaetz said, "I support Donald Trump for president. I've directly encouraged him to run and he gives me every indication he will."
"If Trump doesn't run, I'm sure I could defeat whatever remains of Joe Biden by 2024," Gaetz added in the text, according to the Post.
While neither Gaetz or Trump have officially announced a plan to run for president in 2024, the former president has previously expressed interest in running again.
During an interview with the Fox Business show Mornings With Maria, Trump was asked by the show's host, Maria Bartiromo, about his plans to run for president again in 2024, which he responded by saying, "Yes, 100 percent."
"And the polls show that everybody wants me to do it. One hundred percent I'm thinking about running, and we will, I think, be very successful," Trump said during the interview in late-April.
Trump made similar comments during an interview with Candace Owens on her Daily Wire talk show, Owens.
"The answer is I'm absolutely enthused. I look forward to doing an announcement at the right time," the former president said in response to a question asking if he planned on running for the White House in 2024.
"As you know, it's very early," Trump added. "But I think people are going to be very, very happy when I make a certain announcement."
Gaetz has previously expressed his support for Trump to run for president again in 2024. During an interview with Fox News in February, Gaetz said, "After The Art of the Deal comes The Art of the Comeback, and I believe that the future of the GOP is another candidacy for President Trump in 2024," alluding to two books authored by Trump.
The comments on Thursday from Gaetz come as the Florida congressman is facing a Justice Department investigation following allegations that he had sex with an underage girl, the New York Times reported in March. The Times also reported that the investigation alleged Gaetz paid for an underage girl to travel with him.
Following the publication of the Times article, Gaetz has continued to deny any wrongdoing and in a statement released on March 30, he claimed that he was being extorted by a former Justice Department official.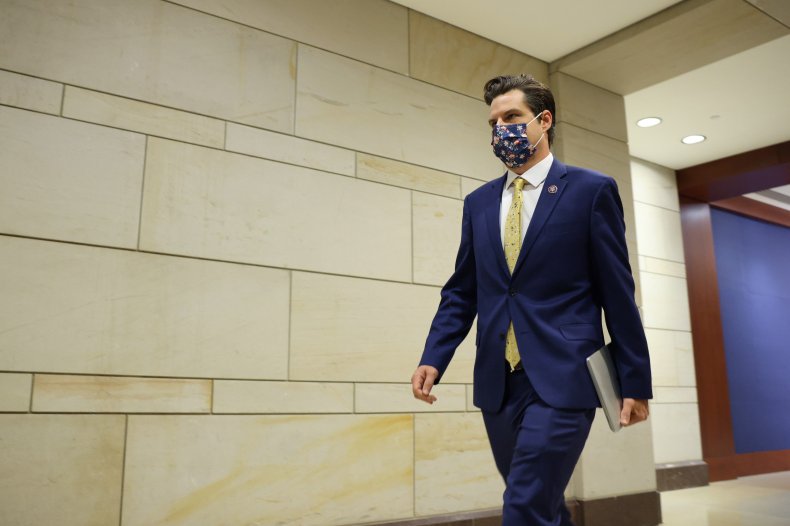 "Over the past several weeks, my family and I have been victims of an organized criminal extortion involving a former DOJ official seeking $25 million while threatening to smear my name," Gaetz said in the March 30 statement. "The planted leak to the New York Times tonight was intended to thwart that investigation. No part of the allegations against me are true, and the people pushing these lies are targets of the ongoing extortion investigation."
Newsweek reached out to Gatez for comment about a potential 2024 bid for the presidency, but did not receive a response in time for publication.