Matt Gaetz Among Dozens of Republicans Attending Secret Party Despite COVID Surge
Florida congressman Matt Gaetz was among dozens of Republican supporters attending a secret party, which critics condemned as having flouted the spirit of strict new COVID measures aimed at curbing the spread of the virus.
At least 65 guests were expected at the New York Young Republican Club's annual gala, which was held at an unknown location in New Jersey on Thursday night due to concerns that the gathering would attract protests.
Images shared on Twitter showed Gaetz huddled with around two-dozen people at an indoor black-tie event. More people could be seen in the background of the photo.
The GOP representative taunted New York's governor, Andrew Cuomo, who has pushed tighter coronavirus restrictions in a state that has seen nearly 20,000 deaths and 300,000 cases.
One post retweeted by Gaetz stated: "Hey @NYGovCuomo, I'm at the @NYYRC with @mattgaetz. Come and get me."
Another shared by the Republican congressman said: "Catch us if you can, Commie aCuomo. The show will always go on for patriots..."
Members of the public responded on Twitter, posting graphs of nationwide COVID cases, hospitalizations and deaths spiking.
Elisa Braver, who described herself in her Twitter bio as an epidemiologist, wrote that "every attendee should assume they may have been exposed to #COVID19" and urged those who attend to either quarantine and get tested. "Doctors and nurses are overwhelmed with COVID19 hospitalizations," she said. "Stop the spread."
The party included a cocktail reception, awards ceremony and three-course dinner. Tickets cost up to $325.
The event website said that the temperatures of all guests would be checked before entering the venue. Intriguingly, the site also stated that tickets were refundable in the case of a postponement or cancellation due to COVID, yet the event went ahead despite strict rules on indoor gatherings.
Sarah Palin had been due to attend the event but pulled out because of COVID restrictions, according to reports.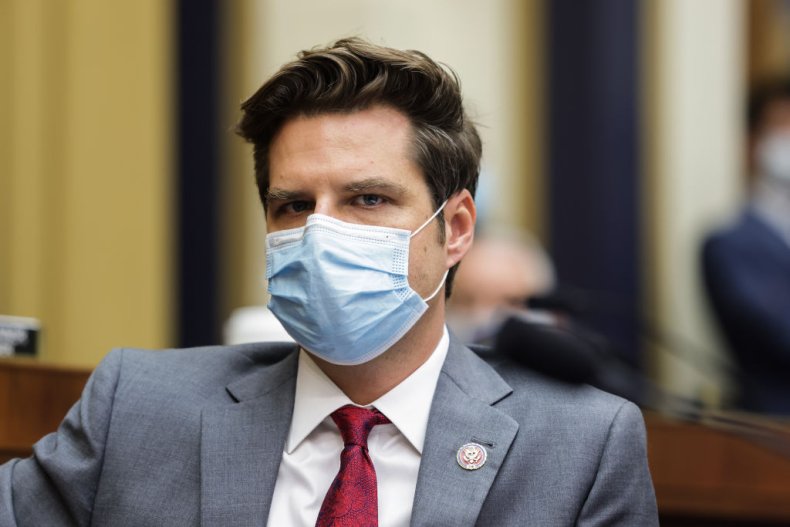 Governor Cuomo announced new restrictions last month, which included a requirement for bars, restaurants and gyms to close from 10 p.m. to 5 a.m. each day.
The governor also announced that indoor and outdoor gatherings at private residences should be limited to no more than 10 people.
"The limit will be implemented due to the recent prevalence of COVID spread resulting from small indoor gatherings including Halloween parties," the guidance said. "These gatherings have become a major cause of cluster activity across the state."
Cuomo said: "If you look at where the cases are coming from, if you do the contact tracing, you'll see they're coming from three main areas: establishments where alcohol is served, gyms, and indoor gatherings at private homes.
"The reason we have been successful in reducing the spread in New York is we have been a step ahead of COVID. You know where it's going; stop it before it gets there."
The New York Young Republican Club's event was held in neighboring New Jersey, a state that also limits indoor gatherings to 10 people, except for "religious and political activities protected under the First Amendment" which must be limited to 150 people or 25 percent of a room's capacity—whichever number is lower.
However, the guidance states that all attendees at indoor gatherings must wear face coverings and stay six feet apart.
A spokesperson for the New York Young Republican Club, which was founded in 1911 and claims to be the oldest and largest young Republican club in the U.S., told Newsweek: "There was no ban in place. We followed all proper New Jersey laws and regulations. It was a great event and we were happy to hold it."
On Thursday, New York's Metropolitan Republican Club on the city's Upper East Side was spray painted and black sacks shaped to look like body bags were left outside the building in protest at the group's planned Christmas and Hanukkah Social.
"Last night the Metropolitan Republican Club was attacked and vandalized in a disgusting manner that should be tolerated by any individual regardless of political affiliation," the club said in a statement. "We condemn the unconscionable action against our private property perpetrated by cowards."
Newsweek contacted Gaetz for comment.