Matt Gaetz Says DOJ 'Biased Against Republicans' After Arrest of Man Indicted for Threats
Representative Matt Gaetz accused the Department of Justice (DOJ) of being "biased against Republicans" on Tuesday for not being aggressive enough in arresting a person who allegedly sent him death threats.
Gatez, a Florida Republican, took to the House floor last Wednesday to describe threats made against him. He said that somebody who threatened to kill him over Twitter had traveled to Washington D.C. in the days leading up to his speech.
He claimed that the Justice Department declined to arrest this person, despite the Capitol Police allegedly recommending they do so.
"I think someone may be trying to kill me and if they are successful I would like my constituents and my family to know who stopped their arrest," Gaetz said.
In the days following his speech, an arrest was made in a separate incident involving death threats against Gaetz. A man who allegedly made threats against him and his family, identified as Eugene Huelsman, was arrested in the Los Angeles area, Politico reported.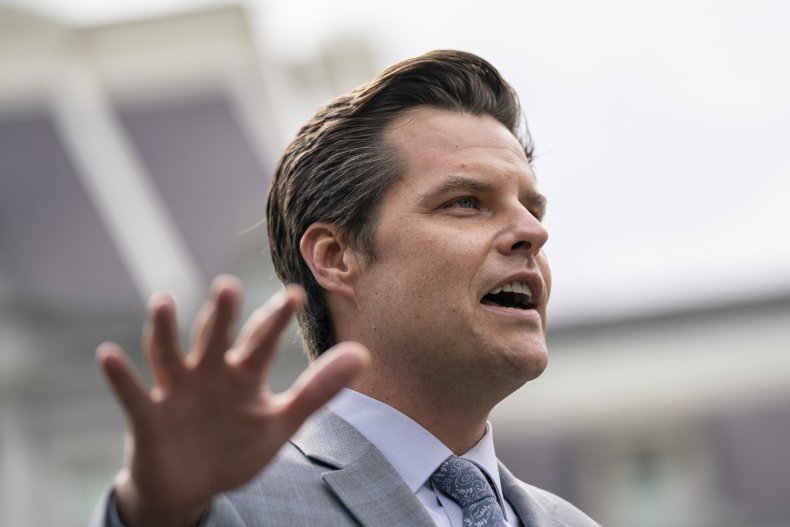 Prosecutors alleged in an indictment that Huelsman issued threats on January 9, just days after the violent riot at the U.S. Capitol.
"Tell [M.G.] to watch his back, tell him to watch his children... I'm coming for him, he's gonna f****** die... I'm gonna f****** kill him," he allegedly wrote. "Watch your back, I'm coming for you. I'm gonna put a bullet in you and I'm gonna put a bullet in one of your f****** kids too."
Gaetz pointed out to Politico that the indictment was issued in May, but only unsealed following his criticism.
"If they took our security seriously, they would arrest all of the people who violate federal law and the threats to kill us, not just some of them...I think that the Department of Justice is biased against Republicans," he said.
Huelsman is expected to appear before a magistrate judge in Pensacola, Florida on Friday.
In March, a man from Laramie, Wyoming named Christopher Podlesnik was arrested for allegedly making threats over the phone against Gaetz, both of Wyoming's U.S. senators and other state lawmakers, according to The Casper Star-Tribune.
Podlesnik allegedly continued making threats against Gaetz in voicemails to the other lawmakers, the newspaper reported.
"I'm not going to [expletive] ask you why you [expletive] think you should be killed, I'm just going to [expletive] put two in your head," Podlesnik allegedly said in a voicemail for Gaetz.
In a voicemail to Senator John Barrasso, Podlesnik allegedly said he would "see that Matt Gaetz gets killed when he [expletive] gets here," according to the Star-Tribune.
Newsweek reached out to the DOJ and Gaetz's office for comment.