Matt Gaetz Says He Admires Bernie Sanders as Senator Calls for Infrastructure Bill Defeat
Representative Matt Gaetz, a Florida Republican, expressed admiration for Senator Bernie Sanders after the former Democratic presidential hopeful voiced support for House progressives temporarily defeating the Senate-approved bipartisan $1.2 trillion infrastructure bill.
Gaetz remains staunchly supportive of former President Donald Trump, while Sanders continues to be the most progressive member of the Senate. The Vermont independent identifies as a democratic socialist and is widely credited with helping to shift the Democratic Party substantially to the left in the past few election cycles.
"There has always been a (small) part of Bernie I've admired," Gaetz tweeted on Thursday, mildly praising the progressive leader. The Republican congressman's post also retweeted a series of quotes from Sanders.
The original tweet from CNN's Manu Raju quoted the progressive lawmaker as saying, "It is an absurd way to do business, to be negotiating a multi trillion dollar bill a few minutes before a major vote with virtually nobody knowing what's going on. That's unacceptable."
In the thread, Sanders' remarks continued. "And I think what has got to happen is that tonight, the bipartisan infrastructure bill must be defeated. And we can then sit down and work out a way to pass both pieces of legislation," he said.
President Joe Biden and the Democrats are currently working to pass two major pieces of legislation—the bipartisan $1.2 trillion traditional infrastructure package and larger partisan $3.5 trillion "human infrastructure" budget reconciliation bill.
Tensions between moderates and progressives within the Democratic Party have at least temporarily held up passage of either piece of legislation. Progressives have consistently maintained that they will not vote in favor of the smaller bipartisan bill unless the larger reconciliation legislation can be passed as well. Sanders—who voted in the Senate to approve the bipartisan infrastructure package back in August—was voicing support for the efforts of progressive lawmakers in the House.
Although Gaetz's political views may be at the opposite end of the political spectrum from progressive Democrats, he has previously defended progressive colleagues on multiple occasions. In mid-September, he jumped to the defense of Congressional Progressive Caucus chair Representative Pramila Jayapal amid allegations that the Democratic congresswoman from Washington mistreats her staff.
"A woman of color in power has high standards for staff, works them hard, and yells at them when they screw up. Would this smear be written about a man?" the GOP lawmaker asked in a tweet. "I've served w @RepJayapal 5yrs on Judiciary. I can personally attest she treats coworkers she doesn't even like with respect," Gaetz added.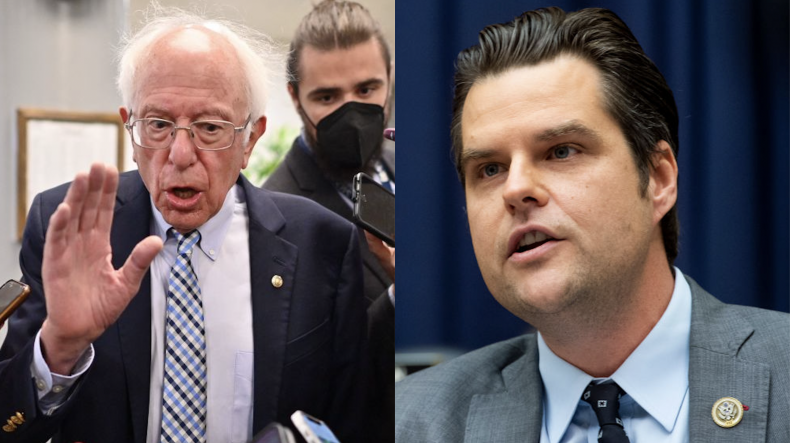 The Republican previously defended progressive Democratic Representative Alexandria Ocasio-Cortez of New York last year as well. In July 2020, The Hill reported that Representative Ted Yoho, a Florida Republican, called Ocasio-Cortez, a "f***ing b****" during a confrontation as they passed each other in the halls of Congress. A Yoho spokesperson denied the reporting, but Ocasio-Cortez confirmed it.
"I can confirm that AOC gets along w many of her Republican colleagues on a range of things that don't have anything to do w legislation or politics," Gaetz tweeted at the time. "She is not a b***h."
Newsweek reached out to Sanders' office for comment but did not immediately receive a response.