Matt Gaetz Says He Now Agrees With Democrat on Disney Being a 'Tax Cheat'
Florida Republican Representative Matt Gaetz said Friday that he agrees with Democrat José Javier Rodríguez, a former member of the state's Senate, about Disney being a "tax cheat" because it is escaping from its "fair share" of taxes due to a loophole in the state's tax code.
"The Walt Disney Corporation benefits from a Florida tax code loophole that should be closed. Big business shouldn't be able to use political influence and power to avoid paying their fair share. There is nothing whimsical about a tax cheat," the GOP lawmaker wrote in an Op-ed published by the Orlando Sentinel.
Gaetz was referring to a loophole in Florida's tax code that allows large businesses such as the Walt Disney Corporation to shift its revenues to other states and therefore avoid income taxes, which the Orlando Sentinel reported on last year. Analysts estimated that this loophole costs the state half a billion dollars every year.
The congressman said that Rodríguez had introduced an amendment that would make Florida a "combined reporting" state to close the loophole that has benefited Disney and other corporations—a move that he agrees with.
"His argument was that big businesses in Florida were shifting their Florida revenue to enjoy tax shelters in other states. It is sneaky, contrived...and totally legal," Gaetz said about the amendment that Rodriguez proposed. "At the time Disney had a vise grip on the Republican majority. Disney was among the companies that most utilized this tax loophole to screw the people of Florida."
Gaetz said that Disney "sent an army of lobbyists to oppose the Rodriguez amendment," adding that he was "wrong to disagree with him at all."
"I regret my vote on that matter. The Florida Legislature should do what I did not—make Disney pay what they owe, based on the business they do in our state," the Florida Republican wrote.
"While the complex intricacies of Disney's corporate structure are not readily available to the public, the picture remains clear: The Walt Disney Company, which grossed $72.9 billion last year, should be accurately reporting its income in the states and countries where its business is conducted," he continued.
Towards the end of his column, Gaetz called for Republicans and Democrats in the state Legislature to "act now and end the Disney tax loophole" and that he envisions a state "where all corporations play fair and, consequentially, hard-working Floridians pay less in taxes."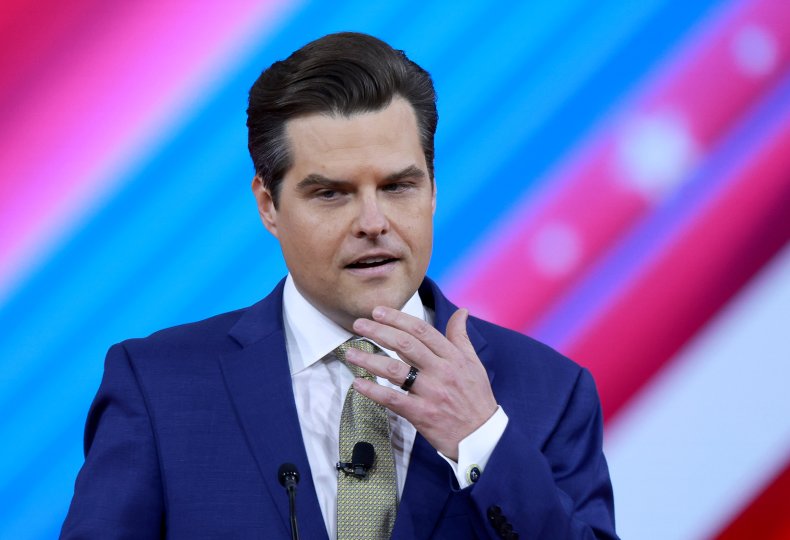 Last year, Disney announced that it will expand its business by setting up a new regional campus in an Orlando suburb called Lake Nona, which is located 20 miles away from Walt Disney World. The company was enticed by Florida's tax breaks and therefore was encouraged to relocate 2,000 employees from California.
Disney Parks Experiences and Products Chairman Josh D'Amaro said in an internal letter at the time that Florida's lack of state income tax was a great reason for the company's decision and that further expansion in the state "makes sense" for the company.
Newsweek reached out to Disney for comment.