Gaetz Teases 2024 Run With Trump: 'Florida Man Energy'
Florida Republican Representative Matt Gaetz is teasing a potential 2024 presidential ticket with former President Donald Trump.
On Monday, Gaetz responded to a tweet calling the pair "a dream ticket" by saying, "So much Florida Man energy..."
While Trump has yet to announce an official 2024 bid for the White House, he has repeatedly hinted that he would run again and cast himself as the obvious frontrunner in a 2024 Republican primary.
Earlier this month, Trump said that he'd "probably" have to run in the next presidential election during a rally in Texas.
"I ran twice. I won twice. I did much better the second time than I did before," Trump said, before adding, "and now, in order to make our country successful, safe and glorious again, I will probably have to do it again."
Trump has continued to top the list of Republicans in several hypothetical matchups against the likes of former Vice President Mike Pence and Senator Ted Cruz. The only potential candidate that seems to be able to mount a real challenge against Trump is Florida Governor Ron DeSantis, who still trails behind Trump by double digits.
However, polling also suggests that GOP voters are moving away from Trump. A USA Today/Suffolk University poll released last week found that 39 percent of Republicans don't want Trump to run for a second term, a slight increase from July's survey of 34 percent.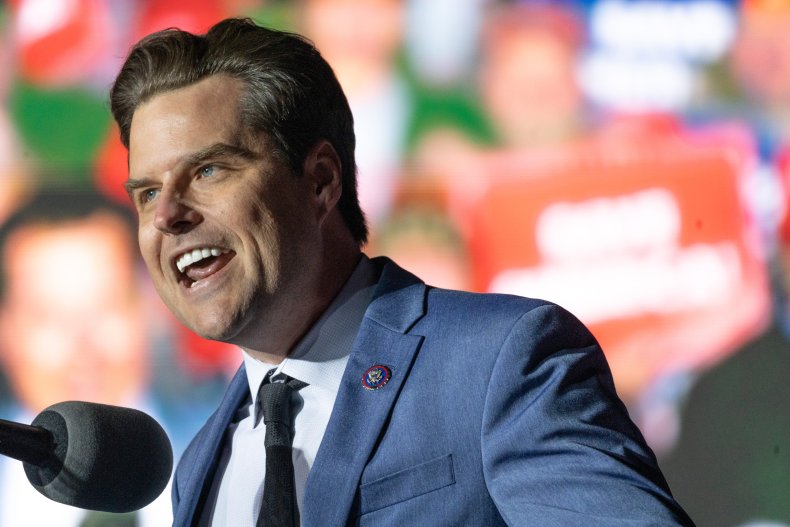 Gaetz, who represents Florida's 1st district, is among Trump's most loyal allies in Washington D.C. He's backed Trump's baseless election fraud claims—a move that has earned him the support of the former president, who recently endorsed Gaetz for re-election in this year's midterm elections.
It was also reported earlier this year that Trump had wanted to help Gaetz after the congressman sought a blanket pardon for him and some unknown allies for any crimes they may have committed, but that Trump's advisers had talked him out of issuing the pardon due to the seriousness of the allegations.
In late 2020, Gaetz was being investigated by the Justice Department for allegations that he had a sexual relationship with a minor in exchange for money—a claim that the congressman has repeatedly denied. However, it was reported last month that prosecutors recommended against filing charges against Gaetz because it is unlikely he would be convicted. According to a report from the Washington Post, prosecutors were concerned about the credibility of the investigation's two central witnesses.
Although it's unclear who Trump would pick to be his running mate should he run for the White House again, it's been reported that the former president is considering Representative Marjorie Taylor Greene.
Last week, New York Times Magazine journalist Robert Draper said that Trump has "repeatedly" discussed the possibility of running alongside Greene, who Draper described as being "unflaggingly loyal" to Trump.
"He has every reason to expect that Greene would be by his side and would be his proximate warrior," Draper told The Daily Beast's "The New Abnormal Podcast."