Ted Lieu Presses Kevin McCarthy Over New Matt Gaetz Allegations
With pressure building on Rep. Matt Gaetz over sex trafficking allegations, Rep. Ted Lieu has reiterated his call for House minority leader Kevin McCarthy to strip the Florida lawmaker of his judiciary committee position.
The comment by Lieu comes after Joel Greenberg, who is being investigated along with Gaetz over claims they paid underage girls or offered them gifts in exchange for sex, said he would co-operate with a federal probe.
In a plea agreement, Greenberg admitted recruiting women for commercial sex acts, according to court documents filed Friday.
Greenberg will appear in court in Orlando on Monday where he is expected to plead guilty to six federal charges, including sex trafficking of a child, the Associated Press reported.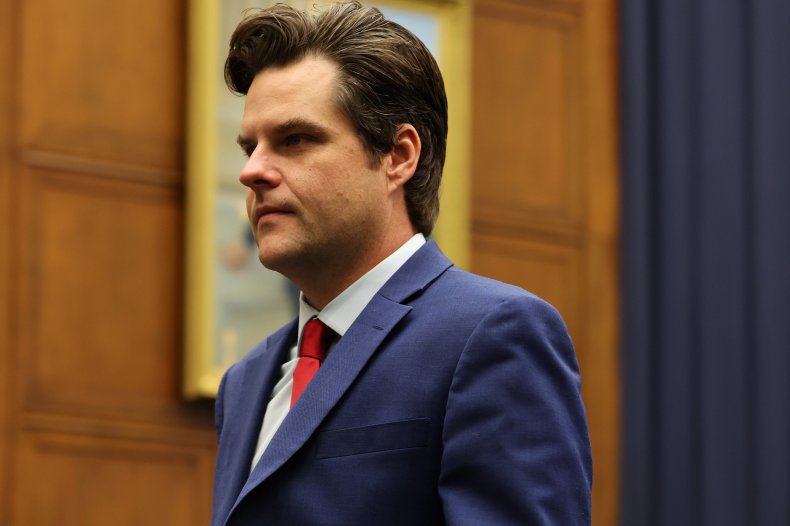 Greenberg reportedly admitted paying women for sex including a minor. The agreement also said he "introduced the minor to other adult men" who are not named.
The plea agreement makes no mention of Gaetz, said the Associated Press.
CBS News reported last month that investigators are looking into whether women were illegally trafficked across state or international lines for sex with Gaetz, who vehemently denies the allegations and says he will not resign his seat in Congress.
However, Lieu tweeted a link following the latest revelations, with the message: "Dear @GOPLeader: Why are you still supporting Rep Matt Gaetz to sit on the House Judiciary Committee?" Gaetz also sits on the house armed services committee.
Last month, the Californian Democrat made a similar plea to McCarthy, arguing that a position on the judiciary committee with its jurisdiction over the Department of Justice investigating him, presented an "untenable conflict of interest."
Last month, McCarthy said that Gaetz had told him in a private conversation he was innocent of the allegations, the AP reported.
McCarthy also told reporters in April he believed the Florida lawmaker was "innocent until proven guilty" and that there would be no punishment unless charges were filed.
Under House GOP rules, lawmakers who are charged with serious felonies lose their membership in committees.
Gaetz has not been charged with anything and his spokesman, Harlan Hill, emphasized that his name had not been mentioned in Greenberg's plea.
"Congressman Gaetz has never had sex with a minor and has never paid for sex. Mr. Greenberg has now (pleaded) guilty to falsely accusing someone else of sex with a minor. That person was innocent. So is Congressman Gaetz," the statement added, according to CBS.
Newsweek has contacted the offices of Gaetz, Lieu and McCarthy for comment.