Matt Gaetz, Tom Reed Being Investigated by House Ethics Committee for Sexual Misconduct Allegations
The House Ethics Committee is investigating Representatives Matt Gaetz and Tom Reed over allegations of sexual misconduct.
Gaetz, who's accused of an inappropriate relationship with a 17-year-old, has vehemently denied that he did anything improper and blames the accusations on a smear campaign. Reed, who is not running for reelection next year, has been accused of rubbing a female lobbyist's back and unhooking her bra without her consent.
Along with investigating Gaetz for sexual misconduct, the committee is looking into allegations of illicit drug use, sharing inappropriate images on the House floor, misusing state identification records, converting campaign funds to personal use and accepting a bribe or impermissible gift.
"Once again, the office will reiterate: These allegations are blatantly false and have not been validated by a single human being willing to put their name behind them," Jillian Wyant, Gaetz's chief of staff, told Newsweek in a statement.
A recent report from The Daily Beast identified two Venmo transactions Gaetz had in 2018 with Joe Greenberg, an accused sex trafficker, for a total of $900. Greenberg then sent the money to three teen girls in transactions labeled "tuition" and "school."
Logan Circle Group, a public relations firm that responded on Gaetz's behalf, told The Daily Beast that the "rumors, gossip and self-serving misstatements of others will be addressed in due course by my legal team."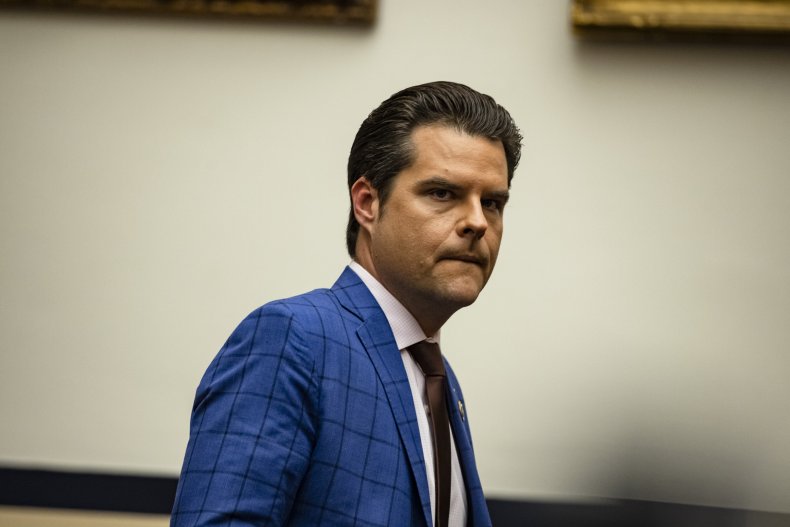 Ahead of The Daily Beast report, the Department of Justice announced Gaetz was being investigated for potentially violating sex trafficking laws. Gaetz has denied the accusations against him and pushed back on calls for him to resign.
Reed, a New York Republican, has backed impeachment of Governor Andrew Cuomo after he was accused by multiple women of sexual misconduct. Last month, Army Lieutenant Nicolette Davis accused Reed of rubbing her back while they were sitting next to each other at a pub in 2017. She reportedly asked a man sitting next to her for help, and he pulled the congressman, who Davis said appeared drunk, away from the table.
Reed initially called Davis' account "not accurate," but he later apologized and said that he will "not dismiss her."
"Simply put, my behavior caused her pain, showed her disrespect and was unprofessional. I was wrong, I am sorry, and I take full responsibility," Reed said.
The congressman said at the time of the incident, he was "struggling" and realized he was "powerless over alcohol." He entered treatment that year.
Reed, who co-chaired the Problem Solvers Caucus, announced he would not seek re-election when his current term is up in 2022. He said his decision was consistent with keeping a pledge he made to only serve six terms.
Katrina Fuller, a communications assistant for Reed, told Newsweek the congressman's office "already publicly addressed this situation" and is cooperating with the House committee to "bring this matter to conclusion."