Matt Gaetz Argues Against Equality Bill, Claiming Trump Could Declare Himself the First Female President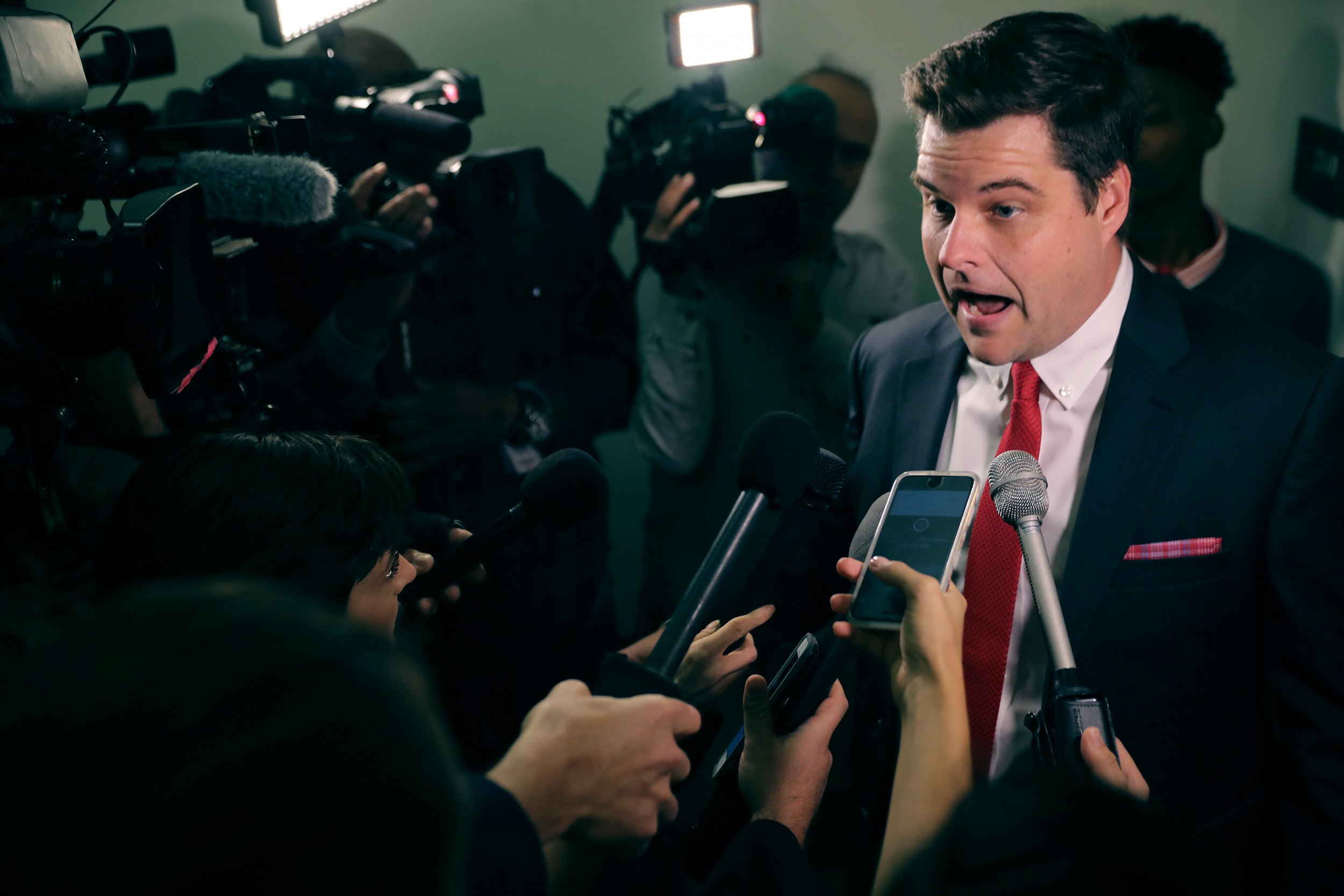 Republican Congressman Matt Gaetz argued against the passage of the Equality Act, a policy that would ban discrimination against LGBTQ Americans, by saying the bill would allow President Donald Trump to declare himself the first female president.
"Consider this possibility—if President Trump were to say, I am now the first female president? Who would celebrate that?" Gaetz said during a Tuesday hearing. "Would those who support the legislation think that's a good thing, or would they be dismayed? Bad actors have already weaponized some ostensible equality laws for their own benefit."
The Equality Act would amend the Civil Rights Act of 1964, the Fair Housing Act, the Equal Credit Opportunity Act and the Jury Selection and Services Act to include sexual orientation and gender identity as protected classes.
"In the majority of states, people in the LGBTQ community can be fired from a job perhaps because of their sexual orientation or gender identity and would have no recourse," said Senator Tammy Baldwin, a member of the LGBTQ community. "We want to live in a country that, you know, judges people based on their performance and their character, and so we need to pass the Equality Act at the federal level."
A recent poll by the Public Religion Research Institute (PRRI) found that 70 percent of Americans supported the changes.
Gaetz clarified that he supports, "the rights of transgender individuals," and "will not denigrate or deny their existence or their struggles." But said that he was "concerned about the potential of bad actors who would exploit the provisions of this law for their own gain."
Gaetz's comments represented a severe misconception of what it means to be transgender. And the congressman's past comments reveal that he does not fully support the rights of transgender individuals.
When the president tweeted about banning transgender Americans from the military, Gaetz responded that "this was the right thing to do!" He also said he opposed President Donald Trump's declaration of a national emergency on the southern border because, "I don't want the next national emergency to be that some Democrat president says we have to build transgender bathrooms in every elementary school in America."
During Tuesday's hearing, Gaetz implied that he could not support the protections for the LGBTQ community because they "would only nominally protect certain individuals while causing tremendous harm to others."
Throughout the hearing, Gaetz repeatedly said he wanted to support the legislation before criticizing it. "I want to support this legislation and in the broadest sense I do," he said. "I believe that individuals in our country should not face discrimination for their sex or their gender or their sexual orientation."
But, he asked, what will happen "when sex is defined as gender identity and gender identity is terribly vague? Will all sex-based distinctions be erased?"