Matt Gaetz Urges Democrats to Follow Ro Khanna's Lead on 'Twitter Files'
Republican Representative Matt Gaetz urged his colleagues across the aisle to follow Democratic Congressman Ro Khanna's lead regarding the "Twitter Files."
"Democrats should listen to @RoKhanna on the #TwitterFiles," Gaetz said in a tweet on Thursday. Gaetz's tweet also featured a video where he spoke at the congressional hearing held by the Select Subcommittee on the Weaponization of the Federal Government, which featured Matt Taibbi and Michael Shellenberger, two journalists who previously released the Twitter Files.
"While we've only heard from Democrats on this panel attacking you, discrediting you, a lot like they've tried to attack and discredit FBI whistleblowers, who are truth tellers," Gaetz said while speaking toward Taibbi and Shellenberger, "there are brave Democrats who still believe in free speech and I would advise my colleagues to look at the comments of Ro Khanna, who has been deeply, deeply, concerned about this weaponization of government and he believes these Twitter Files are indeed worthy of our focus and our energy and that is exactly what we are going to do."
The comments by Gaetz on Thursday came amid the hearing where members of the Weaponization subcommittee heard testimonies from Taibbi and Shellenberger on the release of the Twitter Files. The documents released by the two journalists featured communications between federal agencies like the FBI and Twitter executives.
In Gaetz's tweet, he responded to a Twitter Files post from Taibbi that featured an internal email that Khanna previously sent to a Twitter employee discussing the social media platform's suppression of a New York Post story about Hunter Biden's laptop.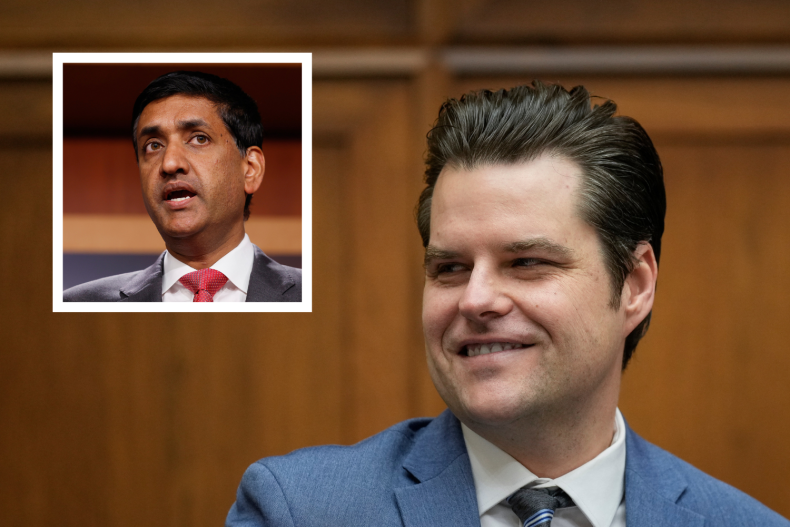 In the Twitter Files, Khanna can be seen speaking about the suppression of the story, asserting it "will invite more backlash than it will do good."
"I say this as a total Biden partisan and convinced he didn't do anything wrong. But the story has now become more about censorship than relatively innocuous emails and it's become a bigger deal than it would have been. But in the heat of a Presidential campaign, restricting dissemination of newspaper articles (even if NY Post is far right) seems like it will invite more backlash than it will do good."
In response to Gaetz's comments, Khanna told Newsweek in a statement that "the First Amendment and standing up for free speech is not a partisan issue. Twitter and any platform should be open to diverse viewpoints, and I will always stand up for robust, wide-ranging debate in our public square."
While Gaetz applauded Khanna's interest in the Twitter Files hearing on Thursday, some Democrats had a different take on the forum, criticizing the two journalists, as well as Elon Musk, following his purchase of Twitter.
"Republicans have brought in two of Elon Musk's public scribes to release cherry-picked, out-of-context emails and screenshots designed to promote his chosen narrative," Democratic Virgin Islands Representative Stacey Plaskett said.