Matt Gaetz Working on Conservatorship Legislation Amid #FreeBritney Movement
Representative Matt Gaetz is working on federal legislation that would change how conservatorships work in the United States, including potentially giving people the right to an independent audit and the ability to make their own decisions about their health care.
Britney Spears' fight against her conservatorship thrust the issue into the national spotlight, and Gaetz has been a vocal supporter of her since March, when he called for federal hearings about conservatorship. Gaetz recently invited Spears to testify before Congress, but the fight to enact federal legislation goes beyond the singer's troubles and could impact his constituents in Florida.
Nearly 21 percent of Florida's residents are over 65, the second-highest percentage in the country, according to the U.S. Census Bureau. Many of those people are retirees, some of whom have accumulated wealth, and Gaetz told Politico this makes his constituents "particularly vulnerable" to conservatorship and guardianship abuse.
"The momentum that Britney Spears' case has generated...should be seized for broader reform," Gaetz said.
The legislation is still being ironed out, but the Florida Republican told The Washington Times the "initial ideas" are to give people a way to enact an independent audit and for guardianships to have a sunset. Legislation would also ensure that people have certain rights that Congress values, including voting rights and rights to make decisions about their health care, he said.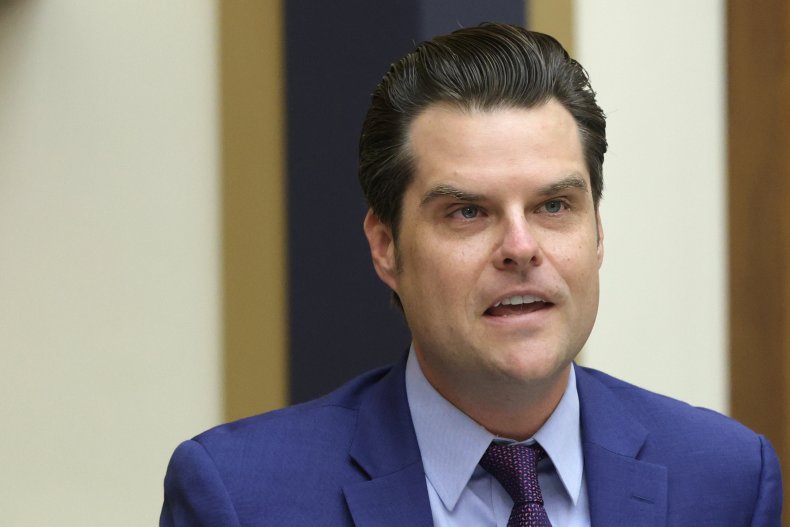 Spears asked a Los Angeles Superior Court judge to end her 13-year conservatorship because she felt she was being bullied and exposed. During her court testimony in June, she said she was forced to perform and treated like a "slave" in rehearsals, but the most explosive part of her testimony related to her health care.
The singer said that she was required to take medication against her will and that she was not allowed to get pregnant again. Spears said she had an IUD put in and was not allowed to go to a doctor to have it taken out because "they don't want me to have any more children."
Her testimony sparked significant backlash online and reignited the #FreeBritney movement, with rallies held across the country to show support for an end to her conservatorship.
In a letter to Spears, Gaetz told her she had been "mistreated" by the American legal system and expressed a desire to help. He said if she was willing to speak to Congress, members are "ready to listen" and hoped that her story would inspire lawmakers to pursue "bipartisan action."
Along with Gaetz, GOP Representatives Andy Biggs, Marjorie Taylor Greene and Burgess Owens signed the June letter. Owens is reportedly working with Gaetz on legislation, according to The Washington Times.
A freshman legislator from Utah, Owens said in a statement that he's seen how the abuse of guardianship can leave "vulnerable people feeling voiceless." If Congress can take steps to advocate for those who could be mistreated by America's legal system, Owens said, "we want to try."
For Gaetz, the fight to give people a way out of a conservatorship is linked to the Republican Party's interest in maintaining individual rights over "excesses" of government power, according to The Washington Times.
"There is a healthy debate for America to have about the size and scope of government," Gaetz told the Times. "Government shouldn't be able to tell a 39-year-old woman how long she has to keep her IUD in."
Newsweek reached out to Gaetz and Owens for comment but did not receive a response in time for publication.