Matt Hardy Lets WWE Contract Expire to Explore Free Agency
Matt Hardy's contract status with the WWE has been one of the most talked about backstage stories in wrestling over the past few weeks and fans finally have an answer as to whether the "Broken" one is staying or leaving.
In his latest "Thoughts from the Throne" vlog, Hardy confirms his status with the WWE and what he plans to do next. Plainly, the 45-year-old has let his current contract expire and has decided to explore free agency.
Watch Matt Hardy's latest vlog below explaining his decision.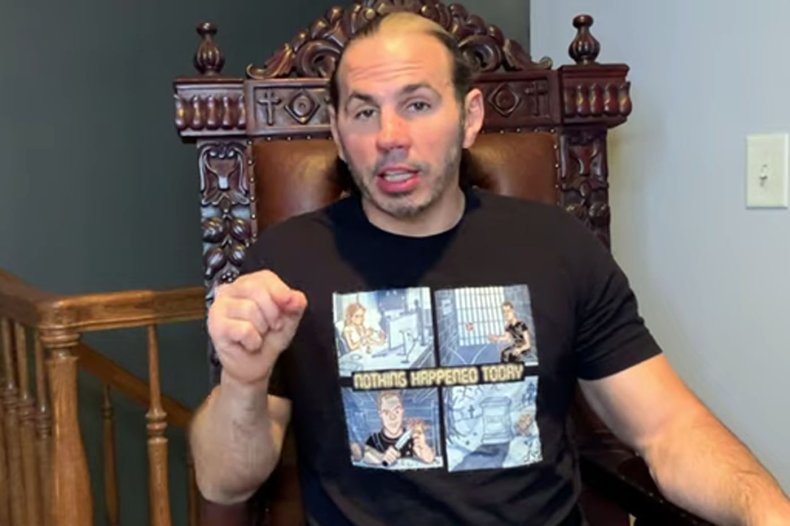 In the vlog, Matt Hardy calls the WWE "his home" but he and creative were not on the same page.
The former tag team champion understands that he can't do the same things he did when he was in his 20s and 30s, but he believes he has a lot to offer and that he will use the last three or four years he has left as an in-ring competitor to prove it. Hardy continued, saying that he wants to cement his legacy and enter a creative renaissance for himself.
Matt will take this time to catch up on all things wrestling including All Elite Wrestling (AEW), Major League Wrestling (MLW), Ring of Honor (ROH), New Japan Pro Wrestling (NJPW), Impact Wrestling, and National Wrestling Alliance (NWA). Hardy also says he will keep up with all of WWE's products including NXT.
Where Matt Hardy goes next is still unknown. However, rumors and reports have him joining AEW as The Dark Order's "The Exalted One" which was teased in past episodes of Hardy's web series "Free the Delete."
AEW's official Twitter account posted this cryptic message about "The Exalted One" on Monday in what can either be a well-timed tease or a coincidence.
At AEW's Revolution pay-per-view on Saturday, The Dark Order teased again that their leader was coming en route to their victory over SCU on the pre-show. Wednesday Night Dynamite will be live from Denver and may have some more clues as to the identity of "The Exalted One."
As for Matt Hardy's future with the WWE. The veteran believes he'll return to the WWE, specifically in the Hall of Fame alongside his brother Jeff who is set to appear on WWE Backstage on Tuesday night signifying his return to the ring after months of being out due to injury.
What do you think of Matt Hardy stepping away from the WWE? Where do you think he should land? Let us know in the comments section.